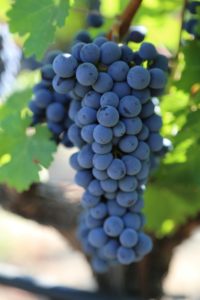 Portfolio Winery is a joint venture between husband and wife team Luc and Geneviève Janssens; all the operations for this winery are conducted in their "garage" located next to their home. The term for this type of winery is "garagist". We have visited a number of "garagist" wineries over the years in Napa as select cities within the county allow you to bond your garage for wine making purposes. This is the finest and most functional garage winery we have seen in the Napa Valley.
The crush pad is located on site (most garagist wineries we have visited do not have specific crush pads), the barrels are aged in temperature & climate controlled rooms, Portfolio does not even own a pump, so everything is gravity fed (thank goodness for forklifts), and Luc and Geneviève are involved in every step of the production including punch downs at 2am in the morning during the fermentation! They use all new French Oak for the aging of the wine. Their wines are bottled without fining or filtration.
Their Cabernet Sauvignon fruit has been sourced from the same block of the well-known Hendry Vineyard since their first release in 1998. The Hendry Vineyard based on it's location in the valley maintains a unique growing climate; the temperature is very moderate – it is not often too hot or too cold. This provides a very consistent growing and ripening temperature for the vineyards. The Detert Vineyard is located on the eastern Oakville bench-land and is the second source of grapes for Portfolio. This is one of the ideal (and historic) regions for growing Cabernet Franc in Napa with some of the oldest Cabernet Franc vines in all of the Napa Valley (these vines date from the 1970's).
Luc and Genevieve walk the vineyards where their fruit is sourced many times after veraison occurs and have the final say for when the grapes are picked. As a result of premium vineyard sources, their excellent garage winery, and attention to detail, the wine produced here is of extremely high quality. A single vintage is produced each year, never more than 250 cases and it is always a Cabernet Sauvignon based wine blended with Cabernet Franc.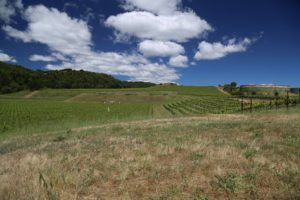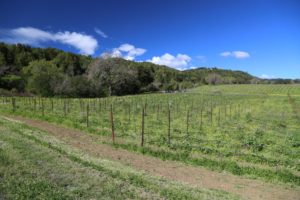 Their first vintage was in 1998. We tried their 2004 vintage; this is an elegant wine showing a deep garnet color in the glass. It is very full bodied with notes of graphite, spice and black fruit; complex and layered flavors show complemented by its silky tannins and smooth yet well-structured finish. You may notice just a hint of the new French Oak used in the aging; oak is not a dominate characteristic of this wine. The Cabernet Franc adds excellent structure to the lengthy finish. Their wine is very popular in Japan. You can find it locally at Dean & Deluca Wine shop in St. Helena and it is often served at Redd and La Toque restaurants.
Geneviève has a storied and unique history of wine making both in France and in the Napa Valley. She was born in Morocco (but raised in France). She studied at the University of Bordeaux and received her National Diploma of Enology in 1974. She then spent several years working at her family's vineyards, both in Corsica and France. Owning her own enology laboratory in Provence at the time, she was a consultant to a number of area wineries.
She moved to the Napa Valley in 1978 – her first job in the wine industry was at Robert Mondavi Winery (only 12 years after Mondavi had opened his winery) as a lab enologist and an assistant enologist. In 1989 she became the Director of Production at Opus One Winery and oversaw it's construction. She has been the Director of Winemaking for Robert Mondavi Winery since 1997.
Luc is a well-known artist who is one of a handful of photographers in the world working with Photogravure, a photographic printing process that dates back to 1816. His works are found in collections worldwide. He also runs an exceptional charity, The Lao Foundation which is building clinics along the Mekong River and providing medical services to those in need in a number of locations in Laos. The number of projects they have funded and supplies donated to date is remarkable.
Several of their websites you should be familiar with are: www.portfoliowinery.com, www.laofoundation.com (the Lao Charity organization), www.portfoliogravure.com (photography/art) and their son George and his partner Anja's wine charity:
www.worldwinetour2010.com