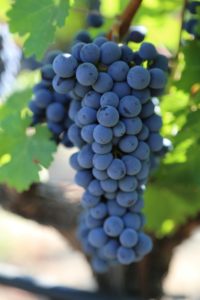 Portfolio Winery is a joint venture between husband and wife team Geneviève and Luc Janssens; all the operations for this winery are conducted in their "garage" located next to their home. The term for this type of winery is "garagist". We have visited a number of "garagist" wineries over the years in Napa as select cities within the county allow the use of a residential garage for commercial wine making purposes. This is the finest and most functional garage winery we have seen in the Napa Valley.
The crush pad is located on site (most garagist wineries we have visited do not have specific crush pads), the barrels are aged in temperature & climate controlled rooms, Portfolio does not even own a pump, so everything is gravity fed (thank goodness for forklifts). Luc and Genevieve are involved in every step of the production including sorting by hand and punch downs at 2am in the morning during fermentation (all fermented in open top 1/2 ton bins). All new French Oak is used to age the wine – spending about 2.5 years in barrel. Their wines are bottled by hand on site without fining or filtration.
Their Cabernet Sauvignon fruit is sourced from the same block of the well-known Hendry Vineyard every year since their first release in 1998. What is now the Hendry Vineyard was originally the site of some of Napa's earliest vineyard plantings with records showing grape vines planted on site initially in 1859. Prior to starting Portfolio, Geneviève was already familiar with the exceptional fruit from the Hendry Vineyard – as Robert Mondavi had been purchasing an number of varieties including Cabernet Sauvignon which was shared among Opus One at the time.
Based on it's location in the valley, the Hendry Vineyard maintains a unique growing climate; the temperature is very moderate – it is not often too hot or too cold. This provides a very consistent growing and ripening temperature for the vineyards. Geneviève notes the Hendry Vineyard contributes significantly towards the wines structure – and is part of the reason why they age their wines in oak for so long.
The Detert Vineyard is located on the eastern Oakville bench-land and is the second source of grapes for Portfolio. This is one of the ideal (and historic) regions for growing Cabernet Franc in Napa with some of the oldest Cabernet Franc vines in all of the Napa Valley (these vines date from the 1970's). Again, the Mondavi's had been purchasing fruit from the Detert Vineyard dating back to the 1960's and when Robert Mondavi opened his winery in 1966 – the Detert's continued selling fruit to him.
Luc and Geneviève walk the vineyards where their fruit is sourced many times after veraison occurs and have the final say for when the grapes are picked. As a result of premium vineyard sources, attention to detail and a state of the art tiny production facility, the wine produced here is of extremely high quality. A single vintage is produced each year, never more than 250 cases and it is always a Cabernet Sauvignon based wine blended with Cabernet Franc.
Their first vintage was in 1998. We tried their 2004 vintage during a visit with Geneviève and Luc at their winery; this is an elegant wine showing a deep garnet color in the glass. It is very full bodied with notes of graphite, spice and black fruit; complex and layered flavors show complemented by its silky tannins and smooth yet well-structured finish. One may notice just a hint of the new French Oak used in the aging; oak is not a dominating characteristic of this wine. The Cabernet Franc adds both a perfume element to the bouquet as well as a softness to the lengthy finish.
The 2013 Portfolio is inky dark in the glass; it shows a sweetness of aroma on the bouquet which continues as the wine evolves. Reveals darker fruit aromatics including blackberry, cinnamon, sweet chocolate, a very noticeable floral quality – violets (especially as the wine opens) and a very slight nuance of dust. The palate is rich and dense – with big fruit but complemented by a juicy quality – excellent acidity. We noted that the wine is well extracted and during the winemaking, Geneviève is pulling as much intensity from the fruit as possible (perhaps this particular vintage certainly also has something to do with its intense concentration). Well-structured tannins anchor a superb finish. A very age-worthy wine.
Their wines are popular in select parts of Japan and Taiwan. Locally you can find certain vintages often served at Redd Restaurant in Yountville and La Toque restaurant in the city of Napa.
Geneviève has a storied and unique history of wine making both in France and in the Napa Valley. She was born in Morocco (but raised in France). She studied at the University of Bordeaux and received her National Diploma of Enology in 1974. She then spent several years managing her family's vineyards, both in Corsica and France. Owning her own enology laboratory in Provence at the time, she was a consultant to a number of area chateaus.
She moved to the Napa Valley in 1978 – her first job in the wine industry was at Robert Mondavi Winery (only 12 years after Mondavi had opened his winery) as a lab enologist and an assistant enologist. In 1989 she became the Director of Production at Opus One Winery and oversaw it's construction. She has been the Director of Winemaking for Robert Mondavi Winery since 1997. In 2000 she was an integral part of Mondavi's first major renovation since its founding in 1966 when the impressive To Kalon fermentation room was built (containing large Taransaud wooden tanks).
Very well respected in the industry, Geneviève's contributions to the world of wine were honored in 2009 by the French government bestowing the title of "Officier" of the The Ordre National du Mérite Agricole – established in France in 1883, this award recognizes those who have made significant contributions to agriculture. And in 2010 The Wine Enthusiast Magazine awarded her their "2010 Winemaker of the Year".
Belgian born, Luc is a well-known extremely talented artist who is one of a handful of photographers in the world working with Photogravure, a photographic printing process that dates back to 1816. Highly educated in the world of art, he has a Master of Fine Arts degree from the Royal Academy of Fine Arts in Brussels, Belgium, a Master of Arts degree at California State University and a Doctoral degree at the University of San Francisco. He has also taught art at several San Francisco Bay Area based colleges. His works often blend photography and art and are found in collections worldwide.
Luc also runs an exceptional charity, The Lao Foundation which has built clinics and schools along the Mekong River and currently provides medical services to those in need in a number of locations in Laos. The number of projects they have funded and supplies donated to date is remarkable (the sale of their large format bottles of Portfolio wine is in part used to fund the foundation). Luc's first introduction to Laos was through the Hmong community when he and Geneviève were living in California's central valley (Luc was the Arts Division chair at Merced College). And Luc's dissertation focused on the people of Laos.
The wine sells out every year – for more information and to signup for their mailing list, visit: www.portfoliowinery.com. Several other websites to be familiar with are: www.laofoundation.com (the Lao Charity organization) and www.lucjanssensstudio.com (photography/art).