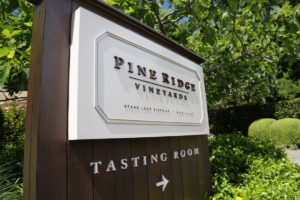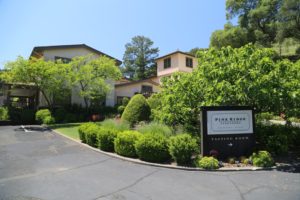 Pine Ridge Vineyards was founded in 1978 by the late Gary Andrus and his wife Nancy (Nancy has since retired and re-married). Pine Ridge owns property and vineyards in five of the Napa Valley appellations (Carneros, Howell Mountain, Oakville, Rutherford and Stags Leap District). They are a sizable winery producing over 85,000 cases, certainly a lot bigger than many of the smaller Napa wineries we have visited to date.
Pine Ridge is well known based on quality wines & a national distribution; their tasting room can be packed even on slower winter weekend days. Unlike other wineries who change varietals, vineyard sources and wines – Pine Ridge strives for consistency – sourcing from the same vineyards and blocks and producing the same varietals year after year. Former winemaker Stacy Clark was with the winery from 1983 to 2008, certainly one of the longer tenures of a winemaker in the valley.
The winery is in a nice location, set among the vineyards back against the hills, pine trees grow on the hill above the winery and there is a nice gazebo next to the vineyards. Two small demonstration vineyards are located on the south side of the parking lot; trellising systems are rare at Napa wineries and Pine Ridge has one of the best educational small vineyard in the valley. Each of these trellising systems contains a label on the end of the row – indicating the type of system, varietal, rootstock and other related vine information.
For someone new to wine tasting, vineyards will generally look the same at a glance, but there are many different methods to train grape vines and it is worth a quick stop to look at this demonstration vineyard.
There is an old radio commercial for milk that you may have heard if you grew up in the San Francisco Bay Area – "cows in Berkeley, mooo", Berkeley being a very urban environment. Chardonnay grown in Stags Leap? Stags Leap is an appellation known entirely for its Cabernet Sauvignon these days and some years back it was surprising to find 2 acres of two French clone Chardonnays grown on a small hillside behind the winery. This was one of only several blocks of Chardonnay grown in the entire Stags Leap District. These particular clones and growing climate produce an intensely flavored Chardonnay bottled under the name Le Petit Clos. Each year they typically produce less then 200 cases – that is nothing as far as production goes and this wine very quickly sells out every year. The release date is usually in May or June and its best to call the winery for exact release dates. (NOTE: need to determine if this varietal is still planted here).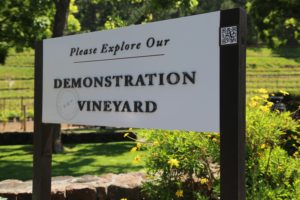 A tour is recommended if you have the time (allow 1 hour 30 minutes). The tours are geared to the lowest wine education level of the attendees and highlight a wide variety of topics ranging from vineyard management, to barrel aging, to fermentation and more. Visitors will be toured through the winemaking facilities, caves, ending with a tasting in their small sit down tasting room next to their wine library. They also offer Reserve Cabernet Barrel tastings, their Sunday Food & Wine Paring Seminar and even a Cabernet Cave Dinner.
Choose from two tasting flights – their current release and an all Cabernet Sauvignon selection. They offer several Cabs from their own properties ranging from Oakville, Rutherford, Howell Mountain to Stags Leap.
We thoroughly enjoyed the Andrus Reserve; it is not inexpensive but is a multi-layered rich wine showcasing plenty of fruit. One of their most popular and by far most produced wine is the interesting Chenin Blanc – Viognier Blend. These two varietals are sourced from Clarksburg and Lodi (Clarksburg is a part of the state that is associated with growing Chenin Blanc). This blend has excellent aromas and flavors, and is available at a reasonable price point.
Ask to see the film titled "Discriminatory Practices at Pine Ridge" which is all about how they discriminate against the grapes to make superior wines. All tours are by appointment.
For more information and or to join their wine club, visit: www.pineridgevineyards.com
NOTE: this review has been identified as needing a *major* update.