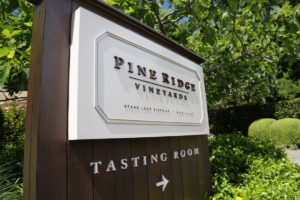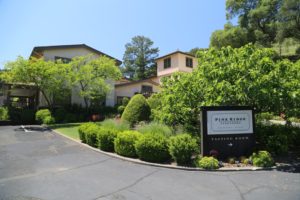 Pine Ridge Vineyards was founded in 1978 by the late Gary Andrus (died in 2009) and his ex-wife Nancy (she since retired and re-married). Gary was born and raised in the Los Angeles area and became an avid skier. At one point he was a member of the U.S. ski team for downhill skiing. Continuing his love of sports, in the late 1960s/early 1970s Gary founded a sports store on Higuera Street in San Luis Obispo called Mountain Sports. He sold this store in 1975, the new owners changed names then to The Mountain Air and eventually moved the store to a small shopping center on Marsh Street where it continues to operate (and is often frequented by Cal Poly students and the local community). Incidentally another Napa winery owner, Gary Erickson (co founder of Clif Family Winery) worked at this store for several years in the late 1970s.
Gary also left his mark on the world of Oregon wine – in 1993 he founded Archery Summit Winery (a prominent Pinot Noir producer in the Dundee Hills appellation of the Willamette Valley sourcing from approximately 120 acres of vineyards). In 2002 Gary founded Oregon based Gypsy Dancer Wines with his third wife Christine (who still continues to operate this Pinot Noir focused winery). Gary sold his shares in both Pine Ridge Vineyards and Archery Summit Winery in 2001.
Pine Ridge is now owned by Napa based Crimson Wine Group – a company that owns a select portfolio of wineries in California, Oregon and Washington (Pine Ridge is their only Napa based winery). We have visited and tasted wines at all their winery/tasting room properties – see our photos at the end of this review.
Pine Ridge owns vineyards in five Napa Valley appellations including Carneros, Howell Mountain, Oakville, Rutherford and Stags Leap District (160 acres of vines in total). Not counting their sizable Chenin Blanc production, they are a medium to large winery (for Napa standards), producing around 40,000 cases annually. Rather then outsource the management of the vines to a vineyard management company, Pine Ridge employees their own team.
Pine Ridge is well-known based on quality wines & a national distribution; their tasting room can be busy even on slower winter weekend days. Unlike other wineries who change varieties, vineyard sources and wines – Pine Ridge strives for consistency – sourcing from the same vineyards and blocks and producing the same varieties year after year. Former winemaker Stacy Clark was with the winery from 1983 to 2008, certainly one of the longer tenures of a winemaker in the valley. Pine Ridge has only employed three winemakers since its founding.
The winery is located in the Stags Leap District AVA, one of Napa's gorgeous regions featuring rolling hills, valley floor vineyards and steep rugged rocky hillsides to its eastern flanks. Stags Leap District AVA was founded as an appellation in 1989 and is one of Napa's most prominent appellations. There are several historical vineyards, one of which, the nearby Fay Vineyard provided fruit for one of their neighboring wineries (Stag's Leap Wine Cellars) whose 1973 Cabernet Sauvignon took one of the top honors in the historic Paris Tasting of 1976. Compared to some of Napa's other appellations, there are very few producers and wineries in the region. Furthermore its not an appellation that has seen an influx of new producers in the last 10-15 years like many of Napa's appellations. The vineyards in this appellation are also fairly well established.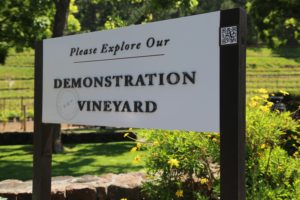 Stags Leap District was the first viticultural area in the United States to be approved based on the distinctiveness of its soils. There are two main soils that dominate – volcanic which is found along the hillsides and river sediments found at the lower elevations which over the years have formed consistent loams that are somewhat clay-like in nature. The appellation is not large by Napa standards – slightly over a mile in width and about 6 miles long.
Pine Ridge's little slice of the Stags Leap District is tucked between two hillsides surrounded by their estate vineyards. Pine trees grow above the vineyard extending to the ridge line to the west – and were the reason why Gary and Nancy chose the name Pine Ridge, honoring their location. The property encompasses nearly 50 acres of which 27 are planted to vine. Visitors who are interested in walking among vines and viewing the differences in varieties can visit their two small demonstration vineyards – located right next to the south side of the parking lot. Demonstration vineyards are rare at Napa wineries and Pine Ridge has one of the best educational small vineyard in the valley. Each of these trellising systems contains a label on the end of the row – indicating the type of system, variety, rootstock and other related vine information.
For someone new to wine tasting, vineyards will generally look the same at a glance, but there are many different methods to train grape vines and it is worth a quick stop to look at this demonstration vineyard.
And select long term wine club members (at least 10 years of consecutive membership) will have a posted plaque with their name on the ends of certain rows or vines, both in the demonstration vineyard and in one of their adjoining primary vineyard blocks.
Contemporary Stags Leap District is an appellation primarily known for its Cabernet Sauvignon (and select other Bordeaux red varieties) and for many years it was surprising to find nearly 2 acres of two French clone Chardonnays grown on a small hillside behind the winery. At the time this was one of only several blocks of Chardonnay growing in the entire Stags Leap District. These particular clones and growing climate helped produce an intensely flavored Chardonnay which they bottled under the name Le Petit Clos. Unfortunately those Chardonnay vines became diseased and had to be pulled out and were replanted to Cabernet Sauvignon.
Hospitality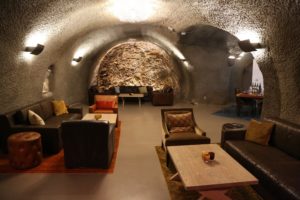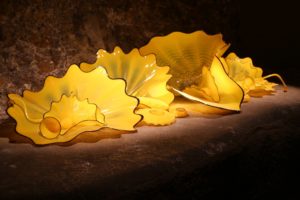 Pine Ridge is open to the public by walk-in, guests are greeted by a friendly host who then directs them to a space at the tasting counter. However, Pine Ridge also offers several appointment only personalized and private experiences. One of the most popular is Savor, a 90 minute tour followed by a tasting of small bites prepared by their full-time in-house chef. During a recent visit we were treated to mouth watering delicacies such as a Duck Rillette Toast, Smoked Trout Gougere and a Pork Picadillo Empanada. Along with the wines, these tasty treats are certainly highlights of this experience.
This seated tasting is held in their plush Cellar 47 Lounge within the confines of the 32,00 square foot cave (the lounge was formerly used for barrel storage and named in honor of their total vineyard acreage in the Stags Leap District). The tasting focuses on select Cabernet Sauvignon wines from their vineyard sites including a taste of FORTIS, their flagship Cabernet Sauvignon.
Incidentally this was the first cave ever drilled by Glen Ragsdale Underground Associates (a prominent wine cave excavator based in the Napa Valley who since went on to drill more then 50 winery caves – most of which are located in the Napa Valley).
A separate experience includes a visit to their demonstration vineyard followed by a tour of their cave with a tasting. These tours are generally geared to the lowest wine education level of the attendees and highlight a wide variety of topics ranging from vineyard management, to barrel aging, to fermentation and more.
Both tours allow visitors to see the remarkable original glass sculpture by prominent artist Dale Chihuly, titled, Siam Gold Perisan Set with Lamp Black Lip Wraps. This delicate piece is actually 22 separate pieces (although one piece was broken during a cleaning session, but visitors will not notice its absence). Gary acquired this piece during the 2000 Napa Valley Wine Auction. Dale is a prominent artist who perhaps is most famous for his glass ceiling in the entry of the Bellagio Hotel in Las Vegas.
Tastings available by walk-in include a lineup of their current release-wines. These are wines hand-selected, some of which which represent their vineyards in five of Napa's distinct sub appellations.
Wines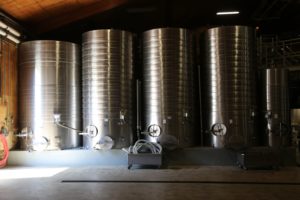 As of our latest update to this review, remarkably Pine Ridge produces approximately 150,000 cases of a wine a year called Chenin Blanc + Viognier. This reasonably priced wine is usually approximately 80% Chenin Blanc and 20% Viognier. The Chenin Blanc comes from where the few Napa producers of this variety often source their grapes from – Clarksburg. Very few Napa producers source from Napa Valley grown Chenin Blanc (the Napa Valley Crop Report usually shows about 7 planted acres in all of the valley). And their Viognier comes from Lodi. Due to the large scale of this production, this wine is not made at Pine Ridge Winery. It is available at a reasonable price point and is well distributed nationally – often found in larger wine retail and grocery stores.
In tasting through a select number of their single vineyard Cabernet Sauvignon wines – we noticed several threads of consistency throughout the wines. First, these are balanced wines, even in their youth and second they all have good acidity – and are food friendly wines.
The 2016 Carneros Collines (meaning hills in French) Vineyard Chardonnay went through primary fermentation using non-inoculated yeast (indigenous) and was allowed to go through full secondary fermentation (delayed until spring by keeping the wine cold). This wine was fermented and aged in oak barrels (50% new). Rather then being supported by standard metal racks (the Peterson palates, named after Dick Peterson who invented these and donated them as his gift to the wine industry), the Pine Ridge barrels rest on Oxo rack rollers. And instead of using a stainless steel rod to stir the lees in the barrel, the barrels are simply turned on rollers allowing the wine to mix with the lees – essentially using a non traditional technique for battonage.
As expected, the wine is noticeably dark golden in the glass leading to a bouquet with richly layered aromatics including honeysuckle and an orange/lemon zest complemented by dessert spices. The palate is layered, rounded and creamy in its textural feel. This wine certainly has weight but its weight is balanced nicely by bright and lively fruit flavors including nectarine and citrus – anchored by a refreshing acidity (but not tart). Features a very long finish and drinks well by itself.
The 2013 Pine Ridge Vineyards Stags Leap Cabernet Sauvignon is 100% varietal – super dark in the glass (noticeable even under less then optimal lightning conditions), the wine reveals an opulent and appealing bouquet focusing mostly on darker fruit including ripe blackberry and black cherry. Shows a depth and intensity on the finish that we have often found in Napa red wines from this particular vintage. Well layered showing plum and dark currant – juicy, with good acidity, plenty of flavor and robust tannins which linger for some time. That tannins still feel young even 5 years after the vintage date – at the time of our tasting. Loads of life still left in this wine.
The 2015 Pine Ridge Vineyards Howell Mountain Vineyard Cabernet Sauvignon (from their 9-acre Alta Vineyard) offers an intriguing bouquet – it has some savory characteristics with hints of cedar, dark chocolate, clove and Asian spices. Nicely balanced with a noticeable mouth watering acidity. Shows more dark fruit on the palate then red. Dusty earthy tannins featuring both wood and grape tannins. The darker spices on the bouquet also show on the finish – including notes of black pepper.
The FORTIS (Latin for strength) is a selection by their winemaker – choosing only the top percentage of the best vineyard blocks across their vineyard portfolio – with often slightly extended oak aging time. The 2015 Pine Ridge Vineyards FORTIS is ruby/purple in the glass showing dark fruit on the bouquet complemented with dark spices including cedar notes and cigar/tobacco leaf. Full-bodied with a noticeable intensity on the palate – offers powerful fruit including blackberry along with black licorice with robust but not overly grippy tannins that linger for some time. Despite its stature, this wine is balanced – and has very good acidity.
Other Crimson Wine Group Properties
Archery Summit in Oregon's Willamette Valley focuses on Pinot Noir, Chamisal Vineyards in San Luis Obispo's Etna Valley focuses on exceptional Chardonnay, Pinot Noir and Syrah. Loads of vineyard history as it relates to Edna Valley. They were the first winery to plant vines in Edna Valley in 1973. The name come from the native Chamise plant which grows on the property. The tasting room is located about 1/4 mile north of where the wines are made.
Double Canyon Winery was started by Crimson Wine Group (as opposed to acquiring existing wineries); the winery opened in 2017 (no vineyards on site), located about a 15 minute drive from Richland in eastern Washington and focuses on Cabernet Sauvignon, Malene Wines are known for their rosé wines and popup tastings – when parked at the winery, they are open for tastings certain times on Friday through Sunday in a silver airstream – with a home base in the Etna Valley about a 1/4 mile south of the Chamisal Vineyards tasting room, Seghesio Family Vineyards based in Healdsburg, Sonoma County are known for their rich history since their founding in 1895 and for their Zinfandels and Seven Hills Winery located in a historic building in an urban part of Walla Walla Washington are known for Cabernet Sauvignon.
For more information and or to join their mailing list or the wine club (which offers a healthy number of perks including free use of their grounds for picnics and complimentary tastings at other wineries owned by Crimson Wine Group), visit: www.pineridgevineyards.com
Exterior

Cave/Hospitality

The Mountain Air, San Luis Obispo

CRIMSON WINE GROUP PORTFOLIO OF WINERIES
Achery Summit Winery, Willamette Valley OR

Chamisal Vineyards, San Luis Obispo CA

Double Canyon Winery, WA

Malene Wines, San Luis Obispo CA
– On the Road

– In its Native Habitat

Seghesio Family Vineyards, Sonoma County CA

Seven Hills Winery, Walla Walla WA

The Estates Wine Room, Seattle WA (closed as of August 2019, we keep these photos here for nostalgia purposes)