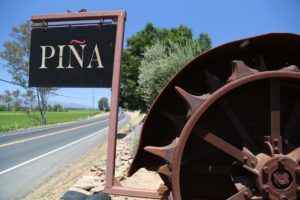 Piña Napa Valley released their first commercial vintage in 2000. Four brothers (Davie, Larry, Ranndy & John) own the winery; they are 6th generation Napa Valley residents. Both sides of their family have extensive history in California and the Napa Valley in particular.
Their great-great grandfather Bluford Stice traveled with General George C. Fremont to California from Missouri in the 1850's. Blueford settled in the Napa Valley in 1856 – a tribute to his family name still lingers – Stice Lane is located just south of St. Helena. and their family roots in Napa Valley date back to 1856. Interestingly enough, Bluford's son Lafayette owned vineyards in the Napa Valley and was also a winemaker at Inglenook Estate.
All four brothers graduated from Cal Poly, San Luis Obispo, which we think is just absolutely awesome. Course we are not biased at all considering CP-SLO was our alma mater!
Today they run a vineyard management company which provides high end vineyard management services to a number of well known Napa wineries including Pahlmeyer, O'Shaughnessy, Cafaro, Schlein Vineyard, O'Brien Family Winery, Gemstone, Roy Estate & others. The bottom line is this family has a very long history in the Napa wine industry. A rusty trailer and other farm implements next to their sign makes this winery easy to find on the east side of Silverado Trail.
The tasting room is very low key; it is in their barrel room, which from the outside has "shedlike" appearances. The tasting counter is portable. A tasting here is reminiscent of how Napa used to be and you won't find fancy architecture, reflecting pools or famous artwork. Now, with all that said, its glaringly obvious you don't need all those extra's to produce top notch wines. Piña produces some of the nicest Cabernet Sauvignons that we have tasted in Napa Valley. We've tasted a ton of wine for this project and it is extremely rare when all the wines at a particular winery fit our palate like a glove such as with Piña.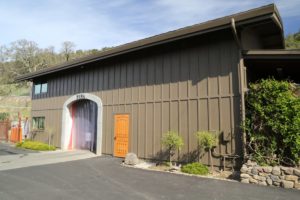 You come here for their 100% single vineyard designated Cabernets because that is all they make, IE no blends. They source from 5 select vineyards in Napa. They planted each of these vineyards and have provided the vineyard management since day 1 (they own the Rutherford and Oakville vineyards).
This is a small winery with only about 4000 cases produced annually and some of their wines are produced in quantities of merely several hundred cases. Typically they sell out way ahead of when the bottles are ready to be released to the public so you have to buy "futures". As a result, depending on the time of year your tasting may be from barrels only. There are a few qualities characteristic of Piña produced wines – rich aromas and flavor, smooth refined structured tannins with very velvety overall mouth feels.
A couple highlights; the 2005 D'Admamo Vineyard is by far their most produced wine. The 2005 Howell Mountain has wonderful earthy aromas, almost dusty. The palate is rich yet refined and is extremely well balanced with notes of blackberry and chocolate towards the finish which is long and slightly smoky with just a touch of toasted oak. The wines from their Oakville, Rutherford and Yountville vineyards are produced in quantities of typically no more than several hundred cases each vintage. Come to the winery to buy these!
The 2007 Wolff vineyard Cabernet Sauvignon from barrel was already drinking very nicely merely 9 months after fermentation. If we had to choose one word to describe this wine it would be "rich" …in aroma and flavor. Their wine club is appropriately called "Tilda" after the accent mark over the "n" in their name. Visit: www.pinanapavalley.com
The Pina's talk about their winery: