Peter Franus Wines has been involved in the Napa wine industry since late 1979. Originally from Connecticut he moved out west to attend UC Berkeley where he earned a journalism degree. His first exposure to Napa was when he was in his late teens though a friend's family but it wasn't until later that a passion for wine began to develop. Not satisfied with being an educated wine consumer, he went back to school at Fresno State in their viticulture and enology program.
Soon after Fresno he worked at several area wineries before starting at Mt. Veeder where he worked as winemaker for more than 10 years. During his time here, he became familiar with mountain grown fruit and especially Zinfandel which soon became a varietal favorite. As a result of his exposure to Mt. Veeder he worked with the Brandlin Vineyard, a very historic in part Zinfandel vineyard located at about 1200 feet on Mt. Veeder. If the name of the vineyard sounds familiar, it is because it is owned by Cuvaison Winery (Brandlin Cabernet Sauvignon).
At the time of this review, the vines are more than 85 years old and are some of the oldest vines still in production on Mt. Veeder. As a result their production is very small. Peter's first commercial release was none other than Zinfandel in 1987 and he has worked with the Brandlin vineyard every year since 1991. He knows this vineyard and what it is capable of. Sitting outside at Laird Family Estate Winery (where Peter makes his wine) this vineyard is rather noticeable. Look to the west and spot a single tree in a saddle in the hills and you have the exact location of the vineyard.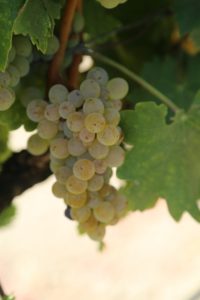 The 2007 Sauvignon Blanc is from two vineyards in the cooler Carneros region. This was tank fermented and then left to sit on the lees in the barrel for 3 months which helps contribute a slight creaminess to the wine while still retaining its crisp component. However no new oak is used, rather Peter wants to focus on the varietal characteristics of the wine. This wine is not overly filled with citrus components that you sometimes find in Sauvignon Blancs, rather you may find pineapple, melon and even ginger. There are good mineralities anchoring the pleasant finish.
The 2005 Peter Franus Red Wine is an alluring gem that is very dark in color. The elegant nose starts off slightly floral in nature with the core of the palate being all fruit including blackberry and cherry. Spices start on the mid palate and finish slightly spicy and smoky with just a kiss of toasted oak.
The 2004 Peter Franus Zinfandel (merely labeled PF on the front of the bottle), is from the aforementioned Brandlin Vineyard. While the majority of the varietal in this wine is Zinfandel it is actually a field blend which includes small amounts of several other varietals including Charbono, Mourvèdre, & Carignane. The first word out of our mouth when we tried this was "delicious", which is a word Peter has grown accustomed to hearing about his Zinfandels! The nose is elegant with notes of graphite, dried fruit, and red cherry. There are some briary characteristics with deeper notes of blackberry, chocolate and just a touch of vanilla. As the nose opens up it you find even more fruit aromas. This is not a spicy Zinfandel either in the bouquet or on the palate. It is extremely well balanced. There are rich fruit flavors along with cedar box spices, toasted oak and earthy components. The finish is balanced, rather lengthy, rich and warm.
Peter also makes a Napa Valley Zinfandel which unlike the Brandlin gives him more blending flexibility and is not always sourced from the same vineyard. While the Brandlin is his flagship Zinfandel the Napa Valley Zinfandel is more of a "drink now" with food styled wine.
Oh and we haven't yet mentioned that their prices are really quite reasonable. They have rather good distribution in parts of Canada – you can find their wine locally at Backroom Wines in Napa or online. For more information, visit: www.peterfranus.com