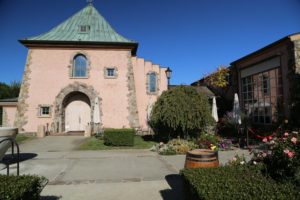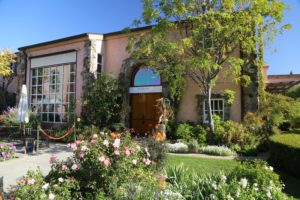 Peju Province Winery is family owned and located on the east side of Highway 29 about 1/2 way between Oakville and Rutherford in the middle of the busy "wine strip". The winery was founded in 1982 by Tony & Huerta Peju – they continue to run the operations but their two daughters Lisa and Ariana are also very actively involved. Peju Winery is one of the more recognizable wineries along this part of Highway 29 due to its unique architecture, copper roofs and row of curved Sycamore trees that line the driveway leading to their actual winery options.
Unlike the trend in the Napa Valley for open by walk-in wineries to now become appointment only – it is still easy to visit Peju because no appointments are necessary for tasting. In addition, refreshingly they are open until 6pm, usually after most of the other wineries have closed for the day.
Peju does an excellent job of local advertising, and along with word of mouth – helps draw visitors to the winery. Weekends during the summer are not typically the time to visit unless you are addicted to large groups of people and significant social interaction with other visitors. If you are here in the summer, on a weekend and crowds are not your thing, show up when they first open at 10am.
Compared to many wineries who distribute to restaurants and retail outlets, the majority of their wines are actually sold direct to consumer at the winery.
As you approach the winery from Highway 29 look for the very unique Sycamore trees; they are pruned so that they essentially have very few branches and are spindly looking in shape. Nice grounds, use of water, sculptures and landscaping surround the winery. When you walk in the main door – you will see one of their tasting bars at the end of the room on your left, however note that Peju has several other tasting bars scattered throughout the winery, both upstairs and downstairs.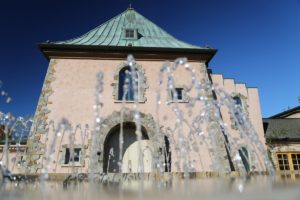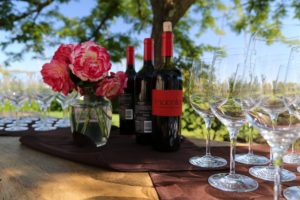 Unlike tastings at nearby wineries when once you enter the tasting room you immediately head to the tasting bar, walk-in tastings here are "timed" which means when there is an opening at the tasting bar, the host will escort you and other people who are waiting back to one of the tasting bars. As a result, tastings are slightly more personal here then at some other wineries in which visitors can crowd the bar tastings until there isn't much room. Until there is an opening at one of their tasting bars, most people typically hang out in the retail room.
Their primary and most popular tasting is the "Classic" (no appointment needed) usually featuring 4-6 wines. These tastings are rather structured if busy, and usually last 20-25 minutes. Their other tastings are all by appointment and include the Reserve Tasting (a selection of their most exclusive and limited production wines), a seated Wine & Cheese Pairing led by a Peju Ambassador and several private tasting options for groups of 8 or more.
The main tasting room in the back of the winery behind the large stained glass window is spacious with beautiful cut Brazilian Quartzite marble lining the counter as well as the floor. The marbled iron ore in this rock will actually glow in the dark at night. Also note the beautiful antique stained glass window which dates from 1906.
Peju owns and manages over 450 acres in the valley which gives them a wide selection of terroir to source fruit from.
During one of our visits we began our tasting with the 2006 Peju Carnival; this was actually the first wine ever made at Peju back in the early 1980's. This wine is made from French Colombard – a variety one rarely finds from a Napa based winery. They source this variety from vineyards located in northern Mendocino County. This white wine variety is sometimes compared to German Rieslings. This vintage is both creamy and crisp with notes of red apple and a lemony citrus quality. There is just a hint of residual sugar, noticeable mostly on the finish.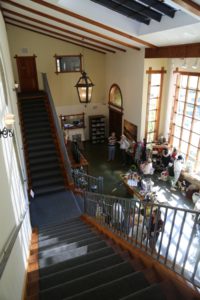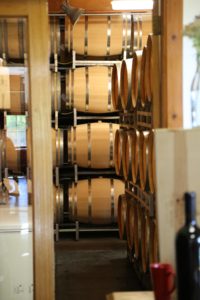 The 2007 Peju Pink rosé is most decidedly pink in color. 25% of the proceeds from the sales of this wine are donated directly to breast cancer research and during the first year this wine was released, the Peju family donated over $64,000. The image of one of the ladies in their stained glass window appears on the label. It is a very unique blend of Zinfandel, Chardonnay, and Colombard. It is fruity with aromas of strawberry, kiwi and watermelon with stone fruit flavors including nectarine and peach. As one of their employees told us in regards to this wine, "chill it, fill it, kill it"!
The 2005 Peju Syrah is light on the oak showcasing a wide variety of fruit flavors and a characteristic spiciness that's not really found on the bouquet, but more so on the palate especially towards the finish. Peju has become known for their Cabernet Franc including a reserve wine from this variety. The 2005 Peju Cabernet Franc offers notes of chocolate along with floral nuances on the bouquet; the wine is soft and supple on the palate with appealing flavors of plum and blackberry.
Other interesting wines include the non vintage Provence – a multi varietal blend of both red and white grapes including Cabernet Sauvignon, Merlot, Zinfandel, Chardonnay and French Colombard. Also of note was the 2013 Cabernet Sauvignon Barrel Experiment. Winemaker Sarah Fowler sources a variety of barrels from different coopers and combines the best of the barrels after the wine has aged into this one wine. The tannins are leviathan in nature; this wine screams for some protein, layered in strips of fat if possible!
Part of the experience at this winery is visiting with the people pouring the wines – Alan Arnopole, "The Yodelmeister or rapper, used to sing and perform in the tasting room. He was one of the few people in Napa to consider a tasting room his personal "stage" and he was a "Peju tradition". He would sing about most anything, often on the spur of the moment with quickly composed lyrics which quickly attracted crowds of people. As of our latest update to this review, Alan is mostly retired but stops by the winery every now and then.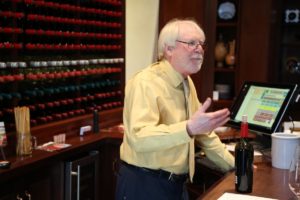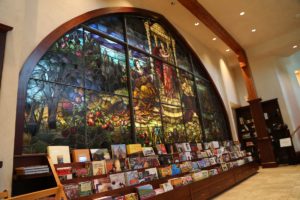 Peju offers wines for all tastes ranging from several not often produced white varieties, to the big deep reds such as their Estate Cabernet Sauvignon. They even produce a Zinfandel Port style wine for those who have a sweet tooth.
Rotating art exhibits are on display in their upstairs art gallery; usually these works are from prominent San Francisco Bay area artists. Visitors can take a "self guided" stroll around the property taking in the gardens & art displays. This is a "fun" winery and and attracts people from all over who want to not only taste good wine but to also have a fun and memorable experience.
And their gift shop is one of the better stocked ones in the valley offering a variety of mostly wine related items including serving devices along with soaps, pottery and other souvenirs.
In 2015 Peju opened another facility, simply called P2 in a business park south of the city of Napa. This location is not open to the public and is used as a shipping location and as offices for some of their employees.
In late 2016, Lisa and Ariana also founded what was originally known as Liana Estates (laterLE Estates) and now Calmére Estate Winery – located on site of the old Acacia Winery on the Napa side of the Carneros District.
For more information and or to join their wine club, visit: www.peju.com
Exterior

Interior

Winemaking

Sycamore Trees

Peju P2, Napa Business Park