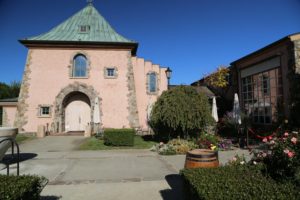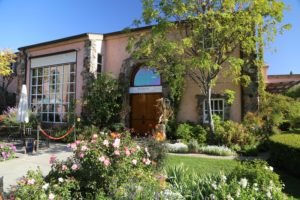 PEJU Napa Valley is family owned and located on the east side of Highway 29 about 1/2 way between the small communities of Oakville and Rutherford in the middle of the busy "wine strip". The winery was founded in 1983 by Tony (died in 2023) & Herta Peju; both have an international upbringing – Tony was raised in France and immigrated to the U.S. in the 1950s and Herta was born in Austria and raised in Venezuela. They met in Los Angeles where both were living at the time. Tony became involved in the nursery business and owned flower shops in Los Angeles along with residential real estate. Eventually he decided to move the family to Napa Valley after purchasing 30-acres – at the time, site of an old house but no winery. Very much a family run business, Tony and Herta continue to be involved in the operations in advisory roles along with their two daughters Lisa and Ariana who oversee the day-to-day management of the operations; ownership of the winery was transferred to Lisa and Ariana in early 2023.
Their first vintage was a tiny production of Cabernet Sauvignon in 1982 from purchased grapes (since all the grapes on their Rutherford property were being sold to another winery at the time) and their first white in 1983 from French Colombard that was already growing on the property. Tony made the wine for a number of years helped by friends in the industry who offered their consulting advice including winemakers and winery owners, Walter Schug and Ray Coursen. Sarah Fowler has been their winemaker since 2006.
Their location is prime Napa Valley – nearby neighbors in this part of Rutherford include several of the Napa Valley's most iconic and historic wineries including Inglenook and Beaulieu Vineyard.
Hospitality
PEJU is one of the more recognizable wineries along this part of Highway 29 due to its unique architecture, copper roof and row of curved sycamore trees lining their driveway (planted in the mid 1980s and referred to as the Dr. Seuss trees by Lisa). These trees are pruned so that they essentially have very few branches and are spindly looking and are immediately noticeable by cars approaching from either direction on the highway. Astute observers will notice that over the years some of the upper parts of these trees have broken off due to various factors including wind and have been retrained to continue growing outward. The grounds are tastefully landscaped with a variety of outdoor sculptures, diversity of trees, a small koi pond and several gardens supplying produce used by their culinary team.
All tastings are by appointment. Their most popular tasting is the Estate sit-down tasting featuring 5 current-release wines. The Rutherford Dust Experience is an exploration of Cabernet Sauvignon grown and produced in Rutherford including some of their most exclusive and limited production wines and the Stained Glass Single Vineyard Experience is a seated tasting exploring select single vineyard wines bottled as part of their Stained-Glass Collection. Each bottle's label is a vertical image of the large stained-glass window in the tasting room – so that when the bottles are lined up, the entire image shows.
Culinary experiences have become an integral part their overall offerings; a commercial kitchen is on site and a full-time winery chef is employed. Culinary experiences include a wine and food pairing and a unique experience where guests enjoy four courses paired with select wines at a private shaded table among the vineyard rows.
PEJU does an excellent job of outreach and along with word of mouth as a result, has become one of the more visited wineries in the valley. Weekends during the summer months can be particularly busy. Guests visiting during these weekends who want to avoid busier times, considering making this the first stop of the day at 10am when they open.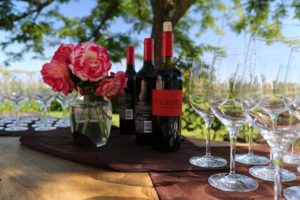 PEJU maintains several tasting bars throughout their hospitality center – both upstairs and downstairs. And a retail space greets visitors to the winery. The center piece in their hospitality space is an impressive 10' x 20' stained glass window built in Germany in 1906 and purchased by Tony at an art auction in 1993. Lisa remembers this beautiful piece of art was in several pieces for many years – stored in their barn. This window is housed in the 50-foot iconic Peju Tower – originally designed in 1981 by southern California architect Calvin Straub. However, it was not built until the early 2000s (several years after Calvin died). And also in the tower is the Uluru Room featuring beautiful cut Brazilian quartzite marble on the tasting counters and the floor – rumored to slightly glow in the dark at night.
Part of the experience at PEJU is visiting with the friendly hosts pouring the wines. Alan Arnopole, the "Yodelmeister" or wine rapper, used to sing and perform in the tasting room. He was one of the few people in Napa to consider the tasting room his personal stage; he was a "Peju institution". He would sing about most anything, often on the spur of the moment with quickly composed lyrics which quickly attracted crowds of people. As of our latest update to this review, Alan is mostly retired but stops by the winery every now and then or is scheduled for special events.
Rotating art exhibits are on display upstairs in the art gallery; usually these works are from prominent San Francisco Bay Area artists. Visitors can take a "self-guided" stroll around the property taking in the gardens & art displays. Usually, one can pick up a Garden Art Walk brochure inside the hospitality center for guidance and information about each of the pieces of art on the property. Note the metal pillars and gates in particular outside the path leading to the tasting room; Tony Peju purchased these in the 1970s from the Pacific Stock Exchange on Spring Street in downtown Los Angeles (when this stock exchange closed permanently). Visiting Peju is about having fun and being with friends or family – and maybe making new friends; their wines and experiences attract people from all walks of life – even those driving by who are simply attracted to the pretty property.
And their gift shop is one of the better stocked ones in the valley offering a variety of mostly wine related items including serving implements, pottery and other souvenirs.
The Wines
While this perhaps sounds simplified, this is a very important part of their business: the focus of PEJU's winemaking is to make wines that appeal to their customers. And based on their location and the diversity of customers that visit – their portfolio of wines is wide ranging from sparkling wine to slightly sweet offerings to limited production, often single vineyard or single varietal wines (especially for their club members).
PEJU owns and manages over 600 acres in the valley with 6 properties from Carneros to Calistoga including the home property in Rutherford along with Oak Knoll and Pope Valley. All their vineyards are organically farmed. With the exception of the French Colombard, all the grapes used for their wines are grown on their own estate properties.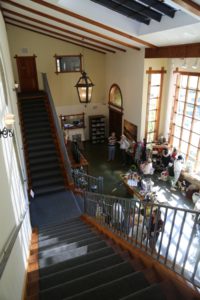 The 2018 PEJU Blanc de Noir is from Pinot Noir grapes grown at their Carneros property (Calmére Estate) – crafted in Méthode Champenoise style – it sat on the lees for over a year before being disgorged and then spent some additional time in bottle before release. Light salmon in color offers engaging aromatics including raspberry, fresh rose petal and citrus blossom. Smooth across the palate with a slight creamy texture, but with plenty of liveliness from the bright acidity. Flavors of citrus including lemon. This is clearly a crowd pleaser!
A very interesting and highly unique for Napa Valley wine produced each year is the non-vintage Province – a multi varietal blend which changes each year and typically includes four red varieties and two white varieties. The reds used are often either Cabernet Sauvignon, Malbec, Merlot, Sangiovese and Zinfandel while the whites are typically Chardonnay, Sauvignon Blanc and or French Colombard. Rather than co-fermenting these varieties during the winemaking – each variety is fermented separately and then later blended together. Producing a wine that is consistent each year is one of the winemaking team's goals when creating this wine – and is one of the more difficult challenges to do each year.
Province is best served well-chilled. The 2020 PEJU bottling (the current release at the time of our most recent tasting) is distinctive in color – a pinkish red in the glass offers bright fruit aromatics including red licorice, jolly rancher watermelon and strawberry. The aromatics are somewhat sweet. On the palate shows plenty of strawberry notes and raspberry – the fruit shows bright with some complexity nicely complemented by the acidity. Very slightly sweet without any noticeable texture of tannins. Drinks easily and quickly.
The 2017 PEJU Napa Valley Cabernet Franc (15% Cabernet Sauvignon) is medium to dark ruby in color – offers less fruit but more additional spice notes including cedar box, an earthiness and a dried herb characteristic. Medium bodied, offers red fruits across the palate including a lingering tartness with flavors of cranberry, red cherry and currant. The tannins are lighter in texture, slightly dry in feel and are well integrated into the finish. This variety is usually the last picked of their reds – left to reach full ripeness there are no green characteristics on either the bouquet or the palate. But the wine retains a savory quality that this variety often shows – not a vegetal character but more of a darker spice and dried herb nuance. Really nicely balanced.
The 2018 PEJU Napa Valley Cabernet Sauvignon is medium to dark purple in the glass with a bouquet that walks the line between barrel influence and showcasing the varietal fruit characteristics. Offers aromas of plum chocolate, mocha and espresso with some Graham cracker and earth notes. Also, cedar and some dried tobacco. Plenty of brightness on the palate, with an initial sweetness of red fruit on the entry – mouthwatering and juicy with great acidity. The tannins are slightly dry and long lasting – with a noticeable grip but are not overly course in their textural feel.
The 2015 PEJU The Beginning, Napa Valley is part of Peju's nostalgia series, limited production wines for wine club members. The photos on these bottles were taken from family albums – Herta took the photograph on this label of Tony with a horse scouting the HB vineyard in 1986. The wine is 84% Petite Verdot, 9% Cabernet Sauvignon and 7% Malbec.
Deep, dark ruby in color the bouquet offers beautiful darker fruit aromatics including ripe Santa Rosa plum, toasted cedar, dark chocolate and mocha. Also, a floral note (violets). Luscious across the palate and opulent with plenty of rich fruit characteristics showing from the entry through to the finish. Lingers with notes of dark cherry, cedar and hints of darker spices and some pepper (but not peppery). The grape tannins are chalky, earthy and finely rounded yet sporting some noticeable density. An influence of oak also shows – with both wood and grape tannins very well integrated into the smooth finish. Lovely texture. Pairs well with Sonata in A Major for Eight Trumpets and Orchestra, with both this wine and Wynton Marsalis leading the charge.
During one of our early visits, we tried the 2006 PEJU Napa Valley Carnival, made from French Colombard – a variety rarely produced by a Napa Valley based winery. Originally growing on site when the Peju's purchased this property, due to the poor economics of growing this variety in prime Rutherford red variety terroir – it is no longer planted on site, so they source this variety from vineyards located in northern Mendocino County. This white wine variety is sometimes compared to German Rieslings. The 2006 vintage is both creamy and crisp with notes of red apple and a lemony citrus quality. There is just a hint of residual sugar, noticeable mostly on the finish. Lisa calls this wine a nice balance between tartness and sweetness.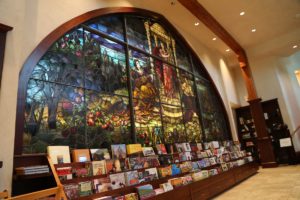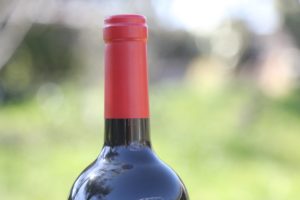 The 2007 PEJU Pink Rosé was appropriately named – noticeably pink in color. 25% of the proceeds from the sales of this wine were donated directly to breast cancer research and during the first year the wine was released, the Peju family donated over $64,000. The image of one of the muses in their stained-glass window appears on the label. It is a very unique blend of Zinfandel, Chardonnay, and French Colombard. Fruity with aromas of strawberry, kiwi and watermelon and stone fruit flavors including nectarine and peach. As one of their employees told us in regard to this wine, "chill it, fill it, kill it"!
The 2005 PEJU Syrah is light on oak showcasing a wide variety of fruit flavors and a characteristic spiciness not really found on the bouquet, but more so on the palate, especially towards the finish. PEJU Napa Valley has become known for their Cabernet Franc including a reserve wine from this variety. The 2005 PEJU Cabernet Franc offers notes of chocolate along with floral nuances on the bouquet; the wine is soft and supple on the palate with appealing flavors of plum and blackberry.
Also of note is the PEJU Napa Valley annual Barrel Experiment wine. Winemaker Sarah Fowler sources a wide variety of French and American barrels from different coopers and combines the best of the barrels after the wine aged into one wine. The 2013 PEJU Napa Valley Cabernet Sauvignon Barrel Experiment featured leviathan tannins; this wine screams for some protein, layered in strips of fat if possible!
—
In 2015 PEJU opened another facility, simply called P2 in a business park south of the city of Napa. This location is not open to the public and is used as a shipping location and as offices for some of their employees.
In late 2016, Lisa and Ariana also founded what was originally known as Liana Estates (later LE Estates) and now Calmére Estate Winery – located on site of the old Acacia Winery on the Napa side of the Carneros District. The focus of the Calmére Estate wines are generally Pinot Noir (individual clone bottlings), Chardonnay and other lighter style varieties. Some of these wines are sold and are available for tastings at PEJU.
Refreshingly the winery is open until 6pm, usually after most of the other wineries have closed for the day. The wines are distributed in select markets across the USA with very limited distribution in Canada and Japan. For more information, to schedule an appointment, to join one of their wine clubs (with access to wines not available to the general public and private culinary experiences), visit: www.peju.com
Exterior

Interior

Winemaking

Sycamore Trees

Peju P2, Napa Business Park