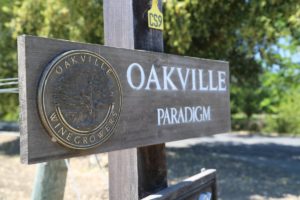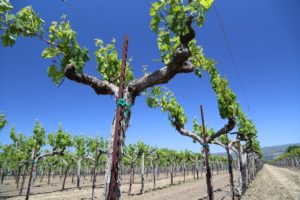 Paradigm Winery is located on Dwyer Road just south of the Oakville grade in Oakville. Ironically, one of the "best" ways to find this winery is to look for the sign in front of Dwyer Road just off of Highway 29 that says "No Wineries This Road"! This sign works extremely well to discourage the typical visitor driving down Highway 29 to enter this small road. However if you have an appointment ignore this road sign and drive into the winery parking lot about 1/2 mile west.
Both of the owner's roots (Ren & Marilyn Harris) are entrenched in the Napa Valley – with Marilyn's family dating back to 1890 (her grandparents actually came to Napa from Italy to grow grapes) and Ren's family first immigrated to California in 1769. The vineyard has been in operation since 1976 under the Harris ownership – selling grapes exclusively until they released their first vintage in 1991. Well known Heidi Peterson Barrett has been their winemaker since day one – Paradigm is certainly one of her older clients. Heidi's father Dick Petersen consulted for the initial winery equipment and layout of the production facility. Noted architect, Jon Lail designed the winery.
Most wineries take their name from the owner's last name – not so with the Harris's. They held a contest to allow others to come up with a name. A gentleman from Calistoga suggested the name Paradigm which means an "example that serves as a pattern or model" or in the case of their wine, is a "pattern for perfection".
The Harris's are long time Napa vintners having first grown grapes in 1964. It is very unusual to find those who started in the Napa wine industry in the 1960's still actively involved in the day to day operations of their winery. Such is the case with Ren & Marilyn – they both started growing grapes when they were young and today are often found at the winery. Ren, used to be in charge of hosting most of the tastings (he has stepped back from this since) which are always kept to small groups (typically no more than 6 people), by appointment only for serious wine enthusiasts.
Fifty five vineyard acres surround the winery and as of our latest update to this review, focus on four different wines, Cabernet Sauvignon, one of those "of course" varietals, considering the fact that they are in the heart of Napa's Cabernet Sauvignon country, Merlot, Zinfandel (quite rare to find an Oakville Zinfandel producer) and Cabernet Franc.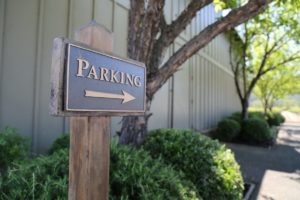 To give you an idea of the type of terroir in this area, nearby vineyards include Harlan Estate and Opus One. Paradigm currently still sells the majority of the grapes from their vineyards to other premium wineries including Groth, Nickel & Nickel and Far Niente. We have walked through parts of their vineyard on a number of occasions; the vines in the particular block we visited are planted much higher off the ground than most Napa vineyards – first, this makes it easier on the workers for harvesting the fruit and secondly allows for good airflow through the vineyards and a longer hang time (lower vines means the fruit is closer to the ground's influence which means slightly warmer temperatures over time). With the effects of global warming, perhaps other vineyards will start trellising like this.
The tasting is in a small room in the back of the winery which has west facing views of the nearby Mayacamas mountains. A lengthy window inside this room offers bucolic views overlooking the hills and vineyards. Check out the commemorative photos hanging on the wall from Thai Airways (their wine has been served on board in the past) and from Yosemite National Park recognizing Paradigm's previous contributions to this park.
Two wines usually being poured form the bulk of their production – a Cabernet Sauvignon and a Merlot. Both are stylish big wines, but very approachable upon release and can easily be consumed now without having to cellar them although aging these wines is certainly not a bad idea! All their wines are blended.
Those in the know, already know this: Paradigm is one of the best premium wine values in all of Oakville.
We tried the 2005 Paradigm Merlot (soon after its release) blended with 5% Cabernet Franc which helps provide some structure on the finish. This wine has great acidity and bright fruit with a nice earthiness found on the palate and a rounded full mouth feel. The finish is slightly spicy with soft tannins with flavor that lingers on and on well after you swallow.
The 2004 Paradigm Cabernet Sauvignon is blended with 8% Merlot and 2% Cabernet Franc. This beautiful wine shows very well in the glass; it is crimson red ruby in color with an elegant nose full of fruit aromas. The palate shows plum, blackberry and various spices. The mouth feel is so silky smooth anchored by delicate tannins. Paradigm's wines tend to age very well.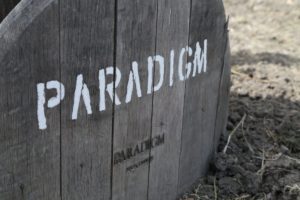 The 2014 Paradigm Cabernet Sauvignon is dark ruby in the glass; brimming with ripe and appealing dark fruit driven aromatics offers redolent notes of ripe blackberry and dark cherry and milk chocolate. A presence of oak is noticeable but complements rather then detracts from the fruit aromas. This is a classic rich and opulent bouquet from an Oakville grown Cabernet Sauvignon. Supple on the entry and across the palate, this wine is layered and showcases a richness of fruit focusing mostly on darker fruit flavors. Expertly balanced, features well-integrated tannins that linger with a slight spicy character on the finish. We love smelling this wine – but its flavors are just as enjoyable.
Paradigm donates 1% of their total gross profits to an organization called 1% For The Planet – funds from businesses who participate in this are distributed to organizations protecting the environment worldwide. Paradigm was the one of the first ten businesses to participate in this and the only Napa winery involved.
Also of note is a special project in which all vintners in the Oakville sub-appellation contribute finished wine from their individual vineyards to be blended & then bottled in 3 Liter bottles. These bottles are hand numbered, etched and a number of them are sold to raise money for various charities. This wine is made at Paradigm – there may be a bottle or two on site.
For more information and or to join their wine club, visit: www.paradigmwinery.com