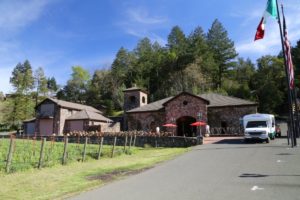 Paoletti Vineyards is a gorgeous wine estate located off the northern part of Silverado Trail. They produced their first vintage in 1994 and are owned by Gianni & Lilia Paoletti. Gianni is originally from Venice Italy and has a culinary background. Everything about the winery speaks of Italy, from the marble scroll engraved with their name at the main gate, to the Italian flag, to the majority of their wine names. The main stone winery building sits against the side of a hillside and has a tall bell tower.
The Paoletti's enjoy bells as they also have a Carillon in front of the winery which is a semi circle piece of steel holding multiple bells hanging from the undersides. Be sure to check out the wine caves after your tasting – these are some of the nicer smaller ones we have seen in Napa Valley. Gianni has imported many Carrara marble sculptures from Italy and they are located in little grottos above the wine barrels throughout the caverns. These sculptures are of people and you can find the busts of a number of famous persons including Einstein and Gandhi.
This is a small operation and the owner is around some weekends (he and his wife often commute up from Los Angeles), and the winemaker himself is often on site; chances are you will be able to meet either the winemaker, Gianni or his wife during your stop here. A tasting is in their winery building/tank room (it is kept nice and cold regardless of the time of year) and perhaps some old Italian love songs will be playing when you walk in. Sit down at the table with all the wine bottles on top – they typically pour 6 wines which is only a small representation of the actual number of wines they make. The winemaker specializes in Bordeaux and Super Tuscan blends.
As of the time of this review, they make entirely red wines; including one wine you will not find anywhere else in Napa. Out of over 500 Napa commercial wine producers visited with to date, this is the first Nero d' Avola wine we've come across. This is a very important Sicilian varietal and is often compared to the New World Shirazes. Paoletti owns 3 vineyards in Napa including the estate vineyard which is where this varietal is grown. The nose is somewhat subdued and doesn't reveal how big a wine this actually is! It has rich bold flavors and some interesting peppery notes and spices.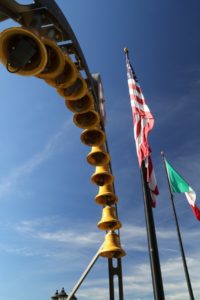 They also make a rather uncommon wine in the Napa area which is a Rose of Sangiovese. Paoletti's version is delicious, light, fruity; a great pre-meal wine. One of our favorites is their La Forza which is a blend of 85% Sangiovese and 15% Cabernet Sauvignon; there are lots of great fruit flavors in this wine. Another interesting note is often they will be pouring older vintages. We've been here several times and have been able to try some of their Merlots and Cabernets 7 and 8 years old. You just won't find too many wineries in Napa pouring older vintages. The 2000 Merlot has that nice brownish tinge acquired from time in the bottle; it has aged very well while retaining its fruit characteristics.
Also be sure to try the Non Plus Ultra, a Cabernet Sauvignon Malbec blend from "Lilia's Vineyard" in Calistoga. Touches of oak are in the aromas followed by rich plum, fig and other fruit flavors. Several vintage ports show up on their tasting sheet but are not actually poured. These ports are 20+ years old and you can buy them directly from the winery on site. Gianni has an office in Los Angeles and also operates the popular Italian Peppone Restaurant (www.peppone.com) just off of the 405 in the Brentwood Village (not far from UCLA). Their winery site is: www.paolettivineyards.com