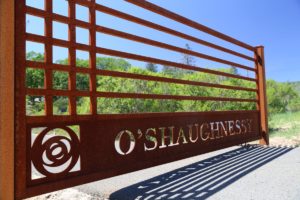 OShaughnessy Winery is a beautiful winery really located off the "beaten path" north east of the small town of Angwin on the slopes of Howell Mountain. This almost gets the award for Napa's most isolated winery! Be sure you have the directions emailed to you if you make an appointment as this winery is not easy to find and there are many small roads you have to take to get here. But, its worth the drive and is seemingly in the middle of nowhere (however it is located only about 10 minutes from Angwin. However be aware that Angwin is the center for a 7th Day Adventist community and they don't drink wine so you probably won't find anyone there to give you directions!
Once you reach the modern elegant winery you will see that it is located in a very scenic spot; there are great views of the surrounding hills and natural vegetation including pine trees. The founder and owner Betty O'Shaughnessy produced her first commercial vintage in 2000. The primary goal of this winery is to produce world-class Cabernet Sauvignon and their growing and winemaking decisions are entirely centered around this philosophy. Twenty nine acres of the estate vineyards which surround the winery are planted to Cabernet Sauvignon and another 6 acres are planted to the typical Bordeaux blending varietals. In addition, they have a small vineyard on Mt. Veeder located on the other side of the valley.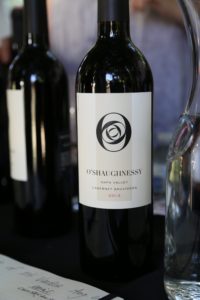 We tasted their 2004 Howell Mountain Cabernet Sauvignon. At a glance this is a very dark wine foreshadowing what is to come on the palate. Black fruit mixed with tobacco is found on the bouquet which follows through to cherry and currant with a finish that is like pure velvet. With a smooth soft mouth feel, good natural acidity and tannins that are well balanced this wine is drinking well now. As of press time, they also produce a 100% varietal Cabernet Sauvignon from the Mt. Veeder vineyard and a Merlot from their estate vineyard on site. O'Shaughnessy has put in over 12,000 square feet of caves – and unlike many Napa winery caves these ones are 20 feet tall in places and are double the width of normal caves.
The main cave room is elegant and classy and is where they sometimes hold events. Check out their impressive vertical wine cellar; restaurants would kill to have a cellar like this! They have ample cave space so barrels are not stacked high in the caves, rather they are all at the floor level. Sean Capiaux is the winemaker – he helped design the fermentation tanks and his wines for O'Shaughnessy have already garnered very high ratings by respected wine critics including Robert Parker. Sean has his own label (Pinot noir) which you can check out here: www.capiauxcellars.com. For more info visit: www.oshaughnessywinery.com
NOTE: this is one of our earlier reviews and has been identified as needing a *major* update.