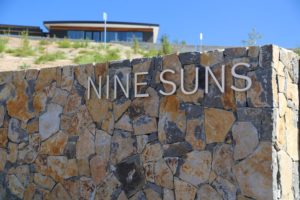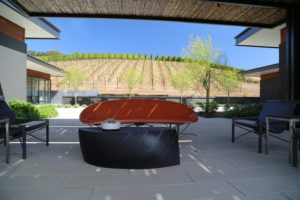 Nine Suns. The Chang Family purchased this property in 2010 from developer and majority owner of the San Diego Chargers football team, Alex Spanos. The Chang's three children (Aimee, Jason and Chris) have all been instrumental in the development of the property, winery and brand. Jason oversees the winery; In 2010 Jason knew very little about wine – at the time he was working for PricewaterhouseCoopers in New York doing Management Consulting work.
For Jason, the wine business has been an accelerated learning curve – driven by his passion, willingness to learn and entrepreneurial spirit. Not only does he enjoy the creative outlet around building a new brand but also the social aspects of wine. He calls wine the anchor for creating memories with family and friends and often recalls specific vintages from particular wineries corresponding to certain memories.
Their 40 acre property is planted to 23 acres of vines (HOUYI Vineyard) – all five primary Bordeaux red varieties are planted on site including the majority, Cabernet Sauvignon with smaller amounts of Merlot, Cabernet Franc, Petite, Verdot and Malbec. As with a number of their Pritchard Hill neighbors, their own soils are extremely rocky and iron rich red in color. Vines were already here when the Chang's purchased – the oldest vines on site date to 2004. After purchasing the property the family initially sold the grapes to several premium producers and continue to do so including to premium Napa producers Realm and Fairchild. The first wine they produced was from the 2011 vintage (200 cases) but elected not to release it. Their first commercial release was a 2012 Cabernet Sauvignon.
The focus of their production is a Cabernet Sauvignon centric Bordeaux styled blend that incorporates some of the other red varieties grown on site. They also produce an additional estate wine – 2016 most likely will be their first Rhone styled blend – with the primary variety being Grenache along with some Syrah. There is not much Grenache planted in the Napa Valley and certainly not on Pritchard Hill. They have about one acre of Grenache vines. This variety has already done well in their rocky soils – but they have to keep a close eye on the quantity of fruit these vines produce. If they see the vines have set a large crop immediately following flowering – vineyard workers will go through every bunch by hand rubbing off some of the small grapes – effectively opening up the cluster and limiting the amount of fruit.
The name Nine Suns was carefully chosen to honor their heritage. Nine Suns is part of a Chinese legend (often told to children) where 10 individual suns would rise and set each day taking turns doing so. One day all ten suns rose at once and the earth soon suffered due to the heat. Houyi, a mythological Chinese archer was given the task of eliminating the suns – he successfully shot down 9 suns leaving only one.
The winery itself was well designed with significant thought behind some of the details and appearance. Juan Carlos Fernandez (architect for Cade Winery) was the primary architect for the winery, hospitality building and residence. 2015 was the first vintage entirely crushed and fermented at their winery. All fermentation tanks are small and easily accessible from the nearby crush pads. The idea behind building walls around the parking lot is aesthetically pleasing but it also serves a purpose. Rather then initially seeing the great views from the parking lot – guests are meant to first enjoy the views after they walk up to the hospitality center.
Jason's sister Aimee was instrumental in some of the interior design. The interior of the main foyer features unique walls of burnt cedar. Two Tesla charging stations are located on site. It's not always cold on Pritchard Hill but when it is, the outdoor seating can be heated via electrical outlets to help stay warm.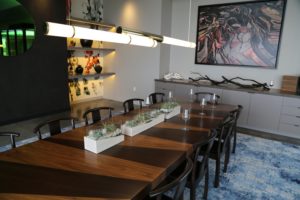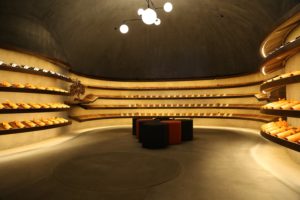 The winery features small lot tanks and a unique cave for barrel aging. The walls are unlike most caves in the valley in that they are not covered with rough looking shotcrete or gunite. Rather Nine Suns was the first winery (and probably the last) to test out a unique cave coating material called Elephant Armor. Texturally it is very smooth and is waterproof – but was more challenging and time intensive to coat a cave compared to the traditional methods. Visually it is quite appealing, casting an elegant look to the overall appearance of their cave.
A single sycamore tree growing in the distance to the south of the winery invites glances. It grows on a former helicopter pad which has been converted into a perfectly perched viewpoint. Both great views of the Napa Valley spread out below and the nearby vineyards are part of the visual feast from here.
A small Library Room is shaped exactly like a guitar – even down to the gold 'strings' embedded in the floor.
The 2012 Nine Suns is 70% Cabernet Sauvignon, 11% Malbec, 11% Merlot, 4% Petite Verdot and 4% Cabernet Franc. The wine is dark red in the glass with purplish tinges. The bouquet is elegant with beautiful aromatics showing a deeper fruit note that continues to evolve nicely. Aromas of mocha, chocolate, black licorice and cedar box show. As the wine opens further additional aromas of toffee come forward. The wine is superbly balanced and seamless across the palate – with good acidity and fruit. Polished and structurally fine grained tannins anchor a smooth finish. There are no rough edges on this finish – it lingers with both fruit and a subtle sweetness of vanilla for some time.
Winemaker Sam Kaplan has made all of their vintages. And the 2012 vintage is in line with his style of wine making – wines that are approachable upon release but are also built to age.
Currently all wine is sold direct and via their mailing list. Visits are for serious wine enthusiasts and collectors and are always hosted by a family member. For more information visit: www.ninesuns.com