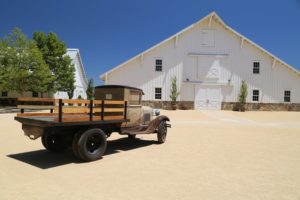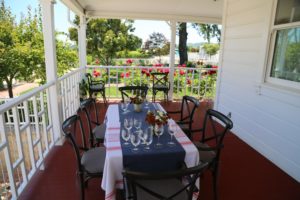 Nickel & Nickel is a prestigious winery founded by Gil and Beth Nickel (after they founded the well-regarded Far Niente). Gil was born and raised in Oklahoma – he worked for his family business, Greenleaf Nursery – and eventually he became President of the comp;any for 8 years before he moved to the Napa Valley. Incidentally, Greenleaf has become the nation's second largest, family owned wholesale nursery. Gil attended (UC Davis) to learn more about wine making after becoming smitten with wine when he was already in his 30's. He passed on far to young (at age 64) in 2003.
The winery property is located directly next to Highway 29 almost across from the famous Robert Mondavi Winery; you can't miss the antique Nickel & Nickel truck which is almost always parked in front of their property next to the highway (those who knew Gil, knew his passion for automobiles). In a throwback of sorts to a slower pace of life along this now highly congested part of the valley – look for the horses sometimes stabled in front of the property – easily seen from Highway 29. The white wooden gate is always locked, simple pick up the 'old school' phone to announce your visit to the receptionist – who will then open the electronic gate for you. Parking is to the right after you enter the gate in front of the 2 story white wooden building under the oaks.
This is an appointment only winery and the "10 second Napa Valley appointment" does not apply here as you actually have to reserve ahead of time – far ahead of time during busy weekends and the summer months (often a month or more).
Before the tour starts, enjoy a light white wine in their classic tasting salon located inside the impeccably restored Sullenger House which dates from 1884. This is one of the classiest properties in Napa Valley and attention to detail is everywhere. An old building dating from 1770 was removed from New Hampshire and was completely rebuilt on the grounds. This is now probably the "oldest" building in Napa County. Not a single metal nail was used in the inner construction as the beams are all held together by wood. The tour also winds through the heart of their wine making and fermentation tank area.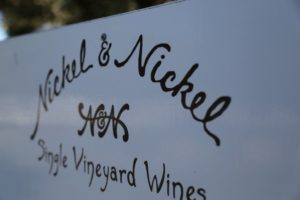 Being located on the valley floor makes it quite difficult to dig a cave; similar to a number of other valley floor located wineries, Nickel & Nickel excavated a large cellar located below the fermentation room. You will visit this cellar as well on the tour.
The winery was certainly built with quality in mind – they often use the latest state of the art technology in their wine making. Their wine maker can remotely control various aspects of the fermentation tanks directly from her laptop including temperature.
At the end of the tour you will try various Cabernet Sauvignons in a small classically styled room (a seated tasting). Typically you will be served the same vintage Cabernet Sauvignon – sourced from different soil types and vineyards. As a result, it is really quite dramatic to taste the terroir differences between these various wines. Nickel & Nickel also offers customers the chance to purchase futures (future vintages) before they are even bottled.
Nickel & Nickel's claim to fame is they produce single vineyard wines and the "b" (blend) word is not a part of the Nickel & Nickel lexicon. However, we tasted one wine from Nickel & Nickel which was supposedly a winery "mistake" in which their winemaker accidentally produced a blended wine. This was very under the radar at the time – and if you wanted a bottle of this unique blend, you had to ask at the winery itself. This one blended wine has certainly become a collectors item. For the quality Nickel & Nickel's red wines will stand up to any of a number of other premium regional producers in the valley.
At the time of our latest update, for a relatively small winery they make a large amount (25) different red wines and plan to even expand their repertoire further in the near future. For more information and to join their wine club, visit: www.nickelandnickel.com
NOTE: this review has been identified as needing a major update.