Myriad Cellars was founded by winemaker Mike Smith with his first vintage released in 2005. The name "myriad" has its origins in Greece and one of its translations means "innumerable" which can directly equate to wine making based on the "innumerable" aspects it takes to create a great bottle of wine.
Myriad Cellars is Napa artisan wine making at its best; extremely small production (even by artisan standards), hands on wine making, use of limited production premium French Oak barrels and a clear and focused attention to detail. Mike does all the cellar work himself; as he says, by doing all the cellar work himself, he is "closer to the wines" and has complete control of the entire wine making process from start to finish.
As a long time consumer with a strong interest in old and new world wines he made a career change after a family courier business in Oregon sold; he then moved to the Napa Valley in 2004. Mike had met well-respected winemaker Thomas Brown on an online wine bulletin board in the middle 1990s. Such was his passion for learning winemaking – while still living in Portland, Mike would visit the Napa Valley for several weeks at a time during harvest and work for Thomas for free.
Ultimately Mike spent three harvests training with Thomas and has helped make wine for Napa notables including Schrader Cellars, Maybach and Outpost. The wine industry in Napa attracts vintners who have not come from wine making families and we have met several of these winemakers during our work for the Napa Wine Project. Fueled by passion and a willingness to learn these individuals move to the area and learn the trade. It is always admirable when we meet producers who are in this situation – those who have changed directions mid career and have become successful winemakers after taking a risk to follow their passion.
Mike describes his wine making as "purist" in style. He is not tied into one type of wine making, rather he bases his efforts on each particular vintage. He is a versatile winemaker having already built up a resume of making various styles of wines for boutique producers. Myriad has been able to source fruit from a variety of high end vineyards including on Spring Mountain, in Carneros as well as from one of Napa's better known sites, the Dr. Crane – Beckstoffer managed Vineyard. And in addition, Myriad also works with other premium Beckstoffer managed vineyards in the Napa Valley.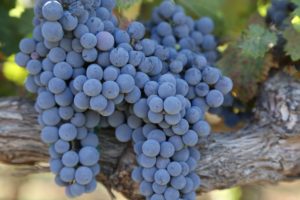 Myriad's Cabernet Sauvignon is an excellent choice for those looking for a mouth filling Spring Mountain hillside grown wine available at an affordable price considering the quality of the vineyard source and attention to detail with the wine making. This is a classic show of this appellation's fruit. The vineyard sits at about 900 feet and has provided the fruit for Myriad's Spring Mountain Cabernet Sauvignon since day one. The site is extremely steep and rocky with only 1 to 1.5 tons produced per acre. With a small production like this no dropping of fruit is necessary; the grapes are already extremely concentrated and intense in flavor, which directly translates to the wine.
The juice is fermented until it remains slightly sweet and then transferred to barrel. This process helps round out the oak influence from the new French barrels and in part helps make the oak a contributing component to the wine rather than a dominating one. The 2006 Myriad Cabernet Sauvignon starts with an elegant bouquet that features ripe blackberry and boysenberry, a dustiness and just a delicious hint of vanilla in the background. Some of the earthiness on the nose continues to the palate which also shows some unique mineralities. The mid palate is rich, layered and focused. The super long finish is intense and definitely carries some weight.
Over the years, Mike has built a successful career consulting and provides winemaking services to a number of very small premium mostly Napa based brands. He also makes a Cabernet Sauvignon for Quivet Cellars sourced from the same Spring Mountain vineyard as for Myriad, but based on the wine making style and aging program it is very interesting to note its differeing characteristics (when compared to the Myriad Cabernet Sauvignon). Myriad also makes a very limited Syrah, usually around 50 cases so this wine does not last. Again, Quivet Cellars produces a Syrah from the same vineyard as Myriad.
Because production is so limited their wine is selectively distributed and vintages tend to sell out rather quickly. For the extremely small production, quality of the vineyards and wine making, Myriad's wines are priced very well. Several wine shops in Southern California carry Myriad and locally V Wine Cellars in Yountville and ACME Wine Shop in St. Helena sometimes have it. However the best way to acquire their wine is via the mailing list on their website.
For more information, visit: www.myriadcellars.com
Videos of Mike Smith