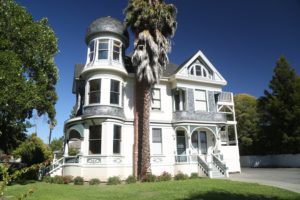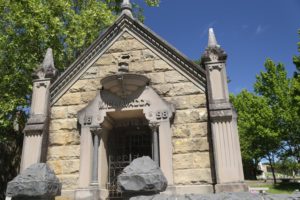 Migliavacca Wine Company. The Migliavacca family winemaking heritage is deeply rooted in the historical fabric of the city of Napa. For some 50+ years from 1866 through to the start of Prohibition, Migliavacca Wine Co was a formidable presence. Founder Giacamo Migliavacca became the city's first self-made millionaire, at one point was the largest wine producer in the state of California (capacity of 1.5 million gallons) and earned numerous medals and awards for his wines including 1869 First Premium California Red Wine from the Mechanics Institute, 1889 Gold Medal from the Paris Exposition in France, 1892 Dublin Ireland Exposition, 1893 Chicago World's Fair and 1895 Atlanta Exposition.
In addition, in 1869 he became the first Napa County resident to receive a U.S. patent – for his "Wine Bottling and Corking Apparatus" – one of these devices is on display in the Napa history room at the Napa Museum in Yountville.
Fast forward some 150 years after Giacamo moved to the Napa Valley, great great granddaughter & Napa native Katie Migliavacca recalls how she first met her business partner and winemaker Vincent Traverso. At 10pm one night she was invited on a trip to Lake Tahoe by her friend Padrick (Pad) McGinnis. Turns out Pad also knew Vincent and had invited him to the lake. The first person Katie met that trip was Vincent and both soon bonded over shared interests including history, wine and travel. When Katie met him, he had recently returned to the Napa Valley where he was born and raised after having been abroad for 10 years working for the state department in places such as Afghanistan and Libya. He also lived in France and Italy and during his time in Europe earned his degree in viticulture and enology – studying in Montpellier, France and Verona, Italy. He currently works with Kirk Venge helping oversee various winemaking projects and properties for Venge Vineyards – and is also the co-owner of the old Kingfish pub and cafe in Oakland (dates from 1922).
Katie remembers being interested in her family's wine heritage back when she was in her early teens. Later she became intrigued about exploring the possibility of restarting her family's wine brand. And as she told us, "if I don't do something, it will never get done" and there of course, was always the possibility that a non family member would resurrect the label.
She soon sent Vincent an article the Napa Register had written about her family's heritage in the Napa Valley. He was immediately hooked.
—
Giacamo was born in the town of Pavia, Italy (about an hour drive south of Milan) – his original home is still standing. During a trip to Italy, Katie visited the piazza and saw the outside of Giacamo's original home. After studying viticulture at the University of Pavia, eventually he immigrated to the United States in 1857 sailing into the San Francisco Bay on the S.S. Golden Gate (which later sunk off the coast near Manzanillo, Mexico in 1862 in which approximately 200 lives were lost). Giacamo no doubt had a visceral reaction to this once he heard the news, only 5 years after his own voyage.
Soon after he arrived in San Francisco – he founded and operated a successful vinegar factory. After a few years, he sold the factory and moved up to Hornitos in Mariposa County, home at that time of a number of Italian immigrants including at one point Domingo Ghirardelli, founder of Ghiradelli Chocolate in San Francisco and namesake for Ghiradelli Square. And this would become a pivotal move in young Giacamo's life. His initial introduction to Hornitos must have been through some personal connection, perhaps a family friend who may have already been living there.
Hornitos (note: the smoke filled skies were directly from fires in the Napa Valley)

At its peak, Hornitos was home to more then 15,000 people and was producing some $40,000 dollars of gold daily (a huge sum of money in those days); the town was also home to the first Wells Fargo office in the county. Giacamo operated a grocery store in Hornitos and it was here that he met Madelena (whose own heritage is from the tiny Zoagli along the Italian Mediterranean coastline); they were married in 1860. Today Hornitos is essentially a ghost town although people still live in town and in the immediate vicinity. A number of buildings are remarkably well preserved from the 1850s and 1860s – the town has two cemeteries – one at St. Catherine's Catholic Church and a smaller more hidden one near the fire station on the north side of town. One of the town's most memorable events is the All Souls' Day candlelit procession every November 2nd – which winds its way up to St. Catherine's Catholic Church (and all the surrounding grave sites are lit by the flickering candle lights including several of Katie's relatives).
The Migliavacca heritage in Napa dates back to 1866 when Giacamo and Madelena and several of their children (eventually they would have 13 children, 10 of whom survived) settled in downtown Napa. He would become a prominent businessman in the valley – associated with a number of buildings in the downtown area. He established Migliavacca Wine Co in 1866 and produced the first Migliavacca wines inside a grocery store that he owned.
Giacamo was among the first producing wine commercially in the Napa Valley. However, there were a few other important personalities in Napa's earliest commercial winemaking history – according to the Napa County Historical Society, England born, John Patchett made some wine in 1857 but made the first commercial wine in Napa Valley in 1858, 6 barrels at his winery in the city of Napa called Patchett's Grove. His winemaker at that time was Charles Krug – starting what would eventually become common in the Napa Valley, hiring winemakers. Interestingly, the Migliavacca mausoleum at the Tulocay Cemetery in the city of Napa is located within a very short walk of Patchett's grave-site.
Charles Krug would soon start what would become his iconic namesake winery in 1861. St. Helena located David Fulton Winery was also built in 1861 following Krug. The original Schramsberg winery dates from 1862. Suffice to say, there are very few wineries/producers in the Napa Valley that were founded in the 1860s. Others with physical wineries built in the 1860s included Crane, Pellet, Brannan, Woodward and Sigrist.
—
In 1874 Giacamo built a massive brick winery, encompassing a full city block on site of what is now the Napa County Library – not far from the Napa River. This building was 80′ by 100′ and also included a distillery.
In the early 1890s Giacomo built what is referred to as the Migliavacca Mansion next to his winery – a beautiful Queen Anne style home that was later moved several times, finally to 4th Street (where it currently stands and is used for office space). The architect was William H. Corlett, who was also responsible for the gorgeous Noyes Mansion (currently home of the the offices of the Wine Spectator). A full page photograph of the Migliavacca Mansion appeared in a 25 page article about the Napa Valley in the May 1979 issue of National Geographic (the photographer was Charles O'Rear, famous for his Bliss, the photograph taken in Carneros used as the desktop wallpaper for Microsoft's Windows XP operating system). The mansion has had a number of owners over the years including Ed Keith (one time proprietor of Catacula Lake Winery – now Maxville Creek Winery).
Between 1904 and 1905 Giacamo constructed a huge stone building – what was known as the Migliavacca Commercial Building on site of what is now the Dwight Murray Plaza on First Street. It is a shame this building was torn down in 1973 (as part of downtown Napa's redevelopment program).
Other remnants of his business and contributions to the economy of downtown Napa can still be seen. The brick building across from the present day Archer Hotel is called the Migliavacca Building (Giacamo's last name is carved in stone above with the date of the building, 1916). After his move from Hornitos to the city of Napa, Giacomo convinced his brother in law (Madelena's brother, Bartolomeo Semorile) to join him in Napa in the grocery business. Bartolomeo built a grocery store on First Street – it burned down along with other nearby buildings – he then constructed the handsome Semorile Building (1888) which still stands and today is home to Bounty Hunter Wine & Spirits.
And much more recently the Napa Historical Society used an image of the Migliavacca Manson on their brass medallions – with signs located in specific neighborhoods in and around downtown Napa.
Other Migliavacca family continued to work in wine and spirits including in Galveston Texas where Giacamo and Madelena's son John opened and operated an export branch of Migliavacca Wine Co, taking full advantage of that city's port to ship wine to Italy – and additional family settled around Seattle in Washington and opened a branch of Migliavacca Wine Co near Pioneer Square in 1899. Once Prohibition started, for a few years, Giacamo's son operated Colonial Grape Products Company. One of the sons, James later became director at the Bank of Italy (the precursor to Bank of America).
Because of both Katie's strong interest in her family heritage and the fact that Migliavacca was once an integral player in downtown Napa – numerous records and historical items surrounding the old winery have been preserved and collected over the years.
Select Wines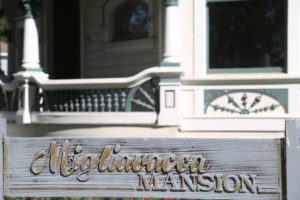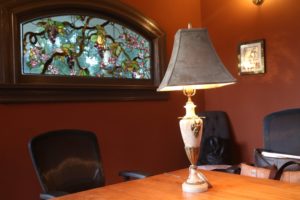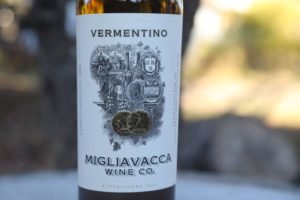 Mirroring her great great grandfather's winemaking, Katie's philosophy has been to produce premium and affordable wines that are accessible to a wide range of budgets. And the focus so far has been on Italian varietals, honoring her family's heritage. Similar when Giacamo was producing wines, Katie's wines not only come from the Napa Valley but from sites within other parts of northern California.
Vince enjoys making the Migliavacca style of rosé – picking at a slightly higher brix as he puts it, "to get more out of the grape". He looks for phenolic development, length and complexities on the palate – especially on the finish. The 2019 Migliavacca Rosato is 100%% Petite Sirah and was sourced from the Tamayo Vineyard in Contra Costa County; it is not a lightly colored wine of this style rather is a darker salmon color in the glass. The bouquet offers a variety of aromatics including a sweetness of strawberry, hints of honeycomb and citrus. Quickly noticeable is this wine's texture – creamy and supple with a viscosity the runs the breadth of the palate. Shows flavors of nectarine, mandarin and some mineral nuances. A richer showing.
The 2018 Vermentino was sourced from a south east facing block in a vineyard in Lodi. This site features even and slow ripening – the wine was aged in neutral French oak for 17 months. Offers pretty aromatics with notes of honeysuckle, citrus blossom and perhaps a tiny note of pineapple. Very balanced across the palate with flavors of golden delicious apple and mandarin orange. Clean finish with an appealing suppleness across the palate. And a bright acidity that carries the length of the palate.
These are terroir driven wines but beyond the site and varietal characteristics, Katie and Vincent are quick to point out that these wines are best enjoyed when paired with food, family and friends – creating moments where conversations and wines flow effortlessly.
And starting in 2019 the source for their Vermentino will be in Carneros from a block within one of Francis Mahoney's vineyards. Vincent was already familiar with this particular block through his work with Venge Vineyards. With Venge focusing on Bordeaux varietals, the decision was finally made to cancel their contact for this fruit. While Kirk Venge was on the phone canceling the contract with Francis, Vincent overheard the conversation. After Kirk hung up the phone, Vincent asked him if he would be OK if he called Francis back – he did and ultimately Francis transferred over the contract to Migliavacca.
The 2017 Sangiovese was sourced from a small block of this varietal growing high on the slopes of Atlas Peak in the Antinori Vineyard (Antica Winery). Medium ruby in color; shows its varietal characteristics immediately on the bouquet with a darker spiciness, dried tobacco leaf, plum and dried herbs. Somewhat savory in its aromatics. Very balanced food friendly wine. Lingers with some spice notes along with nicely integrated tannins. The finish is seamless with bright acidity.
—
Katie and Vincent initially tried to create a contemporary label and even hired a designer to do so. After numerous iterations on a label and months into the process, ultimately they decided they liked Giacamo's original label. Good choice!
Eventually the plan is to introduce a higher end range of wines focusing on the Napa Valley. The wines are sold primarily direct to consumer with limited local distribution including at Allegria Restaurant in the city of Napa (right next to the site of the Migliavacca Commercial Building). Sometimes Katie will represent the wines at certain events – including previously at an event hosted in part by San Francisco based Mechanics Institute. For more information or to purchase wines, visit: www.migwine.com
Other Historically Relevant Buildings or Heritage

Labels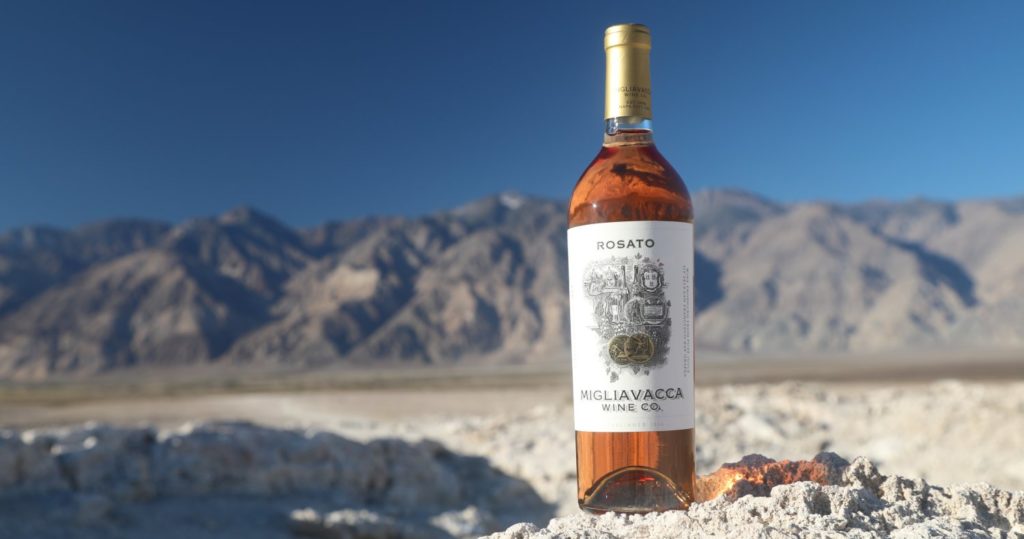 Kingfish Pub & Cafe, Oakland