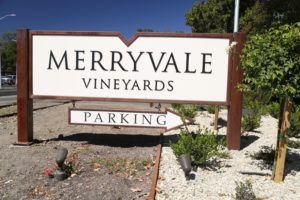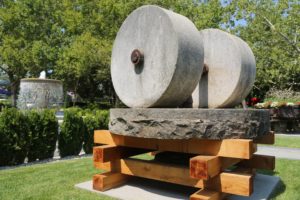 Merryvale Winery enjoys a highly visible location next to the train tracks and Highway 29 in the southern part of the St. Helena city limits and a fairly prominent address (1000 Main Street). This winery has a storied history – both in its early days and much later.
The winery was built in 1933 (one of the few Napa wineries built immediately after Prohibition) and opened and operated as Sunnyhill Winery for a short time before the name was changed to Sunny St. Helena. The winery was founded by Jack Riorda and partners (we first heard his name when we interviewed Peter Mondavi many years ago). He was a prominent individual in St. Helena in the 1930's – Peter and Robert's father, Ceasare Mondavi actually became partners with Riorda in Sunny St. Helena in 1937 (prior to the Mondavi family taking ownership of the old Charles Krug Winery).
In the mid 1940's the winery was sold and became a cooperative for some time. By 1972 the winery was again sold, this time to Mont La Salle Vineyards (owned by the Christian Brothers) and the building was used for wine storage and wine aging. Enter modern day Merryvale. The first vintage was 1983 and was bottled under the name Sunny St. Helena. The modern Sunny St. Helena was founded by Bill Harlan and select real estate partners. Founding winemaker Bob Levy would go on to form what would become one of the valley's most prominent long term winemaking relationships with Bill Harlan for Harlan Estate, BOND and The Napa Reserve. Bob made the Sunny St. Helena wines for several years at Rombauer Winery (taking advantage of Rombauer's custom crush services at the time).
By 1986, Bill Harlan and his partners purchased the old Sunny St. Helena winery and grounds. After a two-year restoration project, the production was moved from Rombauer to the newly renovated winery in 1988. By 1991 the winery changed its name from Sunny St. Helena to Merryvale Vineyards. Harlan eventually sold his interest as did the original investors – and by 1996 Jack Schlatter and his family became the sole proprietors (natives of Switzerland). Jack's son René oversees the winery operations – he is not running the winery from afar, but rather lives and works in St. Helena.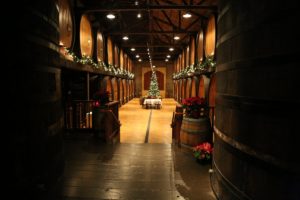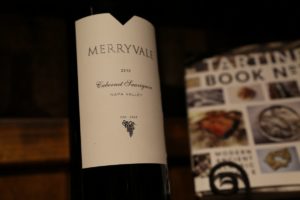 The winery and tasting room are housed in a very environmentally friendly building containing large solar panels on the roof and a recycling program for the winery wastes.
Merryvale produces two primary labels, Starmont and Merryvale. Starmont is located on the historic Stanley Ranch in Napa's Carneros region; the focus of their production is on smaller lot wines (non Cabernet Sauvignon). These wines are not made at Merryvale but rather at the sizable production facility located in Carneros. After years of being a production only property, in mid 2015 a contemporary tasting room opened holding a coveted permit allowing guests to walk in without needing to make an appointment.
The Merryvale label includes a wide range of wines at various price points including premium Cabernet Sauvignon.
Great care is taken in their wine making – with fruit separated out into a number of small tanks. The reason they have a number of small tanks is that they often pick their vineyards numerous times during the harvest season fermenting each picked block separately, even down to separately fermenting specific rows from a vineyard block.
Two tastings are offered in the tasting room – the Signature Tasting (featuring current release wines) and the Reserve Tasting (featuring single vineyard and more limited production wines). Other more intimate experiences include a wine and cheese pairing and a special Library wine tasting (featuring select older vintages).
Visitors should look for the historical photo taken in 1949 hanging near the tasting room, it features one of the Mondavi's as well as other pioneer Napa winemakers. It is neat to see this photo, because these are the men that founded & promoted Napa's wine industry after the setback of prohibition – back when Napa was not well known and only a few wineries were in existence.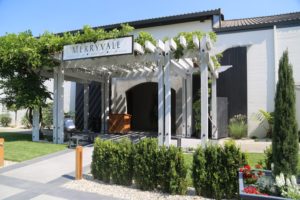 Aside from the history of the property and the wines, one of the highlights is the impressive Cask Room; this is open during normal business hours and well worth visiting. It is the only one of its kind in the valley. This room evokes a time perhaps back to the middle ages with the lighted candles, giant aging casks and impressive table that runs through the center of the room. The room is a popular event venue – used for wedding receptions and corporate events.
The tasting room can be very crowded especially on the weekends as this is a popular tourist stop. Refreshingly, the tasting room also stays open slightly later than most Napa wineries. Private tours and tastings are available by reservation.
During select visits, we have tried a large lineup of their wines, as we result we will mention only our favorites here.
Merryvale has long produced a Chardonnay from the Hyde Vineyard in Carneros (the first vintage we tried of this vineyard from Merryvale was 2005). Larry Hyde is one of the most well-respected growers in Carneros – incidentally Larry is a partner in Napa's HDV Vineyards with Aubert de Villaine, the co-owner of the storied Domaine de la Romanee-Conti in Burgundy. This Chardonnay is whole cluster pressed (they often use triple sorting to ensure they are getting only the highest quality fruit).
The 2014 Merryvale Hyde Vineyards Chardonnay shows citrus aromas on the bouquet including nuances of lemon/lime and hints of hazelnut. Rounded but not creamy on the palate – shows depth without being heavy. Features intense flavor but with a crispness and noticeable liveliness especially on the finish. The wine goes through approximately 30% malolactic fermentation and spends 12 months in neutral oak – racked once and then bottled.
Merryvale makes a variety of Cabernet Sauvignon and their top of the line Cabernet is simply called the Profile. This was the first wine they ever produced. The 2003 we tried is a very dark rich unfiltered wine. It is a robust Napa Cabernet with grippy long lasting tannins in its youth – this wine has all the hallmarks of being able to age for many years.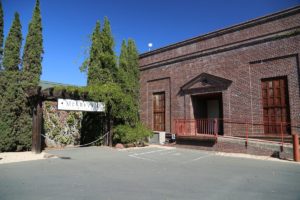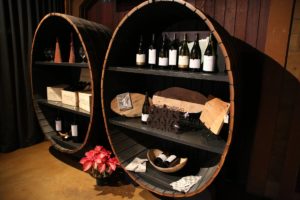 Not to be left out is the affordable priced 500ml bottle Antigua, Muscat de Frontignan. This is a very unique for Napa wine that has a significant historical and winemaking pedigree. This wine was originally created at Beaulieu Vineyards by winemaker André Tchelistcheff in the 1960s. The wine is always a non vintage, created using the solera process where the latest release is created from fractional blends from previous vintages. Merryvale started producing this wine in the late 1980's after purchasing barrels of wine that Andre personally made from vintages 1970 to 1983. Merryvale resumed making this wine from 1992 through 1997 – and made enough of it that they still have bottles available for sale either in the tasting room or on their website. Typical characteristics include its dark amber showing through the clear glass – with flavors of black walnut and hints of orange peel.
In 2018 Merryvale converted part of their grounds to an outside terrace tasting space. While seated here, watch people line up at Gott's Roadside across the street and or the wine train as it passes by on the tracks. And of course enjoy wines from Merryvale.
Merryvale has one of the more advanced and extensive winery websites that we have seen (we hope we aren't to biased in this regard as we provided server space for their website many years ago). For more information and to join one their wine club, visit: www.merryvale.com
Exterior

Interior

Cask Room

Production