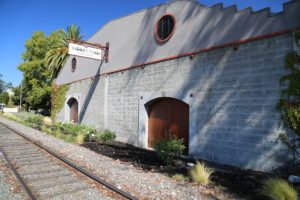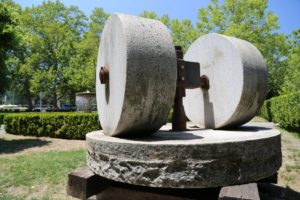 Merryvale Winery is located next to the train tracks on the east of St. Helena Highway in the southern part of St. Helena. It is the largest winery located within the actual town of St. Helena. Look for the ivy covered walls which are visible from Highway 29.
Merryvale was founded by the Schlatter family in 1983 and is still family owned and operated by the Schlatters. It is housed in the first winery constructed after prohibition in Napa Valley. More trivia: the now famous Mondavi family got their start with winemaking here. There is a very historical photo taken in 1949 that hangs near the tasting room, it features one of the Mondavi's as well as other pioneer Napa winemakers. It is neat to see this photo, because these are the men that founded & promoted Napa's wine industry after the setback of prohibition – back when Napa was not well known and only a few wineries were in existence.
Merryvale has two primary labels, Starmont and Merryvale. The Starmont contains their lower priced wines and are made at their large production facility located in the Napa Carneros region (with a tasting room of their own open for tastings as of mid 2015).
Merryvale is housed in a very environmentally friendly building containing large solar panels on the roof and a recycling program for the winery wastes. The Merryvale label includes their higher end labels which are made on site. They take great care in their wine making; with fruit separated out into a number of small tanks. The reason they have a number of small tanks is that they often pick their vineyards many times during the harvest season and want to ferment each picked block separately, even down to separately fermenting specific rows in a vineyard.
We tried a large lineup of their wines, as we result we will mention only our favorites here. They produce a number of tasty Chardonnays.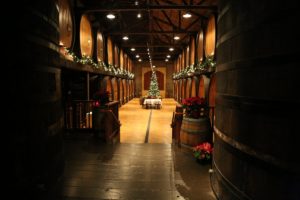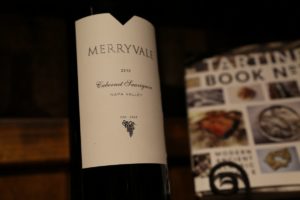 The 2005 Merryvale Chardonnay from the Carneros grown Hyde Vineyard is whole cluster pressed (they often use triple sorting to ensure they are getting only the highest quality fruit) – this wine is very full bodied with beautiful aromatics. Merryvale makes a variety of Cabernets and their top of the line Cab is simply called the Profile. This was the first wine they ever produced. The 2003 we tried is a very dark rich unfiltered wine. It is a big bold Napa Cabernet now that will continue to develop with age. Not to be left out is the affordable priced square bottled Antigua, Muscat de Frontignan. Rich amber colors shine through the clear glass, and black walnut and hints of orange peels make this a classical Dessert Wine.
Two tastings are offered in the tasting room – a classic and a reserve. Wine events are held on weekends including a Wine and Food pairing. Typically their Cask room is open during normal business hours and this is well worth visiting. It is the only one of its kind in the valley. This Cask room has a real medieval feeling with all the lighted candles, wine cellars and very long table in the center. This is where they hold the majority of their popular wine seminars.
The tasting room can be very crowded especially on the weekends as this is a popular tourist stop (many of their special wine events are held on the weekends). They also stay open later than most Napa wineries. Private tours and tastings are available by reservation. Merryvale definitely has one of the more advanced and extensive winery websites that we have seen – especially the educational section. Visit: www.merryvale.com
NOTE: This review has been identified as needing a major update.