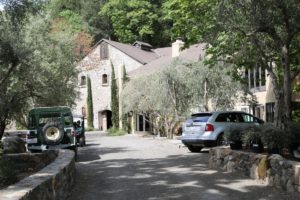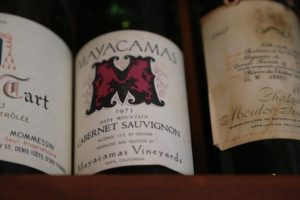 Mayacamas Winery is a historic winery located high in the Mayacamas Mountains west of the actual Napa Valley near Mt. Veeder. The winery sits on the edge of a crater on a extinct volcano. Sixty acres of vineyards are on the property ranging in elevation from 1,800 to 2,400 feet – the uppermost part of their vineyards are among the highest in all of Napa County.
Some of the vineyards are quite old – their Chardonnay terraces date from the early 1950's and the Cabernet Sauvignon Vineyards that surround the winery were planted in the early 1960's. All mature vineyards on the property are dry farmed = helped in part by the fact this part of Napa often receives twice the average rainfall of the valley floor.
A visit here is by appointment – during the week (closed weekends) and is for small groups only. You will see why this is if you visit. They are located at least 35 minutes from the valley floor on some of the most windy narrow roads in the Napa area. The final push into this historic winery is on a gravel then dirt road which ends with only several tight parking spots.
The winery itself dates from 1889, it was built by a German immigrant and has had several owners during its long history. It became dormant during prohibition although there is some evidence of bootlegging in the stone cellar during this time! In 1941, Jack and Mary Taylor bought the property, set about restoring the winery – and gave it its name, Mayacamas Vineyards. A friend of our family with his friends from Stanford University were seriously considering purchasing this property in the late 1960's when it was for sale.
However, that was not to be – long time vintner Bob Travers, purchased the winery in 1968 – he started working in the Napa wine industry in his 20's after leaving a job in San Francisco. Much of his initial knowledge came from working with the legendary Joe Heitz of Heitz Cellars. Any Napa winery in operation today which dates from the 1960's, is still privately owned – puts that winery into a very select list of the "oldest continuously operating Napa Wineries".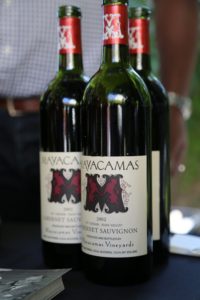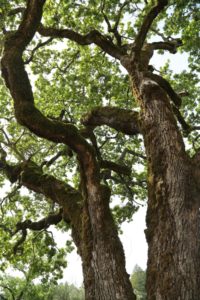 In 2013 Travers sold the winery to new owners: Charles and Ali Banks, (former owners of Screaming Eagle) along with Jay Schottenstein and his son Joey. Charles Banks is no longer involved with Mayacamas Winery. They are only the 4th owners in this history of Mayacamas.
Mayacamas is even an intricate part of more recent history – their 1971 Cabernet Sauvignon was part of Steven Spurrier's now famous Paris Tasting of 1976 which helped push the quality of Napa's wines to the International wine scene.
There are many things which separate this winery from other Napa area wineries. Its unique location and history certainly make this winery stand out. A tour here will highlight additional factors. We visited during harvest and were able to see the winery equipment in action. This a gravity flow winery – the grapes are de-stemmed and then the juice flows down to neutral concrete wood covered fermentation tanks. Out of more then 950 Napa wineries/producers visited with to date, these are the only such types of fermentation tanks we have seen. These fermentation tanks in no way take away from the varietal characteristics of the wine – and that is exactly what the winemakers are trying to achieve during fermentation.
The juice is eventually put into large wooden casks, one of which was here when the winery was purchased in 1968 and is over 60 years old. Mayacamas is not big on oak in their wines as their philosophy is let the wine speak for itself, so you will see mostly older oak barrels in their lower cellar room. Also check out their own bottling line – its the oldest bottling line we've seen at any Napa winery – this one dates from the 1940's. The majority of their fruit comes from on the property and their focus is on Chardonnay and Cabernet Sauvignon although they do make a delicious Pinot Noir and Sauvignon Blanc.
We tried several Chardonnays none of which go through secondary fermentation. As a result, these wines are more austere with great acidity. They don't show as well by themselves, as they really need to be paired with foods. Mayacamas releases Library wines each year – these typically have about 5 years of aging before they are available to the public.
The 2001 Chardonnay vintage has aged amazingly well with very rich concentrated fruit and nice mineralities representative of their unique terroir. Speaking of which the steepness, nutrient poor soils, 50+ year old vines – combined with cool breezes produces a wine of exceptional quality combined with the perfect acidity for aging. In addition the yields are extremely low – often around 1 ton per acre. These are not your normal quick to release – quick to drink California Chardonnays! Mayacamas recommends drinking their Chardonnays typically between 5 and 8 years when they reach their peak maturity and complexity. So the point of this is if your budget is in your favor purchase two of each wine; one for drinking now and one for aging!
Their 2003 Cabernet Sauvignon is smooth and silky with layered fruit – most notably cherry, red currant and plum. By the time their Cabernet's reach the market they have already undergone 5 years of proper aging, which is a luxury that many wineries do not have. Maycamas also releases older vintages every year called the Library releases.
You may have heard of the movie called "A Walk in the Clouds" – this was partially filmed on site. Due to the history of the property, winery tour, vineyards, and of course the high quality wine, a visit here is among one of the more unique Napa and "out of the way" winery visits. Allow at least 35 minutes to reach the winery from Highway 29 in the Napa Valley or Highway 12 from the other side in the Sonoma Valley. Visit: www.mayacamas.com
NOTE: this review has been identified as needing a major update since the ownership change.
Wine with Tony