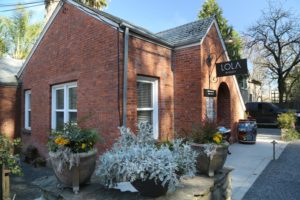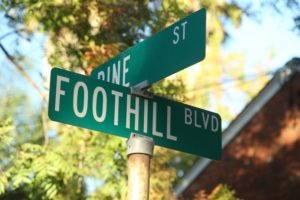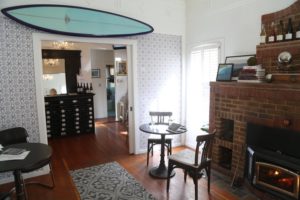 LOLA Wines was founded in 2008 by winemaker Seth Cripe. He is originally from Bradenton on Anna Maria Island in Florida, part of a long barrier island located on the western side of the state stretching from south of St. Petersburg down to near Sarasota. This is small town America with only three tiny communities located on the island, Bradenton Beach, Holmes Beach and Anna Maria. Seth grew up on the island and took an interest in wine beginning at age 12 when he started reading books about winemaking and anything he could get his hands on about the subject. A focus at that early age is impressive – most 12 year olds don't have that type of drive, preferring to hang out with friends, being online or playing outdoors.
Seth's family has been in the restaurant industry for many years – most recently his brother and his wife operate Jennings Downtown Provisions in Bradenton. Seth's first job appropriately was in a restaurant washing dishes, (Beach Bistro), conveniently located across the street from his childhood home (and still in business). This dinner only restaurant has an impressive wine list and despite being under age, during his time working here, Seth was able to try numerous wines. During the Long Boat Key Wine Festival held at the Beach Bistro at the time, Seth met Napa Valley winery owner, Clarke Swanson. This was ultimately a life changing moment for young Seth because he left the restaurant at age 17, dropped out of high school and drove across country with $1200 in cash and began working at Swanson Vineyards in Rutherford.
Seth spent four years working at Swanson Vineyards and then worked a harvest in Australia. When he returned to the Napa Valley he took a job at Caymus Vineyards where he would stay for 7 years – each year spending some wine related educational time in France. During his time at Caymus he lived in an old grapevine and plant nursery in Rutherford where one of the varieties of tomatoes grown here in the 1940s was called Lola which was named after the owner who had lived on the property years before. So when Seth was hiking in Big Sur and came across a small injured stray dog – he took her in and named her Lola. And when starting this wine brand, Seth decided LOLA would be a more catchy name then Seth Wines. Lola the dog, celebrated 15 years on the planet in 2020.
LOLA Tasting Room
Seth moved the LOLA offices into an old brick house in Calistoga in 2014 – for many years it served as office space and sometimes was used for hosting private tastings. The house is in a residential neighborhood at the edge of Foothill Blvd, a very short walk from the main street in Calistoga (Lincoln Avenue). Built in 1890 it houses several interior tasting spaces including a private room. Weather permitting tastings also take place in the back yard on the brick lined floor. Two parking spaces are reserved for visitors – located next to the house on the south side – or parking can be found curbside on nearby streets.
No appointment is needed – walkins are welcome. Several flights are typically offered including from The LOLA Collection, larger produced and nationally distributed wines and also from the LOLA Artisinal Series – wines that are limited production, single vineyard (although not vineyard designated), old vines growing in the the Napa Valley. Their vineyard sources tend to be from up-valley, St. Helena north – and range from winery owned vineyards to small backyard privately owned vineyards that Seth's team handpicks themselves.
Several pieces of art hang in the tasting room including an impressive map of California detailing the LOLA vineyard sites – hand drawn with Cabernet Sauvignon and pencil by Seth's wife Rafaela. And in homage to Seth's love of the ocean and surfing, a surf board hangs on the wall above the tasting room.
Select Wines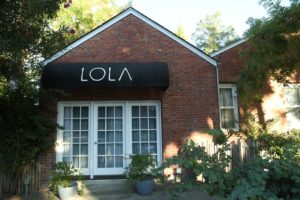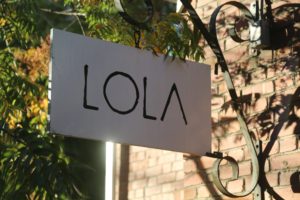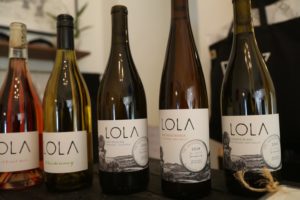 Seth created the LOLA Artisinal series of wines in 2014 – these are only available for tastings at the tasting room or through wine club membership. These wines are carefully crafted – using indigenous yeast with no fining or filtering, minimal oak (often neutral) and are released quicker to market then many smaller producers in the valley. Balanced flavor at harvest equals balanced wines. These wines are not high alcohol – all are crafted with food in mind. Seth produces these limited production wines (usually less then 200 cases per each wine) at Crocker & Starr Winery in St. Helena (where he rents space).
The 2018 LOLA Dry Riesling Monterey is from a vineyard that Caymus had access to before LOLA began sourcing fruit. Made from 35 year old vines. This wine was fermented with 30% skins and left in neutral oak barrels for 4 months without being racked. Immediately offers sweet aromatics – tropical with notes of honeysuckle along with ripe cantaloupe. Shows an impressive depth with plenty of layers – a rich and ripe presentation but tempered nicely with a brightness of acid. An ideal acid to sweetness of fruit balance – lingers with a pleasing tartness on the finish with flavors of pear and Gravenstein apple. This is a delicious wine well worth seeking out.
When LOLA was given access to a vineyard of Chenin Blanc (near Revana Winery, north of St. Helena) they discovered another variety growing in the same block – it was identified as Malvasia Bianca, a white grape that may have originated from Greece. Seth decided to make a stand alone wine from this. The 2018 LOLA Malvasia Bianca was made from vines dating back to 1974. Smells refreshing – with aromas of lemon, lime and a bubble gum nuance. Very balanced – light in body with a hint of minerality showing towards the finish. Clean across the palate, crisp and refreshing with flavors of green apple and gooseberry. An intensity of flavor complimented by bright acidity lingers.
The Chenin Blanc is from the same vineyard source as for the Malvasia Bianca. The 2018 LOLA Chenin Blanc is pale straw in the glass; shows some restraint on the bouquet with both floral and fruit characteristics. Offers flavors of apple and kiwi – the texture is rounded from start to finish. Lingers with some tartness. It is nice to see Chenin Blanc slowly making a comeback in the Napa Valley over the past few years. With so little planted in the valley these days, we hope that demand will dictate an increase in acreage.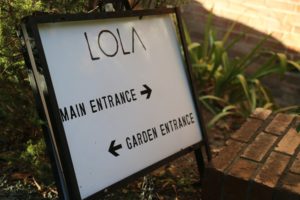 The 2017 LOLA Zinfandel was sourced from a private vineyard east of St. Helena located near the Napa River. The vines are more then 100 years old. Remarkably this wine is only 13% alcohol- we regularly taste Zinfandels in the 15-16+% alcohol range which are clearly completely different wines then this one. The bouquet shows bright red fruit aromas including raspberry complemented by aromas of licorice and rhubarb. Also a subtle hint of aromatic sweetness. This is a balanced showing with a noticeable brightness across the palate. Missing are the following characteristics: heaviness, jaminess, residual sugar and high alcohol. A very food friendly wine. Lingers with some darker spices and white pepper – somewhat savory. Mostly red fruits show on the palate – good acidity but not overly tart. A very balanced showing.
The 2018 LOLA Cabernet Sauvignon (100% varietal) was sourced from 60 year old dry farmed vines growing in Calistoga. Ruby in color with a dark core – initially offers hints of herbs, green peppers with a darkness to the aromatics including tobacco smoke. As the wine breathes shows dark cherry and raspberry with more fruit showing as it breathes. The palate features a noticeable density – the tannins are earthy, dusty and dry on the finish. With a medium grip (not course in feel), they are widely dispersed across the palate. Mouth watering.
Cortez Bottarga
During a memorable meal at the French Laundry Seth tried Bottarga for the first time and fell in love with its flavor. Bottarga is typically made from the roe (eggs and pouch) from the grey mullet or the blue-fin tuna. Returning to Florida and inspired by what he had tasted, in 2007 along with his younger brother began Cortez Bottarga. Today the company produces several types of Bottarga including a Buttonwood Smoked Mullet Roe and a Black Fin Tuna Mojama (they were the first commercial producer of Bottarga in the United States).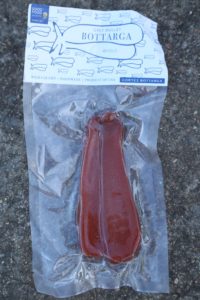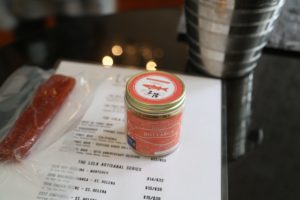 The Grey Mullet Bottarga is intensively flavored (tastes great just by itself). We use a metal grater and grate shavings onto various dishes including pasta and even into our salads. This particular bottarga is savory, a little bit salty with a mild fish taste. Certainly adds a bit of flavor to bland dishes.
In addition they also produce and sell grated Bottarga available in 2 oz jars. Fine restaurants around the country have or currently use their products including locally, Thomas Keller at The French Laundry and Kristopher Kostow at The Restaurant at Meadowood.
And what is a fairly unique offering for Napa Valley based wineries – is their industry only wine club. The LOLA Industry Club features two annual releases – a 6 bottle offering simple called Tier 6 and a 12 bottle offering called Tier 12. Discounts range from 30% to 40%.
Total production each year is around 20,000 cases with the majority of these wines nationally distributed with some distributed in Asia and Europe. For more information, or to join one of their wine clubs, visit: www.lolawines.com