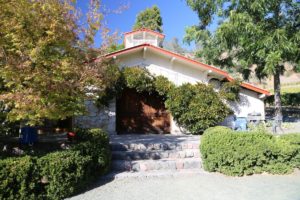 Laura Michael Wines at Zathila Vineyards are owned by winemaker Laura Swanton. She grew up in Phoenix Arizona and moved to California in 1992 when an opportunity arose to work in high tech (worked for Cisco in San Francisco). She has enjoyed wines for many years and became a self taught vintner after purchasing this Calistoga property in the late 1990's. Being a self taught winemaker has its obvious advantages when you live in the Napa Valley. There is an abundance of top winemakers with a variety of knowledge and the wine making side of things is not competitive as winemakers are generally happy to share their knowledge with each other.
The winery and tasting room is located just east of Lincoln Ave in Calistoga right along the edge of the Silverado Trail. The tiny barrel room is located right next to the tasting room as is the small crush pad. Space is at a premium here – often you may see stacked cases of wine against the wall inside the tasting room. It is certainly one of Napa's smaller tasting rooms – which makes for one of the more personalized "bar" tasting experiences at a Napa winery.
Their production is small, generally around 2000 cases. All fruit is sourced from premium vineyards in Napa & Sonoma County. A tasting will start with their one white wine; the Chardonnay. It is interesting in that it combines fruit from two totally separate vineyards located at opposite ends of the valley, one in a warm and one in a cool growing climate. The end result is a complexity of tropical flavors including very ripe pineapple and passion fruit.
Zinfandel lovers take note. Laura has made a name for herself by producing two high quality completely different styled Zinfandels. Her 2005 Dry Creek Zinfandel is from an area known to produce excellent Zinfandels in neighboring Sonoma County; it is made in a leaner style than the 2005 Oat Hill Estate Zinfandel.
The Oat Hill is the only wine sourced from the property (from the tiny 2 acre hillside vineyard behind the tasting room). It has significant longer hang time than the Dry Creek Zinfandel which allows the fruit to really ripen. It is only slightly jammy which is refreshing compared to the over the top jammy Zins we've had on occasion and is full of blackberry and assorted spices on the palate.
Also try their Cabernets including a single vineyard wine from Rutherford – from well-regarded vineyards such as Georges III. Your pourer will often pour the two zins and two cabs side by side so you can compare. Visiting is on a quasi appointment basis; their tasting room is very small and if it is already packed you may need to schedule a later appointment otherwise drop by and sign their register before you start tasting. In the early springtime beautiful flowering trees grace the property including a plethora of other annuals. Zahtila has been producing wines since 1999 and has already picked up its share of top wine awards at various competitions.
This is a very low production winery so some of their more popular wines do sell out rather quickly. However with that said, it is very nice to discover a winery that pours older vintages in their tasting room and has some of these for sale; during a recent visit select wines from vintages eight and nine years old were available to taste and purchase.
Several wines are made from Zinfandel including a Rose, a Dry Creek Zinfandel (in neighboring Sonoma County) and from their estate Oat Hill Vineyard located on the hillside directly behind the winery.
The 2008 Barlow Vineyard (located in Calistoga to the south of the winery – also along the Silverado Trail) Cabernet Sauvignon shows a nice red fruit component on the bouquet (raspberry) and red cherry. The wine is balanced on the palate, showing fresh fruit flavors (drinks a bit younger than it is). Firm slightly rough tannins linger for some time with tinges of mocha.
The multi vintage (2011-2013) Laura's Theme Dessert Wine is a 50/50 blend of Napa Valley Petite Sirah and Calistoga grown Zinfandel. The bouquet is minty, herbal with notes of Eucalyptus – similar aromas to a Vick's cough drop with notes of cigar smoke. It is a lighter style port-styled wine on the palate but with plenty of flavor and sugar. There is decent acidity on the palate so it somewhat tempers the residual sugar. Also flavors of baking spices and darker chocolate show.
Other than a few local restaurants in Calistoga, they do not distribute their wines – their wines are sold direct to customers – most who have personally visited the winery. Visit: www.zahtilavineyards.com