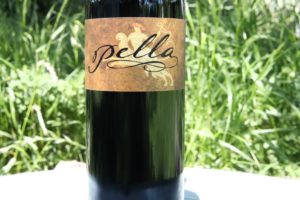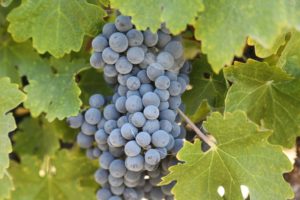 KNA Wines. Building a wine brand is an acute lesson in patience. For those who are privileged to truly start from scratch in the Napa Valley, its 3-5 years waiting for vines to mature after planting, for red wines, another several years aging and then perhaps up to a year in bottle. But there are a very select few in the Napa Valley who age their wines even longer. KNA is one of these.
From 2002 through 2007, winemaker Kristof Anderson produced 100% varietal Cabernet Sauvignon from the Star Vineyard in Rutherford (located next to and just south of La Luna Market) bottled under the Pella brand. The vineyard was founded by Reg Oliver (El Molino Winery) and Ric Forman (Forman Vineyards) and was managed by David Abreu. While Pella no longer sources from this vineyard several producers still make wine from here including B Cellars and Provenance.
The plan for these wines was to age them further – but perhaps he and his wife Jennifer did not expect the wines to have this much age before they were released. As they told us – kids, house projects and life's twists and turns took priority – all the while these wines continued to age. With wines from most producers typically following a rough timeline from bottling to release date, it is refreshing to discover a producer that truly enjoys aged wines and for a variety of reasons, were able to hold these vintages for an extended time before releasing them.
The world changes, and so do the wines – especially when they have 13-18 years of aging on them. We are reminded of an André Tchelistchefff story as told to us by former Beaulieu Vineyard winemaker Joel Aiken. Joel recalled Andre visited Beaulieu Vineyard at age 89 in 1990, some 16 years after leaving a 36-year career there which began in 1938. The winemaking team was proudly showing him the winery and traditional winemaking practices (including older American oak barrels) that in part Andre setup back when he was working at Beaulieu Vineyard. Andre remarked, something like, "it has been 17 years since I have worked here, I have changed, why haven't you".
And Kristoff's own winemaking style has evolved over the years – admittedly from his role as co-founder, winemaker and vineyard consultant for SCRIBE Winery in neighboring Sonoma County. His harvest decisions at SCRIBE began to trend earlier in the year after he began making lower alcohol Riesling and Pinot Grigio – harvesting at lower brix ranges then he was used to. He told us his winemaking early in his career was more textbook like – but later, based on additional experience, he gained the perspective and confidence to make earlier harvest decisions.
Kristof and Jennifer met at Wheaton College in Illinois neither yet knowing what career path they would take. Kristof majored in economics and art while Jennifer was an English literature major. After Kristof was accepted to the Culinary Institute of America (never attended) he moved to northern California to be closer to Jennifer. His introduction to the Napa Valley came through his father who remarkably was a college roommate with future Napa Valley vintner, Art Finklestein (Judd's Hill Winery) at USC. Kristof's father told him to talk to Art who then instructed him to call Justin Meyer, winemaker and co-founder at Silver Oak. So, he did, but Silver Oak was still so small that they were not hiring harvest interns. Justin then told Kristof to meet with Gary Andrus at Pine Ridge.
Not quite sure where to place a new hire with a college degree with absolutely no winemaking experience, Kristof ended up working as Pine Ridge Winery's bottling supervisor. This was his first job in the Napa Valley in 1992. Later he worked at ETS Laboratory in St. Helena where he met numerous winemakers who brought their samples into the lab in person – making some valuable contacts during his time there.
In addition to his role at SCRIBE Cellars, he is also the founding winemaker at Gargiulo Vineyards – where he has been making their wines since 2004.
Select Wines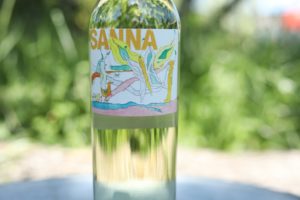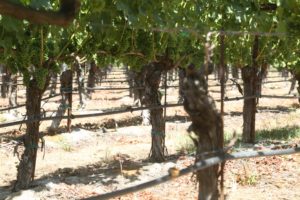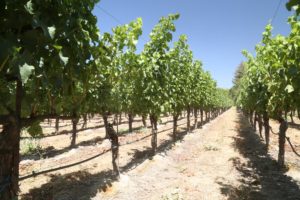 Kristof produced vintages of Sauvignon Blanc from a vineyard just west of Etude Winery on the Napa side of Carneros in 2017 and 2018 but never released these commercially. The productions were small and initially reserved for friends and family. The 2019 SANNA was released (named after their daughter) and is 100% varietal Sauvignon Blanc. It was fermented slow and cold with primary fermentation finishing around 4+ weeks. No oak – all in stainless steel and no residual sugar. Shows captivating aromatics including pear and apple. Very balanced across the palate with flavors of kiwi and gooseberry and a citrus zest. Crisp but not overtly tart. Very refreshing. Only 25 cases produced.
The 2021 SANNA Sauvignon Blanc is medium to deep straw in color; the aromatics are immediately inviting and show notes of honeysuckle, citrus blossom, yellow pineapple, guava and jasmine. This wine is true to the variety and a cooler weather site; both characteristics showing because the grapes for this wine were not allowed to overly ripen at the time of harvest. The palate offers flavors of grapefruit, kiwi, lemon/lime, green apple and some grassy notes. Its texture is rounded from start to finish; leaves a lingering mouthwatering brightness of acidity which begs another sip. Production has increased since the initial vintage; 75 cases of this wine were produced. The pink hand-dipped wax is a nice touch.
The catchy and colorful label was designed by Kristof's sister-in-law, Katherine Lee Anderson. And the wine was bottled with a glass vino seal.
The following wines were cold soaked for 3 days before inoculated with yeast. Malolactic fermentation occurred naturally (no nutrient addition) starting later in the following year. The wines were aged in 100% new French oak (Demptos reserve barrels) for 2 years before being bottled. Only 3 or 4 barrels were produced each year.
The 2003 PELLA Cabernet Sauvignon is briary on the bouquet with sweeter fruit driven aromatics including ripe blackberry and plum. The texture is a highly appealing characteristic of this wine – time has smoothed out the tannins giving them a polished feel. Supple with a light tension across the palate, the wine is seamless from start to finish. Notes of plum, olive and leather. And still showing brightly on the finish. Lingers with integrated tannins and red fruit notes.
The 2004 PELLA Cabernet Sauvignon offers darker aromatics including notes of fig, tobacco leaf, cigar smoke and dried herbs. Shows a bit more density on the palate then the 2003 and is very well layered. The palate is juicy and mouthwatering with flavors of plum and blackberry. Also shows darker fruit, darker spices and long-lasting integrated tannins.
The 2005 PELLA Cabernet Sauvignon offers aromas of boysenberry, blackberry and a hint of sweetness. More opulent then the two previous vintages but still very much in balance. Dark fruit across the palate with chalky long-lasting tannins. This wine has an enviable texture – it is harmonious across the palate.
The 2006 PELLA Cabernet Sauvignon immediately reveals a bouquet that one could pick out in a blind tasting lineup against all the other PELLA wines. Offers a sweet note including honeycomb, cinnamon stick and other baking spices. Offers excellent acidity across the palate, especially on the finish – lingering with a tart note of red cherry. Mouthwatering. The tannins on this wine are also markedly different than the earlier vintages -a bit more tightly woven with a long-lasting grip. This wine still has plenty of life ahead of it.
The 2007 PELLA Cabernet Sauvignon offers diverse aromatics including hints of black fig, raspberry and licorice. As the wine continues to breathe, opens to darker fruits and wafts of brown chocolate. Of the 5 wines we tried in the vertical, this is of course the youngest, but it also tastes the youngest as well. Great acidity – a juiciness if you will on the palate. Needs some time to open. Lingers with bright red fruits, a very subtle hint of mocha and long-lasting tannins with medium grip.
Star Vineyard, Rutherford

Pella, Greece
Kristof and Jennifer chose the name PELLA for their Cabernet Sauvignon brand in honor of their first-born daughter, Pella who was born right around when Kristof began producing these wines. Pella is a Swedish name (chosen in honor of Kristof's heritage). Pella is also an ancient city in northern Greece located about an hour drive from Thessaloniki.
A highlight of a visit to Pella is a stop at the ancient city of Pella and the Archaeological Museum of Pella which contains numerous historical objects found in the city. Although not much physically remains of this ancient city. Nearby modern-day Pella is worth a stop to walk around the center of town. Highly recommended is a visit to the family run The Lemon Restaurant, serving delicious and authentic Greek food.
Alexander the Great was born in the palace at Pella; the city was a place of refuge, sheltering Jewish Christians in 70 A.D. And it is known for its ornate mosaic pebble floors; the label for KNA's Pella Cabernet Sauvignon depicts an ancient mosaic of Dionysus riding a panther; this original mosaic estimated to date from the late 4th century B.C. is contained within the mosaic floors of the museum.
Pella

Pella Archaeological Museum

Pella Ancient City

Future wines from KNA will always be small production sourced from interesting and unique vineyards within Napa Valley.
Collectors take note – with both a fine vineyard and winemaker pedigree, such limited production, and a rare current release featuring wines with extended aging – these wines won't last long. Those interested can purchase vintages through their website – for more information, visit: www.knawine.com or www.pellawine.com