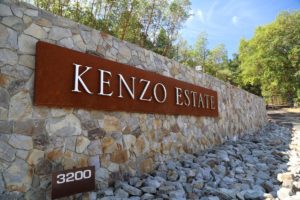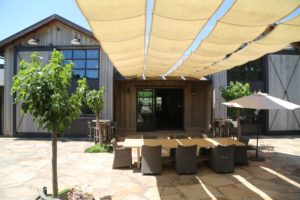 Kenzo Estate is one of the Napa Valley's largest winery estate properties, but despite its size is still under the radar for most visitors to the valley. Kenzo Estate is located on 3,800 acres in the hills above Monticello Road (Highway 121) heading towards Lake Berryessa (only about a 20 minute drive from downtown Napa). There are no other wineries in the immediate region. This property is located in the southern end of the Vaca Mountain range on the southeastern side of the valley. All visits are by prior appointment only. The winery entrance is located at the high point of Highway 121 just before the road drops down in elevation; enter through the gate and drive along a narrow road about 3/4 of a mile passing a small lake before passing through a second gate (which opens automatically) before reaching the actual winery.
The winery is located at about 1500 feet in elevation; this part of Napa is far enough to the south so that is receives the moderating influences from the San Pablo Bay including afternoon breezes and cooler temperatures as compared to further north in the valley. As a result the growing season is usually a long one. Because of their location the vine growth is generally behind the valley floor; often advantageous especially if rains fall late in the season just prior to bloom.
Kenzo Estate was founded by Mr. Kenzo Tsujimoto and his wife Natsuko. Kenzo is a long time entrepreneur and businessman whose own career began in 1966 when he opened a confectionery store in Osaka, Japan – then began selling cotton candy machines followed by gaming machines. His success in sales led him to start a gaming production company in 1974 called IPM Co., Ltd – four years later the wildly popular Space Invaders arcade game was released and IPM benefited greatly from the sales of this game.
Kenzo then founded Capcom, Co in 1983 in Osaka Japan – initially focusing on arcade machines but with the popularity of Nintendo gaming systems, they changed their business strategy to produce games for Nintendo and developed Mega Man, Street Fighter and Resident Evil. Two years later Capcom, Co opened a subsidiary of the company in California's Silicon Valley.
Kenzo has traveled the world and has enjoyed wine for many years. He visited the Napa Valley numerous times before acquiring this piece of property in 1990. Prior to his ownership the land served as an equestrian center; in 1984 the Olympic US Polo team trained here. One of their vineyards is even referred to as the Polo Field Vineyard. The property was originally planted to vines in 1998 and the first vintage was released in 2005 (in the early years the wines were made at another winery as Kenzo's own winery was not yet built).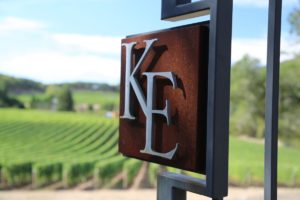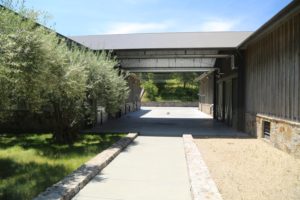 With nearly 4000 hillside acres only a small percentage of vines are planted on the property (150 acres) – only about 4% of the entire estate. Flat land is at a premium here – the terrain is mostly rolling hillsides with plenty of native vegetation. And part of their vineyards are in the Napa Valley's most 'obscure' and least known sub appellation, Wild Horse Valley. Wild Horse Valley is one of only two sub appellations in the Napa Valley along with Carneros to cross county lines – part of the Wild Horse Valley AVA is in Solano County – an AVA that contains only one physical winery (Oliva Brion).
In October 2017 fires came through parts of the property and burned a fair amount of vegetation (easily seen along their driveway) and destroyed one large guesthouse. The fire burned almost to the winery but remarkably did not burn the winery – the surrounding vineyards certainly helped as a fire break.
Architect Howard Backen, of the firm Backen & Gillam Architects is one of the most influential winery architects of his generation, having designed numerous premium winery properties within the Napa Valley including Kenzo Estate, Harlan Estate and Dana Estate. His work often blends in with the surrounding environment using earth tones and darker woods in his designs.
Two winery buildings are on site – one dedicated to red wines and the other exclusively for white wine. Due to the elevation and deep aquifers, wells had to be drilled down over 700 feet. A number of 150+ year old olive trees were brought onto the site and planted – they produce olives every other year and Kenzo Estate bottles a small amount of olive oil.
A 22,000 foot cave was built into the hillside (with plans to expand this at some point) – it was designed with the wine making team in mind and is extremely functional incorporating wide tunnels and extra square footage so barrels can line the walls without having to be stacked more then one on top of each other.
Kenzo employs both a dream team in the winery and in the vineyard; Heidi Barrett is the winemaker (she often commutes here in her helicopter) and David Abreu is the vineyard architect and manager. Both are highly sought out in the valley for their various skills.
Select Wines
The 2008 Asatsuyu Sauvignon Blanc (meaning "morning dew" in Japanese) shows more citrus notes rather than tropical characteristics on the bouquet – although a passion fruit nuance is revealed as the wine continues to breathe. The palate offers flavors of grapefruit and lime along with some interesting mineralities. Sometimes this variety with its citrus like flavors and higher acid can be too tart or "green" on its own but this wine doesn't have those characteristics. The texture is rounded and supple across the palate. The wine did not go through any secondary (malolactic) fermentation.
Rindo (referring to a Japanese purple flower) is a red Bordeaux style blend often with Cabernet Sauvignon as the dominant variety. The 2016 Kenzo Estate Rindo offers plenty of fruit on the bouquet – highly aromatic with aromas of raspberry, dried rose petals, a subtle sage note along with secondary aromas such as mocha, espresso and milk chocolate. Extremely approachable in its youth, this is a crowd pleaser. Features a lovely tannin profile – these are soft integrated tannins that linger delicately.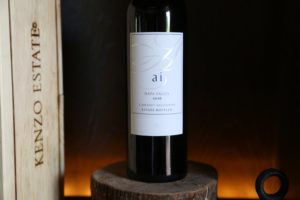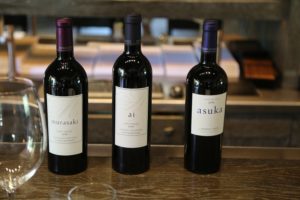 The 2006 Kenzo Estate Murasaki, meaning "purple" in Japanese is a proprietary red blend. This wine sees slightly more new French oak during its aging then the Rindo and is aged longer. The bouquet reveals elegant notes of mocha powder some of which show up on the finish. This wine has excellent balance and acid management – it has big but not overbearing structure and depth of flavor (mostly darker fruits).
The 2006 Kenzo Estate Ai Cabernet Sauvignon is named after the Japanese art of creating indigo dye…appropriately named for the wine's dark color. This is Kenzo's "show wine", their boldest wine in the portfolio, a wine meant for aging. It is a robust wine, with plenty of layers, flavors and structure. The bouquet initially shows an herbal note, dustiness and a bit of cigar smoke. Spices, black pepper and black fruit follow on the palate.
Ten years later we tried the 2016 Kenzo Estate Ai Cabernet Sauvignon – noticeably dark in the glass it offers cigar smoke, a hint of jalapeno with briary blackberry aromas. Somewhat savory in its aromatic presentation. Shows both red and darker fruits on the palate including a finish with flavors of red cherry and currant. Long lasting tannins maintain a tight grip on the finish. A very ageworthy wine.
The 2018 Kenzo Estate Muku is a late harvest Sauvignon Blanc; straw color in the glass offers bright, ripe and sweet fruit aromas including honeysuckle, pear, red apple and pineapple guava. Sweet, with an ethereal texture across the palate, this wine is packed with flavor including mandarin, apricot and ripe peach. A freshness of acidity shows, especially on the finish – not tart but bright and lively, dancing across the palate. Good acidity is important in wines such as this – otherwise they would just be linearly focused on sweetness. Available as a 375ml in an appealing lithe shaped bottle.
—
There are several Napa Valley based wineries or producers who will pair food with their wines but its rare to find a partnership like the one Kenzo has with famed chef, Thomas Keller. Kenzo partnered with Keller (French Laundry, Bouchon, Ad Hoc etc) to offer a Bouchon prepared lunch and small plates: sandwiches, salads, charcuteries and other tasty delectable's with their wines. This experience is one of the highlights of visiting the estate.
Kenzo Napa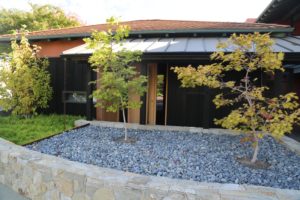 In late 2016, Kenzo opened Kenzo Napa (in the old space vacated by Pearl Restaurant), a premium Japanese restaurant focusing on sushi with plenty of wine and sake options (including as expected featured wines from Kenzo Estate).
Fresh fish is flown in daily from Tsukiji market in Tokyo. The restaurant only seats 27 people (spread among 10 tables and the tiny sushi bar); the interior was designed by Kenzo's wife Natsuko. The restaurant is located in downtown Napa in plain site but without any signage; it earned a Michelin star in 2017.
We will eat here before the end of 2019 and will update this review once we do so.
Kenzo Estate Winery Roppongi Hills, Tokyo

Of the 5 wine bars that Kenzo owns, this is the only one with both a wine bar and a restaurant. Located in the upscale Roppongi Hills part of Tokyo (nearby neighbors include Rolex and Louis Vutton), Kenzo Estate Winery is only about a 7 minute walk from the nearest metro stop, the Hibiya line at Roppongi Hills. On the way here one passes numerous shops, a cinema and the Mori Tower, housing the Mori Art Museum and the Tokyo City View observation deck on the 52nd floor.
Located on two floors – the first floor contains a small wine shop, counter dining and wine tasting options and the second floor houses the small restaurant (15 tables including a private room which can be reserved ahead of time). An impressive menu, the focus is on both Japanese and French influenced cuisine with with a number of creatively designed fish dishes. From the counter, food can be ordered a la carte or from a fixed price menu.
The style of the Kenzo wines are testament to how well they pair with this type of cuisine. Wines can be ordered by the glass (various sized pours), half bottle or full bottle.
—
Total production each year is usually between 20,000 and 25,000 cases with about 80% of their wines shipped directly to Japan. Locally their wines are available at the French Laundry in Yountville and at select other premium restaurants. For more information and or to join their wine club, visit: www.kenzoestate.com or the Japanese version: www.kenzoestate.jp/
Winery

Hospitality

Cave

Vineyards

Kenzo Restaurant, Napa

JAPAN BASED PROPERTIES
Kenzo Estate Winery, Ginza Tokyo
Photos coming by 2020.
Kenzo Estate Winery, Gion Kyoto
Photos coming by 2020.
Kenzo Estate Winery, Osaka
Photos coming by 2020.
Kenzo Estate Winery, Roppongi Hills Tokyo
exterior

wine bar/shop/counter dining

restaurant

Kenzo Estate Winery, Hiroo Tokyo
Photos coming by 2020.