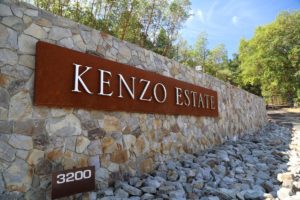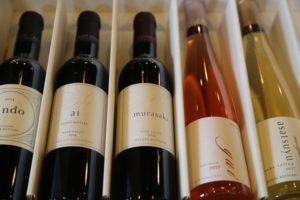 Kenzo Estate On an unusually cold, rainy, foggy and generally gloomy mid May day we drove up to see one of Napa's newest gems, Kenzo Estate (we later revisited on a more agreeable day). It is refreshing to find a winery in "another" part of Napa then we are used to visiting; Kenzo is located on 4,000 acres in the hills above Monticello Road (Highway 121) heading towards Lake Berryessa. There are no other wineries in the immediate region. This location is in the southern end of the Vaca Mountain range on Napa's eastern side. All visits are by prior appointment only. The winery entrance is at the top of the pass; enter through the gate and drive a narrow road about 3/4 of a mile passing a small lake before passing through a second gate (which opens automatically) before reaching the actual winery.
The winery is located at about 1500 feet in elevation and this area is far enough to the south that it still receives the moderating influences from the San Pablo Bay. As a result the growing season is usually a long one. Because of their location the vine growth is generally behind the valley floor; this can be a good thing especially during late season rains when their vines have not yet gone into flower.
Kenzo Estate is the brainchild of Mr. Kenzo Tsujimoto – businessman, CEO and founder of the Japanese video-game publisher Capcom Co. (this company is most known for creating games such as Resident Evil and early arcade games). He founded the company in Osaka in 1983 and then two years later opened a subsidiary of the company in California's Silicon Valley. Mr. Tsujimoto's model for the winery experience is refreshing; showcase luxury wines and luxury experiences in a welcoming setting at affordable prices. Word has gotten out; despite recently opening there were already a number of people enjoying the various tastings.
Mr. Tsujimoto has traveled the world and has enjoyed wine for many years. He visited Napa numerous times before acquiring this piece of property in 1990. Prior to his ownership the land served as an equestrian center and incidentally in 1984 the Olympic US Polo team trained here. The property was originally planted to vines in 1998 and the first vintage was released in 2005.
With nearly 4000 hillside acres you won't see vines planted on the entire property. Only 145 acres are currently planted at the time of this review (about 4% of the entire estate). Flat land is at a premium here – the terrain is mostly rolling hillsides with lots of native vegetation with the winery located at an elevation of 1,550 feet. Due to the elevation and deep aquifers wells had to be drilled down over 700 feet!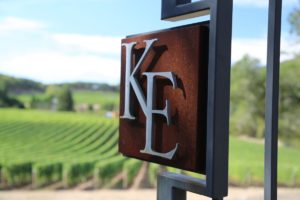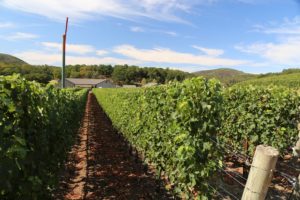 Architect Howard Backen has certainly left his mark on various high-end properties within the Napa Valley including Kenzo Estate. His works tend to blend in with the surrounding environment and he uses a lot of earth tones and dark wood in his architecture. He has worked on a number of exclusive wineries in Napa including Harlan and Dana estates. Despite the loss of a few buildings from the terrible fires of October 2017, fortunately the winery survived.
Kenzo employs both a dream team in the winery and vineyard – Heidi Peterson Barrett is the winemaker (she commutes here sometimes in her helicopter) David Abreu is the vineyard architect and manager.
A 20,000 foot cave has been built into the hillside – its been designed with the wine making team in mind and is extremely functional from the wide tunnels to having all the extra square footage so barrels can line the walls without having to be stacked on top of each other.
There are a few Napa wineries and or producers who will pair food with their wines but its rare to find a partnership like the one Kenzo has with chef, Thomas Keller. Kenzo has partnered with Mr. Keller (French Laundry, Bouchon, Ad Hoc etc) to offer a Bouchon prepared lunch and small plates: sandwiches, salads, charcuteries and other tasty delectable's with their wines. This experience is certainly one of the highlights of visiting the estate.
Kenzo produces one white wine, a Sauvignon Blanc. The 2008 Asatsuyu (meaning "morning dew" in Japanese) shows more citrus notes rather than tropical characteristics although hints of Passion fruit show on the bouquet as this wine opens up. Notes of grapefruit and lime continue from the bouquet with some interesting mineralities. Sometimes this varietal with its citrus like characteristics can be too tart or "green" on its own but this wine doesn't have those aspects and actually has a rather rounded mouth feel. This wine does not see any malolactic fermentation.
Many of Heidi Peterson Barrett's red wines for her clients are priced above $100; the "signature wine" from Kenzo Estate, the Rindo is not. This wine is a red blend usually with about a 1/3 of Cabernet Sauvignon, Merlot and Cabernet Franc. The 2006 shows a dusty almost earthy nose in which similar characteristics show up somewhat on the finish. The tannins are balanced and linger for some time.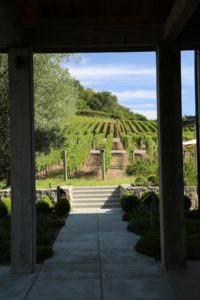 The 2006 Murasaki (meaning "purple" in Japanese – a proprietary red blend) is our favorite. It sees slightly more new French Oak then the Rindo and longer aging. The bouquet reveals elegant notes of mocha powder some of which show up on the finish. This wine has great balance and acid management – it has structure and good flavor (mostly darker fruits).
The 2006 Ai Cabernet Sauvignon is named after the Japanese art of creating indigo dye…appropriately named for the wine's dark color. This is Kenzo's "show wine", their boldest wine in the portfolio, a wine meant for aging. It is a big wine, with tons of layers, flavors and structure. The bouquet initially shows an herbal note, dustiness and a bit of cigar smoke. Spices, black pepper and black fruit follow on the palate.
Kenzo Estate has some distribution in Japan and at select restaurants in California including Thomas Keller's French Laundry but for the most part the wine sales are conducted directly through the winery. Allow at least 20 minutes to the winery from the Silverado Trail.
And in late 2016, Kenzo opened Kenzo (in the old space vacated by Pearl Restaurant), a premium Japanese restaurant focusing on sushi with plenty of wine and sake options (including as expected featured wines from Kenzo Estate). Fresh fish is flown in daily from Tsukiji market in Tokyo. The restaurant only seats 27 people (spread among 10 tables and the tiny sushi bar); the interior was designed by Kenzo's wife Natsuko. The restaurant is located in downtown Napa and earned a Michelin star in 2017. This is not the couple's first restaurant – visitors to Japan can find several Kenzo owned restaurants and tasting rooms – we will try to visit some of these during our next visit to Japan.
For more information and or to join their wine club, visit: www.kenzoestate.com or the Japanese version: www.kenzoestate.jp/
Winery & Grounds

Kenzo Restaurant, Napa