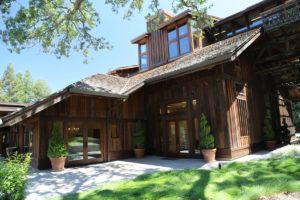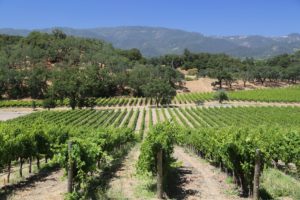 Joseph Phelps Vineyards is located at 200 Taplin Road about a third of a mile in from the Silverado Trail on the east side of Napa Valley not far from the town of St. Helena. The winery was founded in 1973 by Napa wine pioneer, Joseph Phelps. Like a number of other vintners in the valley, Joseph came to wine from another industry. In the 1960's he ran one of the largest construction companies based in the USA, Hensel Phelps Construction (still very much in operation today – an employee owned company). One of his projects was to work on building the BART system in the San Francisco Bay Area (Bay Area Rapid Transit). Other projects included building a launch pad for NASA and a protective exterior for the Pentagon post 9/11. During his time in the Bay Area he would often visit the Napa Valley.
A banker informed him of several potential winery projects in Napa and Sonoma. One of the projects was to build Souverain Winery in Napa (now Rutherford Hill Winery). After this project Joseph became interested in purchasing his own property in the valley. He initially acquired about 15 acres on the corner of Zinfandel Lane and the Silverado Trail in 1972. In 1973 he acquired 600+ acres of land which at the time was a cattle ranch (no grapes were planted on site at that time). A clear remnant of this ranch is the metal cattle guard you cross when you first enter their driveway off of Taplin Road.
Joseph Phelps began planting grapes – varieties such as Riesling, Gewurztraminer and Pinot Noir were planted on site. They ultimately discovered these grapes were not suited to the particular climate of this part of the valley and they changed over to other varieties – namely Bordeaux based red varieties.
The first vintage of Joseph Phelps was not made on site (the winery was not yet completed), rather it was made at Heitz Cellars; that winery is located at the end of Taplin Road past the Phelps driveway. Pioneer, Walter Schug (founder of Schug Winery in neighboring Sonoma County) was hired and played an instrumental role in the early vintages of the Phelps' wines. Despite only 40+ years since the winery was built, this era was the "early" days in Napa's modern wine history when there were few physical wineries located in the valley. Joseph Phelps received Napa winery permit number 26.
After an impressive career both in construction and the wine business – Joseph Phelps passed away in April of 2015. Today his son Bill Phelps is President of the winery.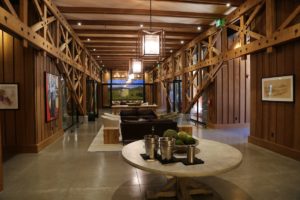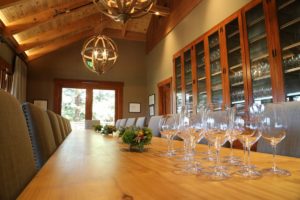 In late Spring 2015 the winery unveiled a brand new hospitality center located in what was the original winery building. This winery was built with high ceilings to house tall tanks – during the remodel the ceiling was lowered, a second floor was added for offices and hospitality was expanded from one private tasting room to seven private tasting rooms. Much of the focus of the remodel was tied to hospitality, elevating the tasting experience for visitors and making these visits more personalized.
The distinctive original redwood trellis outside the building has not changed, visitors still enter the hospitality center underneath the shade of this.
In addition, a large commercial kitchen was built – this was christened during Auction Napa Valley 2015. In mid 2017, the winery launched a culinary program featuring seasonal cuisine paired with current Phelps wines and some of their Sonoma Coast wines. Cuisine options vary from small bites to a full lunch.
Joseph Phelps is known for providing excellent wine education seminars across a variety of topics ranging from vineyards, terroir, to the actual steps of how to smell and taste wine. In fact this was the first Napa winery education seminar we went to – well before we began the Napa Wine Project. These are *highly* recommended for someone new to wine or wanting to further expand their knowledge of wine.
Groups are kept small and are held in their wine education room. Your "wine guide" will discuss a variety of topics relating to wine including how to properly taste, identify color, aromas and flavor with an overview of both Napa and Sonoma terroir and wine growing regions. Seminars also provide insights into how wines are made and are ideally suited to those who come prepared with plenty of questions.
One of the most popular seminar topics is the Insignia blending session in which you are given the components of what makes the final Insignia blend. You get to create your own blend and then compare how your blend tastes against the current vintage of Insignia.
Other seminars include Barrel Aging Napa Valley Cabernet Sauvignon (exploring how types of barrels contribute to aging wine, Napa Valley Rocks (exploring the diversity of soils in Napa Valley), Wine Aroma Challenge, Single Vineyard (exploring how terroir contributes nuances to wine) and several limited tasting options including Wine & Cheese pairings, a Library Tasting and the rare Insignia Vertical Perspective Tasting.
All visits are strictly by reservation. The popular Terrace tasting experience includes a walk through and overview of the hospitality center and then weather permitting you are split into smaller groups for a highly personalized tasting outside on the terrace. During a recent visit, our wine educator asked us, "how do you like my office?". With views like this, the group was silent, simply absorbing the expansive vistas – there was absolutely nothing to complain about.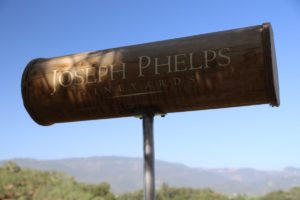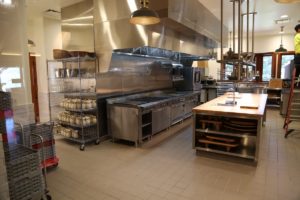 From the terrace, you overlook one of Napa's beautiful vineyard properties – it is a mix of vineyards and forested hills comprising the Spring Valley Ranch (640 acres) of which only about a 1/3 is planted to vines.
Your tasting will typically include 5 or 6 wines including several balanced white wines (Chardonnay and Viognier) and several Pinot Noir wines from their Sonoma County vineyards. At the end of our tasting our wine educator asked, "how is everyone feeling" – the unanimous answer was "pretty awesome"!
In the late 1990's Joseph Phelps began to look further afield with the intent to create wines in a Burgundian style (namely Chardonnay and Pinot Noir). This necessitated he locate property in a much cooler growing region. That turned out to be along the Sonoma Coast. In 1999 Joseph Phelps started developing 100 acres of vineyards outside of the tiny community of Freestone. About 80% of the vines on this property are planted to Pinot Noir and 20% to Chardonnay (the Quarter Moon Vineyard and the Pastorale Vineyard). The winery used to see visitors on site – at their Freestone Vineyards Guest Center (this has since closed).
The 2012 Quarter Moon Vineyard Pinot Noir shows an elegant nose with layered fruit, raspberry and cranberry – with some subtle notes of cedar. As the wine opens the bouquet becomes more elegant and reveals additional fruit complexities as well as chocolate cherry aromas. It shows a nice softness on the entry. The tannins are very well integrated with very good acidity – mouth watering on the finish with a nice tartness that lingers.
The 2012 Pastoral Vineyard Pinot Noir shows an earthy and slightly dusty note on the bouquet with underlying notes of white pepper. The aromas are slightly more restrained than the 2012 Quarter Moon Vineyard Pinot Noir. It is a more robust wine with noticeable somewhat dusty tannins starting on the front of the palate and moving towards the rear and lingering softly.
Other tasting areas inside the hospitality center include the Backus, Insignia and Founder's rooms along with a Great Hall centrally located inside. A library contains older vintages including a verticals of Insignia and their Cabernet Sauvignon.
The Oval Room (facing the vineyards) contains sizable wooden tanks which are merely for decoration – these were once used to ferment Riesling but now make good conversation pieces. This "tank" room also contains an impressive collection of empty bottles that line the walls. From the size of the collection and quality of the labels it appears the Phelps family and friends have enjoyed some remarkable wines over the decades (case in point are the 1927 Château Margaux and the 1959 Château Latour bottles)!
Mention the word "Insignia" to someone who has a reasonable knowledge of Napa based wineries and Joseph Phelps will immediately pop to the tip of their tongue. This premium Cabernet Sauvignon has quite a following across the country among passionate wine enthusiasts and collectors. The first vintage of Insignia was from 1974 (at the time of this review the winery only has nine precious bottles of this wine left in their library collection). During the early 1970's wineries were focusing on single varietal wines. Joseph Phelps was a visionary in regards to this wine; he wanted to create a proprietary wine – a blend made from multiple Bordeaux varieties. Insignia was in fact the first first proprietary Bordeaux-style blend grown, produced and bottled in California. Today similar proprietary red wines are categorized as a Meritage.
During the early 1970's it was a challenge to find certain Bordeaux varieties as wineries were not making single varietal wines from varieties such as Malbec, Cabernet Franc and Petite Verdot or using these varieties to blend with as wineries do today. Phelps worked with several growers to source the fruit for these early Insignia wines. Putting out a notice to friends, family and employees to come up with a name, Joseph Phelps ultimately decided on the word Insignia himself – to signify a wine of excellence and superior quality.
This wine changes in percentages of varieties from year to year – somewhat dramatically at times. Tech sheets on site list information about each of these wines including varietal percentages dating back to the first vintage. The fruit for this wine comes from Phelps' own vineyards in several of Napa's most well known Cabernet Sauvignon producing districts including Stag's Leap, Oakville, and Rutherford. This is a big wine for serious Cabernet Sauvignon drinkers.
The 2011 Insignia is dark ruby in the glass; initially it shows a pleasing slight herbal note on the bouquet which quickly disappears and does not reappear as this wine opens. Dark notes, tar, black fig and blackberry show on the layered bouquet. The palate boasts a richness of fruit along with plenty of tannins (not overly course in nature) which anchor a very long finish.
The 2008 Insignia is aging quite well; the nose shows a sweetness of fruit with subtle notes of chocolate and baking spices. The palate is somewhat soft on entry, but quickly gains in complexity – voluptuous if you will. The palate is well layered – with tannins similar to the 2011 vintage but slightly shorter in length. This is a delicious wine. With 2012 through 2014 being stellar growing years in the Napa Valley – collectors will want to look at the Insignia wines from these particular vintages. Club members can pre-order futures of Insignia before it is even bottled.
Today Joseph Phelps does not source fruit from any growers; it is all from their own land throughout the Napa Valley and from their own vineyards in neighboring Sonoma County.
The Napa Cabernet Sauvignon is their most produced wine – with production amounts depending on the vintage. This is their only wine that sees both French and American oak during the aging. The 2012 vintage is aromatically generous with both black and red fruit – a definite sweet note with aromas of vanilla and underlying notes of toasted cedar. The tannins are chalky, dusty gripping and course – lingering on the sides and back of the palate for some time.
And a very unique wine is the Eisrebe, made from 100% varietal Scheurebe (grown on site). This is a white variety that is a hybrid crossing of Sylvaner and Riesling developed in 1916 by Dr. George Scheu, a German botanist. We are aware of no other Napa winery growing or producing wine from this variety. In the spirit of Ice Wine, every year the grapes from these vines are harvested late in the year and then frozen at -5 degrees Fahrenheit, then partially thawed, pressed and fermented in stainless steel tanks.
Phelps has long been involved in charitable endeavors – one prominent donation was land for the nearby River Ranch Farm Worker Center which provides housing to seasonal workers.
And a bit of local trivia – Joseph Phelps used to own the iconic Oakville Grocery in Oakville.
Two electric vehicle charging stations are on site for Tesla vehicles to plug into. For more information about their unique tasting experiences please visit www.jpvwines.com
In 2013 critic Robert Parker tasted through all vintages of Insignia and assigned each vintage a scored rating. Upon conducting this re-tasting he rated the 1974 much higher than his original score! (see video below).
And in 2018, the book The Best We Can Be: The Life and Wisdom of Joseph Phelps highlights the lives of Joseph Phelps and his children. Written by the Phelps family with Napa based author and publisher, Paul Chutkow. And educational and an inspirational book.
Entrance

Hospitality Center

Vineyards