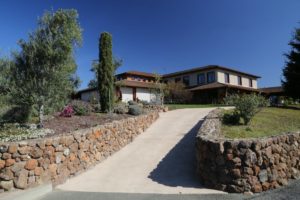 Jamieson Ranch Vineyards. The winery is located about as far south as a winery can be, to still be considered a Napa Valley area winery. It is located right off of Highway 12, SE of the city of Napa (about 15-20 minutes to downtown Napa and about 10 minutes to Interstate 80).
Jamieson Ranch Vineyards is formerly known as Kirkland Ranch Winery, Reata Winery and Valley Gate Vineyards – remarkably, we visited this winery after each name change. To further add to the confusion, the name Jamieson Ranch is a different spelling then the name of the road, Jameson Canyon. To further add to the confusion this space has been used by other brands for tastings and hospitality including Roots Run Deep and Educated Guess. And in March 2019 Jamieson Ranch Vineyards moved out of this space for tastings. But we are trying to hang with all these changes and will update this review once the dust settles and or if and when Jamieson Ranch Vineyards resurfaces with their own tasting rooms.
A stop here is a good "break" from the terrible traffic that can plague this part of Highway 12 at times (although at least now the highway has been converted into a much needed 4 lanes all the way to Interstate 80). This is the Jamieson Canyon area of Napa, a somewhat similar growing climate to the more famous nearby Carneros region. Both share climatic similarities because each region is located relatively close to the San Pablo Bay. This is the closest Napa winery to Sacramento. You can make it here from downtown Sacramento in just under an hour.
The inside of the building has a rustic western motif with lots of hard wood and one of the more spacious tasting rooms of any Napa winery (3000 square feet). The property used to be part of a huge cattle and horse ranch. Weather permitting there is a very nice outside deck surrounding the upstairs tasting area. Jamieson Ranch as a winery is very new; 2009 is their first vintage and several wines had already been released from the estate at the time of our review. Initially when they first opened the tasting room, In they released wines made from non estate fruit sourced from other areas of the Napa Valley. As a result, they had quite a few wines already available for tasting and still do.
Today the vineyards and winery facilities are owned by Ken Laird, the largest vineyard landowner in all of Napa County. In 2016 much needed vineyard replants were conducted on the surrounding acreage. Long time industry wine veteran Bill Leigon owns the brand Jamieson Ranch.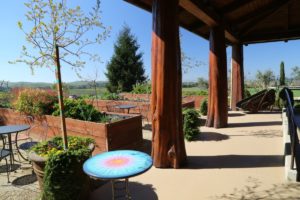 More than 100 acres of Pinot Grigio, Chardonnay, Viognier, Pinot Noir, Merlot, Syrah and Cabernet Sauvignon are planted around the winery. In Napa, this is an ideal area (along with neighboring Carnerso) to grow cooler weather varietals, most notably, Pinot Noir and Chardonnay. Other wineries have vineyards in the area including Artessa and Laird. All Jamieson Ranches wines are reasonably priced (certainly not common from a Napa based winery).
The 2009 Jamieson Ranch Viognier is from the estate; the bouquet is pleasing showing notes of cinnamon, baked red apple, aromas of pineapple and hints of lemon. Flavors of pear and white peach show on the palate with a slightly earth finish.
The 2009 Jamieson Ranch Pinot Noir reveals cranberry and blueberry aromas – this wine is very much fruit driven both in the bouquet and on the palate (certainly a part of being such a young wine). Its crafted in a lighter style; a clean easy drinking Pinot Noir. The mouth feel is soft and the wine shows nice acidity. Valley Gate's winemaking philosophy is to try and make wines that are food friendly (this one is a good example) and to keep the alcohol levels lower.
Their first Zinfandel release is from 2009 and is the biggest wine in their lineup. Red and black cherry show on the nose, its not a spicy bouquet. Expansive fruit flavors, just slightly jammy (blackberry, with a big finish showing broad tannins with just a touch of oak that lingers. This is a good value wine.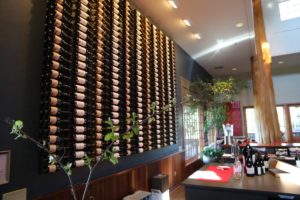 With the large facility they have partnered with a local catering company and will be having a variety of events on site including rehearsal dinners, cocktail parties and corporate events. In addition, their winery facility is sizable (can be viewed from the second floor near the tasting bar). Jamieson Ranch's own wines are of course produced here – however much of the wine making facility is used by Roots Run Deep and their affiliated labels including Educated Guess. These wines can also be tasted here – as the tasting room is shared between the two producers.
In addition to their walk in tastings, Jamieson Ranch also offers complimentary tours by appointment. There interactive tours explores the wine-making facilities and operation including fermentation area, barrel room and bottling line. Food can be a part of the experience here – with a commercial kitchen on site they offer a variety of food and wine pairings.
Be sure of visit the colorful murals the decorate parts of the outside of the hospitality center. A number of artists were brought on site to paint these. Visit: www.jamiesonranch.com
NOTE: This review has been identified as needing a *major* update. Jamieson Ranch Vineyards moved out of their tasting room on March 25, 2019. They have plans to open a new retail space somewhere in the Napa Valley. We will keep an eye on these developments and will visit their new space when they do re-open and will update this review at that time.