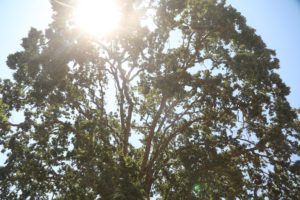 Bread & Butter Wines. Novato based WX Brands (they also maintain an office in London) was founded in 1999, at the time called Winery Exchange; over the years they have acquired numerous wine labels and continue to do so. In addition to wine, which is their primary product, they also produce beer and spirits. And other parts of their business include contracting supplies for alcohol products placed in large retail stores, bottling (their bottling line is based in Sonoma) and private custom labeling services. In July 2021, a majority of WX Brands was acquired by Terold, a company owned by members of the Bemberg Family Group.
As of our latest update to this review, WX Brands owns more than 10 brands including wineries and tasting rooms and exclusively works with nearly 50 other unique brands – many of whom are international. Some of the following we are familiar with, and highlight include:
In the summer of 2021 Bread & Butter wines moved into an existing tasting space at 3105 Silverado Trail (a short drive north of the city of Napa) on site of a Laird owned property including the surrounding vineyards. The original winery on this site, Pannonia Winery was founded in 1979 and over the years has had numerous owners with various winery names including Louis K. Mihaly Winery, Silverado Hills Cellars (owned by a Japanese company), Silverado Hill (Big Horn Cellars) owned by William Hill, Crushpad and most recently, previous to Bread & Butter, Laird Winemakers Studio.
The existing buildings underwent a multi-year significant renovation prior to Bread & Butter moving in. The production facility is located across from the tasting room. There is now plenty of parking adjacent to the tasting room. Visitors may notice another building a few hundred feet south of the tasting room. This has been known as the 'cave' for many years and can be used to host special events.
Visits are by appointment although if guests stop by on a non-busy weekday, often the hosts will allow for last minute reservations. Seating is both inside including at the wine bar and or in one of several smaller rooms, and outside on the patio area overlooking the vineyard. The hosts are attentive, informative and at times humorous. As one of them told us, "People just want to have fun", and of course enjoy well-made reasonably priced Napa Valley wines.
Creatively using their wall space, the Bread & Butter Wishing Wall is lined with empty bottles of wine. Upon request, guests can write notes on an empty label which is then adhered and wrapped around the bottle and placed on this wall for others to read. And around the corner from this wall is a section reserved for small black & white polaroid photographs that staff can take of guests.
Select Wines
Rather than showcasing their larger production California labeled wines, the focus here is on very limited production bottlings, some as low as only 100 cases per wine. Bread & Butter does not own any vineyards in the Napa Valley – their grapes are sourced from various growers from Carneros in the south to more northerly locations.
The limited production Napa Valley Bread & Butter wines are extremely well balanced.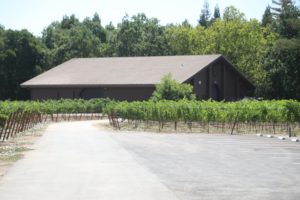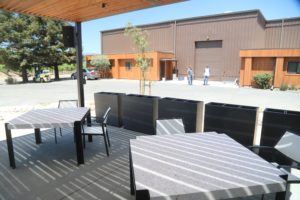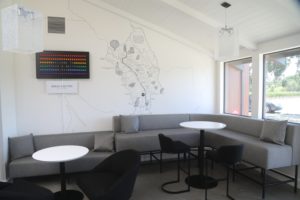 The 2019 Bread & Butter Napa Valley Sauvignon Blanc is from a vineyard site in St. Helena near the Napa River. The wine is pale to medium gold in color; perhaps was a little cold at the time of our tasting as the nose was a bit closed. Shows aromas of fresh cut grass, hints of honeysuckle and citrus blossom. Show lovely flavors across the palate including of pear, apple and some minerality notes. The texture is supple with a bright finish that is not tart. Drinks nicely just by itself. Wonderfully balanced. As one of the hosts told us during our tasting, "this wine goes really well with breakfast". We suggested a pairing perhaps with eggs benedict, but the reply was "just pair it with my mouth and a glass".
The 2019 Bread & Butter Napa Valley Chardonnay goes through full malolactic fermentation and is aged in some new French oak. Medium golden in color, offers aromas of honeycomb, butter, crème Brule, baked apple and dried hay. Offers plenty of layers on the palate including flavors of Golden Delicious apple, mango and a lingering vanilla sweetness on the finish. With a few more years of age, we guess the crème Brule and dessert spice characteristics will become more pronounced, both on the bouquet and the palate.
The 2019 Bread & Butter Carneros District Pinot Noir is medium ruby in color. Offers darker aromatics on the bouquet including cherry and various berry fruits along with a hint of raspberry jam and chocolate. From smelling and tasting this wine blind, we may not have been able to identify it as a Pinot Noir. Very balanced but it does not show more of the elegant varietal characteristics. Rounded across the palate with finer grained, darker in nature tannins. Lingers with flavors of red cherry and plum.
The 2018 Bread & Butter Napa Valley Petit Sirah is dark ruby with purplish tinges on the rim; the bouquet is meaty with an iron/blood like note and as the wine breathes, offers more fruit including boysenberry, blackberry and old cedar box. A mouth full of flavor intensity complemented by juicy mouthwatering acidity. Offers flavors of dark cherry and plum. Sometimes the texture of 100% Petite Sirah wines dominates the finish, not so with this wine. Rather, while there is a noticeable density of tannins, they are well integrated and show a dusty, gravelly texture. Somewhat savory on both the bouquet and the finish.
The 2018 Bread & Butter Napa Valley Cabernet Sauvignon is from fruit sourced from the valley floor in Rutherford as well as hillside on both Atlas Peak and Howell Mountain. Dark ruby in color; rather than a riper offering that is so commonly crafted from this variety in the Napa Valley, one can smell the varietal characteristics immediately. Offers aromas of cigar smoke, dried tobacco leaf, leather and darker fruits including plum and cherry. Offers an aromatic savor note. Juicy on the palate, showcases a brightness. A bit savory on the finish with some darker spice notes and cedar. The tannins are light, still a bit tight but are fairly integrated.
For more information, to purchase wines, to schedule a tasting or to join one of three tiers in their wine club (4, 6 or 12 bottle shipments) and to stay posted regarding winery updates, visit: www.breadandbutterwines.com And when referencing Bread & Butter on social media, use: #mybreadandbutter.
Jamieson Ranch Vineyards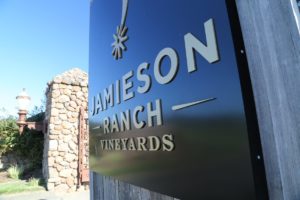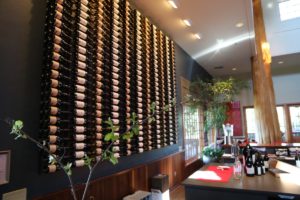 Jamieson Ranch Vineyards was founded in 2011 (their first vintage dates from 2009) and is named after John Brocklebank Jameson a rancher whose namesake is used in several places in parts of the Napa Valley east of the city of Napa. Jamieson Ranch Vineyards used to maintain a tasting room off of Highway 12 but on March 25, 2019, they moved out of their tasting room. WX Brands purchased Jamieson Ranch Vineyards in 2017.
The property where they maintained their original tasting room used to be part of a huge cattle and horse ranch. Several wines had already been released from the estate at the time of our first visit many years ago. Initially when they first opened the tasting room, they released wines made from non-estate fruit sourced from other areas of the Napa Valley. As a result, they had quite a few wines already available for tasting and still do.
The Jameson Canyon area of Napa Valley is a somewhat similar growing climate to the more famous nearby Carneros region. Both share climatic similarities because each region is located relatively close to the San Pablo Bay. This is the closest Napa winery to Sacramento. You can make it here from downtown Sacramento in just under an hour.
The land and the winery facilities where Jamieson Ranch Vineyards used to produce their wine are owned by Ken Laird, one of the largest private vineyard landowners in all of Napa County. The site is approximately 300 acres. In 2016 much needed vineyard replants were conducted on the surrounding acreage. More than 100 acres of Pinot Grigio, Chardonnay, Viognier, Pinot Noir, Merlot, Syrah and Cabernet Sauvignon are planted around the winery and their old tasting room. In Napa, this is an ideal area (along with neighboring Carneros) to grow cooler weather varietals, most notably, Pinot Noir and Chardonnay. Other wineries have vineyards in the area including Artessa and Laird.
Long time industry wine veteran Bill Leigon and several investors purchased the brand and existing inventory in 2015. Legion has been involved with wine for many years; he co-founded Ariel Vineyards (a nonalcoholic wine brand, was national sales manager at J. Lohr and was president of Hahn Estates in Monterey.
The original winery location for Jamieson Ranch Vineyards was formerly known as Kirkland Ranch Winery, Reata Winery and Valley Gate Vineyards. Dutifully, we visited this winery after each name change. To further add to the confusion, the name Jamieson Ranch is a different spelling then the name of the road, Jameson Canyon. To further add to the confusion this space was being used by other brands for tastings and hospitality including Roots Run Deep and Educated Guess.

And ownership of Jamieson Ranch Vineyards seems to change every few years or less. Things change in the Napa Valley continuously, but not at the pace we've seen associated with this winery over the past 10 years. We have been trying to hang with all these changes and as a result this review has been updated numerous times over the years.
Select Jamieson Ranch Vineyard Wines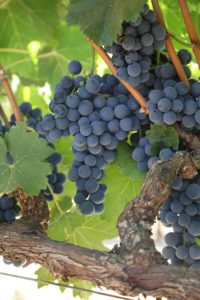 In homage to both John Jameson and Napa's Valley's early ranching heritage, all the labels produced by Jamieson Ranch Vineyards are named in tribute to ranching. As of our latest update to this review, they produce the following four primary labels: Double Lariat (Napa Valley wines), Reata (in Spanish means Lariat & features California coastal climates), Whiplash and Lighthorse (both California appellation wines). Several other labels are also produced. The wines are sourced from not only the Napa Valley but also select parts of central and northern California. All of the Jamieson Ranch wines are reasonably priced (certainly not common from a Napa based winery).
The 2009 Jamieson Ranch Viognier is from the estate; the bouquet is pleasing showing notes of cinnamon, baked red apple, aromas of pineapple and hints of lemon. Flavors of pear and white peach show on the palate with a slightly earth finish.
The 2009 Jamieson Ranch Pinot Noir reveals cranberry and blueberry aromas – this wine is very much fruit driven both in the bouquet and on the palate (certainly a part of being such a young wine). It's crafted in a lighter style, a clean easy drinking Pinot Noir. The mouth feel is soft, and the wine shows nice acidity. Their winemaking philosophy is to try and make wines that are food friendly (this one is a good example) and to keep the alcohol levels lower.
Their first Zinfandel release is from 2009 and is the biggest wine in their lineup. Red and black cherry show on the nose, it's not a spicy bouquet. Expansive fruit flavors, just slightly jammy (blackberry, with a big finish showing broad tannins with just a touch of oak that lingers. This is a good value wine.
Original Tasting Room + Winery (we keep these photographs here for historical purposes only)

Baileyana and Tangent
Baileyana and Tangent is located in Edna Valley in San Luis Obispo County. The tasting room is located inside a charming yellow old schoolhouse that dates from 1909/ Small tasting room – picnic area and ample parking. Their outdoor tasting areas are very popular during good weather. Homey inside and picturesque outside.
Founded by Catharine and Jack Niven – both came to San Luis Obispo in the early 1970s nurturing a vision of planting a vineyard in Edna Valley (at that time dairy farms). Jack planted vines in 1973 – the Paragon Vineyard and today it is the oldest continuously producing vines in Edna Valley. Jack was also part of the group that petitioned Edna Valley to become an AVA in 1982.
And Zocker Wines, another brand owned by WX can also be tasted here.
Chronic Cellars, Paso Robles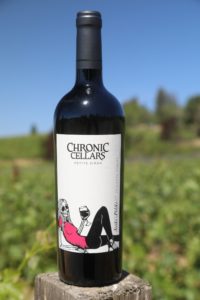 Chronic Cellars is located on the west side of the 101 freeway about 15 minutes from the Lake Nacimiento dam and about the same driving time to Paso Robles. Chronic Cellars was founded by brothers Josh and Jake Beckett in 2004 and was acquired by WX Brands in 2014. The Beckett family founded the now well-known Peachy Canyon Cellars in 1988 – still family owned with Josh and Jake now serving as winery partners.
Grapes for Chronic Cellars are sourced locally from Paso Robles growers. Known for their diversity of affordably priced wines, creative and colorful labels and adventurous spirit. The tasting room is welcoming with a casual and relaxed atmosphere. Absolutely no pretentiousness here – just down to earth, friendly and personable hosts.
The 2016 Chronic Cellars Stone Fox is a white blend of 41% Grenache Blanc, 37% Viognier and 22% Picpoul (a white variety primarily grown in the Rhone Valley and Languedoc in France – Paso Robles based Tablas Creek was the winery that petitioned the TTB to first gain approval for this variety in 2004). Medium yellow in color offers a stone fruit sweetness including apricot and peach, yellow pineapple, honey along with nuances of vanilla and caramel. Also notes of butter. Shows flavors of lychee, pineapple, butter, mandarin and an orange peel zest. Clean finish.
The 2019 Chronic Cellars Paso Robles Petite Sirah (Suite Petite) is dark ruby in the glass; shows aromas of blackberry, blueberry, violets and a hint of mocha as the wine continues to open further. Slightly savory in its aromatic approach. Soft on the entry and through to the finish – more linear in its flavor and textural approach rather than complex. Flavors of blackberry, spicy plum skins and pencil shavings with a darker very supple finish. Lingers with notes of pepper and a juiciness, more so from the fruit rather than acid. The noticeable presence of tannins is very minimal.