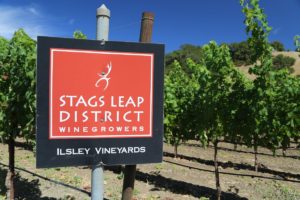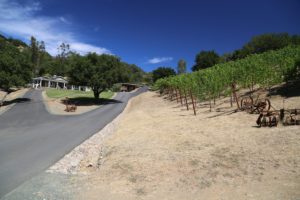 Ilsley Vineyards are located in the Stag's Leap District and are off of an unmarked road (no vineyard sign). Any tastings here are by appointment only, for serious wine enthusiasts and take place at the owner's home about 1/4 mile in on the east side of Silverado Trail on a well graveled road.
Ernest Ilsley, the patriarch of the Ilsley family purchased the land in the mid 1950's and he and his family have been growing grapes here ever since. That was certainly the time to be making vineyard purchases in renowned Stag's Leap District as today vineyard land in this district is prohibitively expensive. For a number of years the vineyards were planted to Carignane and Zinfandel until Robert Mondavi suggested they plant the vineyard entirely to Cabernet Sauvignon. Today the vineyard is predominately Cabernet Sauvingon but there are also some Bordeaux varietals and even a small amount of Sangiovese is planted on site.
Initially they supplied grapes to other wineries most notably to Charles Krug Winery and Robert Mondavi and in fact Mondavi still buys their fruit even today. They still supply most of their harvest to other wineries and it is only recently that they started making their own wines. This winery is truly a family run affair. Three siblings – two brothers and a sister are in charge of the day to day activities including their own vineyard management. They are the most down to earth people you will meet and this is as personalized a tasting as you will find in Napa Valley. One of the owners will meet you at the wine house and then you can either drive up to their gazebo in the electric golf cart or walk up through the hillside vines. They have only been open for tasting by appointment since 2006.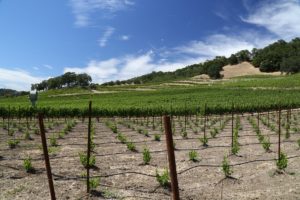 Their production typically runs around 400 to 600 cases making them among the smaller wineries in the Napa area. They certainly have the capacity to increase production as they own the land and as mentioned previously they sell the great majority of their fruit. However, they want to remain small which allows them to provide more attention to detail and hands on control of the wine making process.
They specialize in Cabernet Sauvignon with their first vintage released in the early 2000's; we tried the 2004 vintage which is blended with 10% Petit Verdot. This wine is ready to drink now, is quite balanced with a lot of rich ripe tasting fruit, however has those firm structured trademark Stag's Leap tannins. These tannins along with great acidity will ensure this wine will age very well for many years.
Be sure to try their other more recently produced wine – the Seis Primas, which is Spanish for "six girl cousins" and is named after the 6 daughters the three siblings have. This is a very unique blend of Malbec and Cabernet Sauvignon.
Note that you can also taste Ilsley wines at the Silenus tasting room on Solano Ave just south of Napa. Their wines are available with about 15 other small wineries who custom crush at the Silenus facility. Visit: www.ilsleyvineyards.com
NOTE: this review has been identified as needing a major update.