Hudson Vineyards is a 2000 acre ranch (nearly 200 acres are planted to vines) contained entirely within the Napa side of Carneros in the southern part of the Napa Valley, just north of the San Pablo Bay. Look for the Hudson flags flying near the entrance to their driveway off of Highway 121 (including the black pirate jolly roger flag). Founder, Robert Hudson (always referred to as Lee – his middle name) purchased the ranch in 1981 and soon thereafter started planting wine grapes. His first harvest was in 1983. A number of highly unusual varieties (for the Napa Valley) are planted on the ranch including Aleatico, Albariño, Arneis, Friulano, Ribolla Gialla, Verdejo and Vermentino.
Over the years, the Hudson Ranch has become one of the most famous sites in all of Carneros. Fruit from the Hudson Vineyards are sought after (especially the Chardonnay) – simply look at the producers who source fruit from here including Aubert, Kongsgaard, Kistler, Cakebread, Failla, David Ramey and a variety of others. Those who purchase fruit from Lee are generally small family owned producers who usually make a Hudson Vineyard designate wine and source from the same blocks each year.
The ranch is very historic from a viticulture point of view. One of the earliest vineyards was planted in Carneros in the late 1830s (presumably on the Sonoma County side of Carneros since George Yount planted the first ever vineyards in Napa County near Yountville during the winter of 1838/1839) on what was the Huichica grant by a man named Jacov Leese. He sold 1200 acres to William Winter from Indiana who built the first winery in Carneros (Winter Winery).
After the property was sold again in 1881 to James Simonton – the name was changed name to Talcoa Vineyards. In the 1880's phylloxera was destroying vineyards in Europe; this part of Carneros was the site of the first successful American scientific experiments in which phylloxera-resistant rootstocks were developed. The experimental vineyard owned by Simonton was overseen at the time by Missouri based viticulturist George Husmann (considered the father of the Missouri wine industry who is buried in Tulocay Cemetery in Napa).
Lee (who we originally met with at the ranch) was born and raised in Houston, Texas. Both his parents were heavily invested in oil and gas industries in Texas – his father built a company to service the oil and gas industries – and also ran a cattle operation and his grandfather on his mother's side co-founded Humble Oil, (which became Exxon) and another relative founded what became Texaco.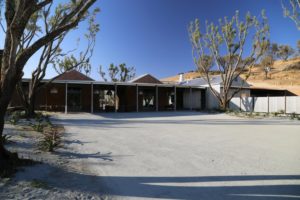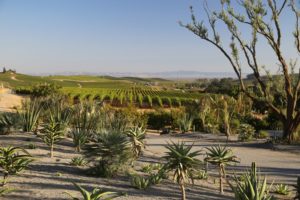 But Lee did not follow the path of family business – rather he majored in Horticulture at the University of Arizona and then worked in Burgundy France for 1.5 years. Upon returning to the states he earned his Master's Degree in Viticulture and Enology at UC Davis. Interestingly enough, a several of his former classmates from Davis are now his clients or have been his clients including John Kongsgaard and Tony Soter. His efforts to produce premium wine grapes have been noticed over the years; in 2008 he was awarded "Grower of the Year" by the Napa Valley Grapegrowers. Today he and his wife Christina and son Ed help oversee the ranch operations.
It wasn't until 2004 however, that Hudson began producing their own wines (after some 20 years of producing home wines). Their current focus is on a limited number of wines (about 3,000 cases per year with the potential to grow this, perhaps up to 9,000 cases), including Chardonnay, Syrah and the "Pick Up Sticks Red", a proprietary blend which includes Barbera, Grenache, Petite Sirah, Syrah and Viognier.
For many years their wine was produced offsite, at White Rock Vineyards, small family owned winery in the eastern hills above the Silverado Trail. However on September 1, 2018, they opened a winery on site (including a sizable cave) and several buildings for hospitality – for many years this was the site of their pig pasture.
Christopher Vandendriessche is their winemaker (whose family owns the small Napa based White Rock Vineyards). In the past, noted Napa winemaker John Kongsgaard provided consulting winemaking services.
Wines + Winemaking
Their Chardonnay program uses selections of the Wente clone sourced from the same blocks each year (small berries with very high phenolics). This is not your typical California Chardonnay. It is made in a Burgundian style and is barrel fermented using (non inoculated) resident yeast. The fermentation is very slow often 12 to 18 months and undergoes full secondary fermentation. The wine is aged in mostly new French Oak for up to 22 months. The wine is allowed to sit on the gross lees for a number of months before being racked. Several unique blocks are used to source this wine and each block is kept separate from each other during the entire aging including the free run and pressed juice. The separate lots are only combined during their final blending trials. Based on the time needed to craft this wine, it is usually released a year or two behind normal Chardonnay releases.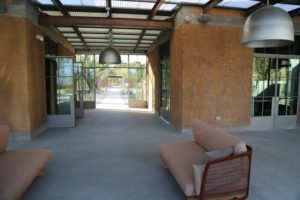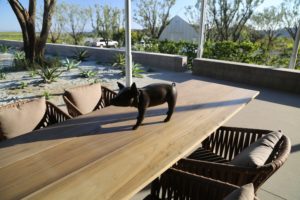 The 2007 Hudson Vineyards Chardonnay is a rich golden/amber in color. It has great phenolic grip which is very visible in the glass (great viscosity) and on the palate. You can feel this "grip" in your mouth; the wine has weight and character. However it should be noted that this wine has excellent natural lively acidity and as a result helps balance its weight and structure. The palate shows notes of spice and is slightly creamy especially the mid palate. Rich expansive flavors include honey, red apple, toasted oak, and lingering notes of tangerine. The finish has just the right amount of tanginess to pair well with foods; it is clean and balanced.
Lee says, "the only additions we make to this wine are blood, sweat, tears and sulpher." In terms of a high quality wine, Lee told us, "for a great Chardonnay, you should close your eyes when tasting and have it taste like red wine."
The 2016 Hudson Vineyards Chardonnay is golden yellow in the glass – showing an intensity of fruit and spice that carries over onto the palate. Offers aromas of honeysuckle, citrus, dried straw and cloves. A noticeable concentration of flavor and texture makes this an appealing wine to enjoy by itself. It is a balanced Chardonnay but with plenty of depth and layers. Feels rounded, almost oily or briny on the palate. A clean rich finish lingers for some time with both fruit and spice.
The 2015 Hudson Vineyards Syrah is dark crimson in the glass – with a bouquet that is savory and meaty with both a dark fruit and spice component. There is a lot going on in this wine aromatically – also notes of cedar, dust, dark chocolate and black pepper. On the palate shows juicy mouth watering fruit including flavors of blackberry. Plenty of depth – anchored by slightly dusty tannins that linger for quite some time.
Aleatico is a black muscat variety usually made as a red wine. Hudson Vineyards produces a highly unusual offering from this variety – a dry white wine.
Ranch Products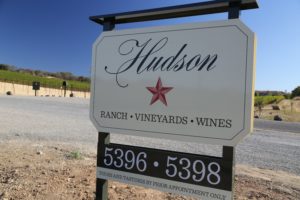 While certainly not a Texas sized ranch property, running a ranch of this size still takes a significant commitment from all involved. And a number of Hudson's employees have been with the family for many years. The vineyards are separated into two primary sections – one towards the south of the property (that visitors drive through on their way to the winery) and one in the north. There are remarkable variations in micro climates within the property.
While wine grapes have been the focus of their operation since the beginning, the working ranch is extremely diverse. They provide fowl to the famed Alice Waters Chez Panisse restaurant in Berkeley, pork from their heritage pigs to the Fatted Calf in Napa, raise sheep, grow fruits and vegetables for a variety of outlets and local restaurants and also produce olive oil (approximately 1,000 olive trees grow on the ranch).
And certainly an intriguing crop are the Atlantic Giant pumpkins grown each year by the ranch's long time production manager, Leonardo Urena. He often grows some of the largest pumpkins in the state (the pedigree of these special behemoths is carefully tracked and cataloged). One pumpkin grown on site in the summer of 2009 took the top honors for largest pumpkin grown in the state of California at the annual Half Moon Bay Pumpkin contest. It weighed in at a whopping 1470 pounds! His giant pumpkins have placed well in a number of related contests – and buyers have been known to have paid up to $5000 for a single seed from one of these 'whoppers'. Less pricey seeds for this variety can be purchased from the Baker Heirloom Seed Co. Sometimes in the fall, one of their smaller giant pumpkins will be on display in Napa's Oxbow Public Market.
Hudson Greens And Goods
Hudson maintains a year round produce market in the Oxbow Public Market in the city of Napa, offering a variety of seasonal fruits and vegetables grown on the Hudson Ranch (including their tasty olive oil) and delicious smoothies at the juice bar. Fresh cut flowers are also available as are a number of packaged products focusing on local vendors. Also note that some of their wine is also sold on site.
Hudson Wines are distributed in California, Texas and New York. Locally you can find the wines at restaurants Bouchon, Redd and Press and sometimes at select wine shops in the Napa Valley. For more information about their wines, the working ranch and or to join their wine club, visit: www.hudsonvineyards.com
NOTE: this review has been identified as needing an update.