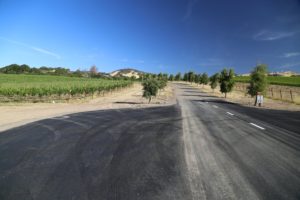 Hudson Vineyards is a 600 acre ranch (180 acres planted to vine) contained entirely within the Napa side of Carneros in the southern part of the Napa Valley, just up from the San Pablo Bay. Lee Hudson purchased the ranch in 1981 and soon thereafter started planting wine grapes. Today he grows 17 different varietals some of which are highly eclectic for the Napa Valley including Aleatico, Albariño, Arneis, Friulano, Ribolla Gialla, Verdejo and Vermentino.
His vineyards are highly sought after (especially for Chardonnay) – just look at the producers who source fruit including Kongsgaard, Kistler, Cakebread, David Ramey and a variety of others. Those who source fruit from his estate are mostly small family owned producers. A number of the producers who source fruit from Hudson make vineyard designates and source from the same blocks year in and year out.
Hudson's estate is historic from a viticulture point of view. In the 1880's this area was the site of the first successful American scientific experiments in which Phylloxera-resistant rootstocks were developed. At the time Phylloxera was destroying vineyards in Europe. Vines have been planted on the site for well over 100 years.
Lee (who we originally met with at his Carneros property) is originally from Texas, majored in Horticulture at the University of Arizona and then worked in Burgundy France for 1.5 years. Upon returning to the states he earned his Master's Degree in Viticulture and Enology at UC Davis. Interestingly enough, a number of his former classmates from Davis are now his clients. His efforts to produce premium wine grapes have been noticed over the years; in 2008 he was awarded "Grower of the Year" by the Napa Valley Grapegrowers .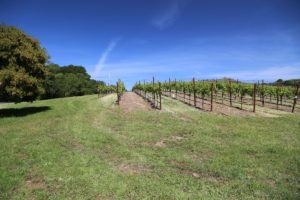 It wasn't until 2004 however, that Hudson started producing their own wines. The current focus is on three wines, a Chardonnay, a Syrah and the "Pick Up Sticks Red", a proprietary blend which includes Barbera, Grenache, Petite Sirah, Syrah and Viognier. Each varietal contributes something a little bit different including floral and aromatic characteristics as well as the wine's structure. All wine is made at a small family owned winery in the eastern hills off of the Silverado Trail. John Kongsgaard is the consulting winemaker and Christopher Vandendriessche is their winemaker.
The 2007 Chardonnay includes three selections of the Wente clone sourced from the same blocks each year. This is not your typical California Chardonnay. It is made in a Burgundian style and is barrel fermented using resident yeast; it is aged in all new French Oak for about 22 months. The wine is allowed to sit on the gross lees for a number of months before being racked. Several unique blocks are used to source this wine and each block is kept separate from each other during the entire aging including the free run and pressed juice. The separate lots are only combined during their final blending trials.
The wine is a rich golden/amber in color. It has great phenolic grip very visible in the glass (great viscosity) and on the palate. You can feel this "grip" in your mouth; the wine has weight and character. However it should be noted that this wine has excellent natural lively acidity and as a result helps balance the weight and structure of the wine. The palate shows notes of spice and is slightly creamy especially the mid palate. Rich expansive flavors include honey, red apple, toasted oak, and lingering notes of tangerine. The finish has just the right amount of tanginess to pair well with foods; it is clean and balanced.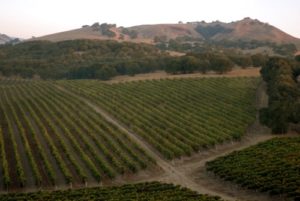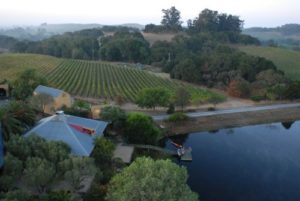 Lee says, "the only additions we make to this wine are blood, sweat, tears and sulpher." In terms of a high quality wine, Lee believes "for a great Chardonnay, you should close your eyes when tasting and have it taste like red wine."
While wine grapes have been the focus of his operation since the beginning, his working ranch is extremely diverse. They provide fowl to the famed Alice Waters Chez Panisse restaurant in Berkeley, pork to the Fatted Calf in Napa, grow fruit and vegetables for a variety of outlets and local restaurants and also produce olive oil. In addition, they have grown some of the largest pumpkins in the state. One pumpkin grown on site in the summer of 2009 took the top honors for largest Pumpkin grown in the state of California at the annual Half Moon Bay Pumpkin contest. It weighed in at a whopping 1470 pounds!
Hudson also maintains a presence in the Oxbow Public Market in downtown Napa. They sell fresh produce here as well as delicious smoothies (and some of their wine is also available).
Hudson is distributed in California, Texas and New York. Locally you can find the wines at restaurants Bouchon, Redd and Press as well as Enoteca wine shop in Calistoga. For more information about their wines and working ranch, visit: www.hudsonvineyards.com
NOTE: this review has been identified as needing an update. New winery, caves etc. 2018. We will revisit and update this review as time allows.