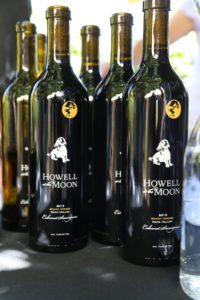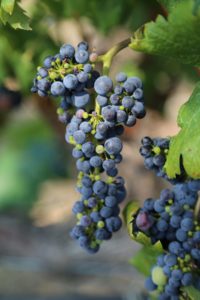 Howell at the Moon is owned by Marc Cohen a retired doctor who worked 27 years for NYU Medical School in New York City. Marc has a long standing fascination with wine and started collecting in the early 1970's. A trip out west in 1982 was the first time he saw the Napa Valley and was impressed with the beauty of the land and the passion of those in the wine industry. 18 years later he retired from his practice in New York and purchased a gorgeous piece of land in the hills above Angwin in the northern part of the Napa Valley.
Mark originally built Howell at the Moon around a beautiful secluded vineyard at about 2000 feet in the Howell Mountain Appellation. The vineyards are surrounded by native vegetation including oaks and pines yet both vineyards have excellent exposure. Since our initial visit with Mark and a tasting at a pool party, Mark has since sold this property to Cliff Family Winery.
Starting a new brand on Howell Mountain was not without a few bumps in the road as the Angwin area is home to numerous wineries, but is also home to the Seventh-day Adventists, whose religion prevents them from drinking wine. Many of his neighbors practice this religion; Marc had an open house to alleviate fears of planting vineyards and building a winery. Only 4 people showed up. Marc then took the step of visiting every one of his neighbors personally to tell them he wasn't going to damage their property or his own. Fortunately the opposition abated and he did finally secure all the necessary permits.
The winery name is quite appropriate – based on the location of his original vineyards (in the middle of forested land far from the lights of any cities one has good visibility at night). His vineyards were planted to several clones of Cabernet Sauvignon with both a lower (Lillian's Vineyard) and upper vineyard (called the Knoll vineyard) – the last vintages from these vineyards were 2013. Marc owns a Jack Russell Terrier whose image appears on his label howling at the moon which is a clever play on words for the winery name.
Mo expense was spared in the vineyard architecture and initial development. A soils analyst with a nickname of "Dr. Dirt" made recommendations for specific rootstalk and clonal types depending on the individual vineyard soil blocks. These clonal recommendations were in part based on the type of wine that Marc enjoys drinking and are in part clones that help produce a softer style of wine. During his ownership of the vineyard, one of Napa's oldest and most well respected "wine" families the Pina's provided the vineyard management services. Incidentally, the Pina's manage their own vineyard on Howell Mountain as well as provide management services for a select number of other small vineyards in the appellation.
Initially, Howell at the Moon did not source any grapes rather they focused on producing a 100% estate grown Cabernet Sauvignon each year. After the sale of his property, Mark began sourcing grapes including from Mt. Veeder.
Several well-regarded winemakers are involved in the production of the wine including Sara Gott and the primary winemaker, Timothy Milos. In addition, Marc isn't just a hands off retired doc interested in wine; during the same year that he retired he received a BS degree in Management as he already knew by that time that he wanted to get into the wine business. In addition he has taken courses in wine marketing and wine making from Napa Valley College. Here is a winery owner who as in his former practice has a thirst for new knowledge and information.
All vintages are unfined and unfiltered. Indigenous yeasts are used during the fermentation and free run juice (the highest quality) is exclusively used. The wine sees extended maceration. Part of their philosophy is to create a wine that can be consumed now, but also has the structure to hold up for aging. However, this doesn't mean smash mouth in your face big tannic wine. Howell at the Moon's wine's are typically smooth with velvety mouth feels. Each vintage is entirely Cabernet Sauvignon – with a blend of various clones.
We tried the 2005 Howell at the Moon Cabernet Sauvignon which at the time of our latest update to this review was still a young wine; it can certainly be decanted and allowed to open up for 30 minutes before drinking. It has dark color with very nice cedar box spices, vanilla & violet floral aromas intermingled with ripe fruit aromas including blueberry. The palate follows with rich layered flavors, again blueberry, but with some raspberry notes on the mid palate. There is nice toasty oak with some spices including black pepper towards the finish which shows fairly fine grained tannins. Long, longer and longest describe the finish on this wine. Will you have the patience to age this for additional complexity?!
During a later tasting we also tried the 2006 Howell at the Moon Cabernet Sauvignon which was released in November 2009. This is a noticeably bigger wine both in the power of the fruit and the power of structure.
For the 2013 harvest, Mark looked to the other side of the valley and produced a Mt. Veeder Cabernet Sauvignon (his first ever Mt. Veeder Cabernet Sauvignon).
The Howell at the Moon wines are now primarily sold in the New York City market – often at select restaurants. One can find their wine locally at ACME Wine Shop in St. Helena, or at the famed resort Meadowood. For more information, visit: www.howellatthemoonwine.com
Note: Mark sold his original Howell Mountain Vineyard to Clif Family Winery a number of years ago. Possible no longer producing? This review has been identified as needing an update.