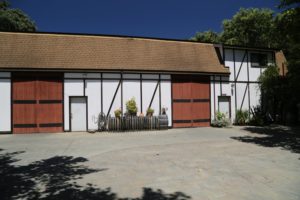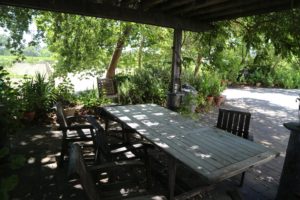 Hoopes Vineyard is operated by Spencer Hoopes (who we originally met with) and his daughter Lindsay. The Hoopes have owned a 10-acre vineyard in the Oakville appellation since the early 1980s. Spencer was raised on a farm in Arizona – but did not pursue his passions for farming immediately. He enjoyed a long career in anti-trust law and and various entrepreneurial endeavors including as a wholesaler of automotive parts; today wine is now Spencer's full time passion. He was originally introduced to Napa during a visit many years ago, fell in love with the area and purchased property. He also began collecting wine and even created a wine club with some friends.
After Spencer purchased his first property in the Napa Valley in Oakville he oversaw the planting of 10 acres of Cabernet Sauvignon in 1983. Spencer told us it never was his original intention to get into the wine business; but today he owns three labels (Hoopes, Hoopla and Liparita), several properties and a physical winery. Initially he sold all the fruit from his Oakville vineyard to an area winery for a number of years. In 1999 his friend Mitch Cosentino (founder of Cosentino Winery) helped him make a small amount of Cabernet Sauvignon which became the first commercial release of Hoopes Vineyard.
In 2013, Lindsay joined the family business and has since taken over the day to day management of the winery. Like her father, she also has her law degree – and has worked for Williams-Sonoma and also as an Assistant District Attorney in San Francisco.
While taking their wine extremely seriously, Spencer also has a sense of humor and and you can see this throughout their packaging and how they operate. He loves dogs and has nicely incorporated this and the play on his last name into several light-hearted labels. The Hoopes wines feature a dog jumping through a hoop and select wines are bottled with a ceramic medallion attached to the actual bottle – and the Hoopla wines depicts a dog with one of the hoops in its mouth.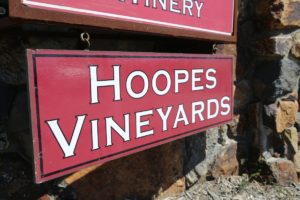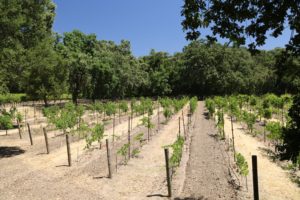 Initially the Hoopla wines focused entirely on white wines but in more recent years they began producing a wider variety of wines including several reds. In any case these are 'fun' and affordable wines that over deliver on the quality to price point ratio. We began our tasting with the 2006 Hoopla Chardonnay. The fruit for this wine is sourced from Yountville – the wine is not oaked and does go through malolactic fermentation. It is crisp and clean with a rounded but not too soft of a mouth feel. Citrus and minerality notes on the bouquet lead to similar flavors on the palate with nuances of apple and lime.
The 2004 Hoopes Vineyard 100% Cabernet Sauvignon is from Spencer's own vineyard and is beautiful wine. Spencer is looking to create wines that are soft, and devoid of harsh tannins, even in their youth (but have the acidity to handle cellaring). He has done an excellent job with this vintage. The wine is a bright ruby color and the nose opens up to seductive elegant aromas of red plum and cherry with touches of spice and vanilla. The fruit shows across the palate but especially so on the finish which is velvety smooth and of great length. This wine will pair very well with food. Also note if you are looking for "value" in a higher end Napa Cabernet Sauvignon, this is an excellent choice as it is priced quite decently for the quality.
Spencer purchased the long time Howell Mountain based brand Liparita Cellars in 2006. Historically this brand produced several white wines (including Sauvignon Blanc); today the focus is on both select white and red wines including a non Napa Valley produced Cabernet Sauvignon. These wines are all about the specific terroir from which they were sourced from and the label features contours (like on a topographical map) representative of this. The nice feature about Liparita Cellars is the fruit sources are locked up into long term contracts which helps build consistency into the wines each vintage.
You can generally taste their wines at the open to the public by walk-in Napa Wine Co's Cult Tasting room, located on the corner of Highway 29 and Oakville Cross road near the Oakville Grocery. The small tasting room is located near the large winery building. Park in the shade of the front of the main winery building and walk over to the tasting room. This is one of Napa's great wineries in both a historical and influential sense. The original winery on site, Nouveau Medoc dated back to 1877 (Napa county's 9th bonded winery). The long time Napa Bartolucci Brothers/Family built another winery called Madonna Winery on site in 1892 – Madonna Winery ultimately moved and has been located in the Carneros region to the south for decades.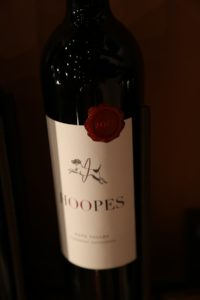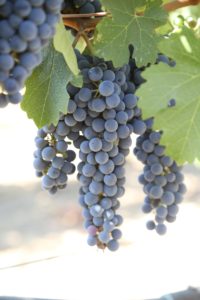 Once the old Hopper Creek Winery is complelety rennovated, Hoopes will start seeing visitors here. For more information or to signup for one of their membership options, visit: www.hoopesvineyard.com and www.hooplawine.com
NOTE: This review has been identified as needing a *major* update. Hoopes acquired the old Hopper Creek Winery and accompanying vineyard in September 2017 (location: just south of the town of Yountville off of Highway 29). They plan to offer tastings by appointment. We will wait until the current construction is completed and will revisit sometime in 2019.
We drive by here all the time and have been keeping an eye on the visual updates to the exterior of the building and ongoing renovation. As always, will keep our ears open for the latest news about their plans for this winery.
Trust us, out of the nearly 1,000 Napa wineries, producers and tasting rooms visited with to date, the old Hopper Creek winery production facility and tasting room is one the rare old school Napa wineries still left in the valley; we are hoping the winery retains its rustic charm once all the dust settles.