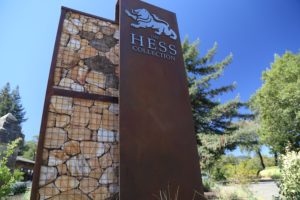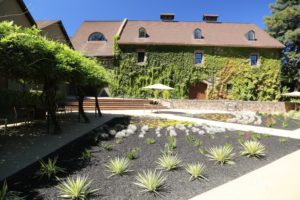 Hess Collection opened to the public in 1989 (their first release was 1976) and is a owned by Swiss born businessman Donald Hess. The winery is located in the Mt. Veeder sub appellation in the southern part of the Mayacamas mountains, a short drive from the city of Napa. Donald Hess was was originally trained in his family business to brew beer. He soon invested in other products including mineral water (Valser Wasser) and wine. He has been in the wine business for decades; he purchased his first property in Napa on Mt. Veeder in 1978 after he fell in love with the area on a business trip. Today he owns several international wineries including in high elevation regions of Argentina.
Donald has always been attracted to hillside vineyards and their location is Napa certainly fits this profile. From the upper reaches of the vineyards at about 2000 feet, on a clear day you can see the shining city of San Francisco far to the south west and parts of the Napa Valley floor. The Hess Collection is on site of what used to be the old Mont La Salle winery which was one of the Napa facilities used by the well-known Christian Brothers Winery. The Christian Brothers still own the property here; Hess Collection leases the winery buildings and some of the property on site.
Donald stepped back from running the winery in 2011 and today his daughter Sabrina, and her husband, Tim Persson oversee the day to day operations of Hess Collection.
Hess Collection focuses on a variety of wines produced under three main labels. The Hess Collection wines features wines made from grapes grown on their Mt. Veeder estate property, single vineyard wines feature terroir driven wines, and their appellation wines which are sourced from a variety of counties in California. They own several premium Napa Valley based vineyards as well as a vineyard in Monterey County.
There are very few wineries in the hills of Napa Valley open to the public by walk-in; Hess Collection is one of these wineries. The shortest way to reach Hess Collection is from the city of Napa as the winery is really in the middle of "nowhere" along a narrow winding road. It is surrounded by wooded hills in a beautiful location that feels far removed from the valley floor yet is a rather short drive from the city of Napa. Guests can choose to taste at the bar in their old tasting room, outdoors (weather permitting on weekends) or explore the art galleries on the upper levels.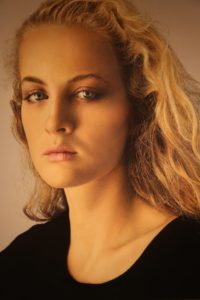 Hess Collection is known as much for its contemporary art collection as it is for its wine and displays the largest contemporary art collection of any Napa based winery. Tours of the art galleries are self guided, private tours can also be arranged by prior reservation. The collection his highly eclectic; examples include a typewriter with real flames coming out of it, a computer programmed "running" exhibit which changes appearance depending on the days of the year, a series of large rocks scattered on the floor originally treated with high temperatures causing the rocks to change their appearance when they cooled – and an exhibit of numerous human torso's.
The galleries contain one of the most intriguing pieces of artwork in the Napa Valley – the incredible larger then life, realistic looking painting of a beautiful woman. Titled Johanna II by Franz Gertsch, this is the centerpiece of the main upper floor gallery. Donald strives to know the artists he purchases work from and often purchases multiple pieces. Hess Collection rotates some of their art on a consistent basis while continuing to purchase new works. This collection on display represents only about 20% of his entire collection.
Hess Collection's production is the best of both worlds, maintaining a large distribution as well as being able to make limited production wines. They produce somewhere around 600,000 cases a year which for Napa standards is very large. Of this, only about 10% of their wine is made in this facility (they also lease a large production winery in American Canyon to the south). While not a small winery they do hand craft a number of small-lot wines, sometimes only a few barrels. These wines are typically only available at the winery. The majority of their wine is distributed nationally and of this, most of their production is Chardonnay and Cabernet Sauvignon. A couple of wines we recommend from an earlier visit include their Artezin Petite Sirah, Petit Verdot and a Gewurztraminer.
The tasting bar is in an old stone room made from rock quarried from the hillside located directly behind the winery. This room was built in 1903; at that time workers used materials already located on site as transportation costs based on the type of technology available would have been prohibitive. This was the old "brandy" room as both brandy and still wine were made at the winery. The wooden bar covers 3/4 of a rectangle and in our experience there have always been plenty of staff on hand to service the sometimes well-packed tasting room, especially on the weekends. Because of their sizable production, a diversity of wines are generally available for tasting.
And if weather permits, seated tastings are also held outside in their courtyard under the shade of various trees.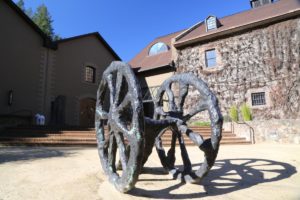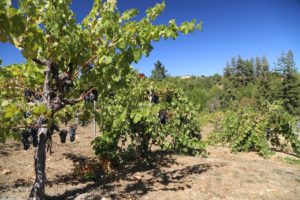 A rarity at Napa wineries is a vertical available to walk-in guests. Hess Collection generally offers visitors the chance to sample a vertical of Cabernet Sauvignon. A vertical offers the opportunity to compare and contrast wines from different vintages – and to examine how the wines have aged in regards to aromas, flavor and structure.
Hess's wines seem to hold their fruit, and tannin structure extremely well, even on the older vintages. The 2004 Hess Collection Cabernet Sauvignon shows a pretty bouquet that is rich in floral aromatics (violets), with a core of sweet candied fruit. The entry is amazingly soft for still a fairly young wine and has notes of black licorice, black cherry and hints of chocolate on the palate. Broad firm chewy tannins anchor the long finish. The oldest wine we tasted, the 2000 Hess Collection Cabernet Sauvignon has aged very well. The backbone is still certainly there with pleasant briary and blackberry aromas.
It is also somewhat rare to find a Botrytis late harvest Chardonnay in Napa and in the case of Hess Collection this wine is extremely rare having only been produced 1x to date. The 2006 Hess Collection late harvest Chardonnay is from the Su'skol Vineyard (located in the southern part of the Napa Valley). Each year a certain amount of Chardonnay is left to hang on the vines and in every year except 2006 the fruit goes to waste. Conditions need to be ideal for creating the "noble rot", or the grey mold that literally covers the outside of the grapes.
The 2006 vintage is very rich in both flavor and sugar with a moderate alcohol level of 12%. It has very good weight on the palate or phenolic grip. Notes of honeysuckle and citrus blossom show on the bouquet, leading to tropical fruit flavors the carry across the entire palate. This dessert wine can certainly be consumed by itself. However, we have found another use for rich wines such as this; we pour a generous helping over fresh stone fruit during the summer (i.e. nectarines or peaches…delicious!).
Hess is proud owner of the world's highest commercial vineyards which are located in Argentina at almost 10,000 feet! This winery is Bodega Colome and the vineyards are appropriately called Altura Maxima. They operate a second winery (warehouse) in American Canyon where the Hess Select wines are made.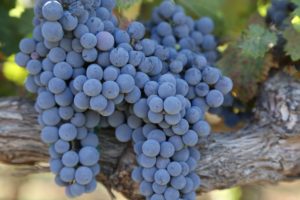 Hess Collection's seasonal Vineyard Excursion experience is offered spring through fall and gives visitors a chance to explore part of their historic Mont La Salle vineyard on an ATV. This educational vineyard tour gives guests the chance to learn about vineyard management practices including trellising and the family's philosophy on growing grapes. A sit down lunch follows the tour (prepared by their in-house chef). Only available by reservation.
The Lions Head Cellar opened in 2018 after being remodeled; the centerpiece is a large stainless steel tank that was severally damaged in the Napa earthquake of August 2014. Rather then ship this off to the scrap yard, the winery elected to pay homage to both the earthquake and the resulting almost artistic look to the tank after it was damaged.
And slightly to the south of the winery is Mont La Salle, one of six administrative headquarters for the Christian Brothers in the United States. Mass is offered every Sunday morning at 11am inside the gorgeous Mont La Salle Chapel.
Visitors sometimes arrive to Hess Collection on bicycle, cycling along Redwood Road (a scenic and windy ride from the city of Napa) – the winery provides a number of bicycle rack parking just below the main parking lots).
—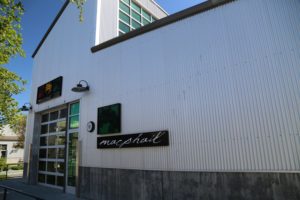 MacPhail Wine (Sonoma County based) was founded by winemaker James MacPhail in 2002 and acquired by the Hess Collection in 2011. Their focus is primarily on hand crafting premium Chardonnay and Pinot Noir from Sonoma County vineyards – along with Pinot Noir from Anderson Valley in Mendocino County. MacPhail Wine does not own vineyards – rather they source fruit from premium sites. During a recent tasting, two of their Pinot Noir wines stood out – both stylistically different from each other but both intriguing nonetheless – the 2016 Mardikian Estate Pinot Noir and the 2016 Wightman House Pinot Noir from Anderson Valley.
Their production is small – only about 1,500 cases a year. A tasting room is open to the public in the 12-acre indoor/outdoor Barlow Center in Sebastopol. Both indoor and outdoor terrace tastings are available – with a good representation of both their Chardonnay and Pinot Noir wines offered on the tasting menu. A cheese plate can be ordered separately to pair with the wines. Wondering about the floor to ceiling sculpture containing numerous red wagons inside the tasting room? The red Radio Flyer wagon is their logo – chosen by James MacPhail as a symbol of his childhood.
—-
Hess Collection is well distributed nationally. Joining their wine club gives you access to some pretty neat events including one gathering where you get to blend wines with the head winemaker and the winning blend is announced at the day's end. For more information and or to join their wine club, visit: www.hesscollection.com
Signs

Grounds

Art

Winery/Barrel Chai

Gift Shop/Tasting Room

Estate Vineyard

Allomi Vineyard, Pope Valley

Iron Corral Vineyard, Pope Valley
Photos coming soon.
Mont La Salle, Christian Brothers

HESS FAMILY WINE ESTATES (Tasting rooms or wineries only listed here)
Bodega Amalaya
Photos coming after we make another Napa Valley to South America only trip
Bodega Colome
Photos coming after we make another Napa Valley to South America only trip
MacPhail Family Wines (Tasting room, The Barlow Sebastopol CA)