Harlan Estate – We had been looking forward to visiting Harlan Estate for some time. This was one of our special visits on this project; it is the 600th review of an active winery/producer to appear on this site over the past 4+ years. We chose Harlan Estate for this milestone visit because of their well-regarded reputation for quality, the instant name recognition and because of Mr. Harlan's unique personal contributions, influence and history in the Napa Valley over the past 30+ years.
Mr. Harlan went to school at UC Berkeley and his first introduction to the Napa Valley was in 1959 (at this time, Napa served the purpose of weekend getaways for taking his dates from Berkeley). Lured by the natural beauty and eventually by the potential for growing wine grapes his visits became more frequent. His passion for wine started in his teens. Mr. Harlan attended the opening day of Robert Mondavi's winery in 1966 and by this time was already nurturing a dream of owning his own wine estate.
He traveled to Europe and visited some of the great European estates all the while taking copious notes. He fell in love with Bordeaux and was taken in with the quality and consistency of the wines from these estates.
Before Harlan there was Merryvale. This was the first winery to be built after Prohibition in the Napa Valley and Harlan and partners brought this winery back to life in 1983 (he sold his interest in the mid 90's). Before Merryvale there was Meadowood, still one of the most exclusive lodging options in the Napa Valley (also home to the annual Napa Wine Auction). Meadowood was established by Bill Harlan in 1979.
Not to be outdone is Napa's most exclusive "wine club", the Napa Valley Reserve which was also started by Bill Harlan. Located next to Meadowood this is an exclusive invitation only wine club (wine, use of facilities, special events, trips, educational events) with an initiation fee at the time of this review that runs $155,000.
Mr. Harlan purchased his original property in 1984 – at that time, despite being less than 30 years ago, the property was completely forested and covered with native vegetation. The original purchase was 6 acres and this has grown to 240 acres today with 40 acres under vine. Mr. Harlan had the foresight and vision to turn this hillside acreage into a world class "first growth" vineyard of Napa Valley. While his own property was never developed to vineyards – nearby parts of Oakville were certainly had proven terroir including Martha's Vineyard. Oakville has been called "the tenderloin of the Napa Valley" – with such diversity in soils, climates and exposures across a rather narrow band in the valley, Oakville has certainly attracted some of Napa's highest end producers.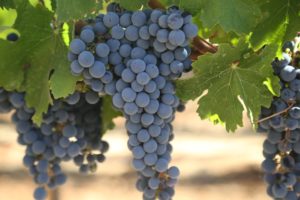 The property is meticulously maintained. The vines were originally planted by David Abreu – his role today is more of a consultant with viticulturist Mary Haher handling the day to day vineyard management. The elevation ranges from just above the valley floor at 150 feet to their high point on the property at 1200 feet.
Harlan's first "vintage" was 1987 but this was not released. Neither was the 88 or the 89. 1990 was their first released commercial vintage (very small production), and at a price point of $65 when it was released in 1996, sounds affordable today, but was among the higher priced wines of that vintage. Harlan was not in a hurry to push wine to market after purchasing the property. Mr. Harlan's focus on Harlan Estate has always been a long term one – thinking out decades in the future.
For a winery with such instant name recognition, the entrance is very unassuming. The winery itself is perched on top of hill surrounded by native oaks and other vegetation. As they say, "we let the views do the heavy lifting around here" – looking East you have views of the entire central part of Napa Valley – all across Oakville.
The winery was designed by well-known architect Howard Backen (he and Bill Harlan have worked together for a number of years). Backen's wineries are built to be unobtrusive from the outside, but perhaps make a statement on the inside. He has designed a number of high end winery facilities in Napa including Ovid, Dana Estate and nearby Futo Estate.
The focus on quality is clearly evident when entering the winery. Cleanliness and aesthetics are key here. All barrels are perfectly lined up using a laser sight. They stay lined up until bottling; Harlan does not rack the barrels. Nevertheless, this is a working winery and function is blended seamlessly with form.
Only perfectly ripe berries are allowed to begin fermentation. The grapes are picked and carefully taken to the winery in small picking bins; the fruit then undergoes triage (triple sorting, cluster, destemmer and finally by hand). The wine is fermented in large oak open top casks which are used for 3 harvests and then traded out for new ones. From the fermentation room, the wine is gravity fed to the cellar below.
Bob Levy has been involved in the wine making side of the operations since day one (before Harlan he was involved at Merryvale) and was winemaker for many years until more recently. Today his role is Director of Winegrowing and Cory Empting has taken over as their full time winemaker. All critical blending decisions are always made by the core Harlan team as well as flying French consulting winemaker Michel Rolland.
The 2006 Harlan Proprietary Red has simultaneous power and elegance; it is an interesting and an intense wine with lots of flavor and structure. Winemaker Bob Levy likes to talk about "tannin development" (which is a critical part of their winemaking program). This vintage certainly has this but not in an overtly bold way – rather the tannins are integrated well in the wine's finish. The 2006 is an intense layered luscious wine on the palate which delivers plenty of flavor. The elegant bouquet shows notes of sweet cassis, brown chocolate and darker fruits including cherry and blackberry. The finish is extremely long. This is a wine built to age but there is certainly no argument from yours truly in drinking it now!
Harlan's wine label certainly has an interesting story. It was designed and still is printed by a private printing / engraving company who used to print the currency of the USA before the U.S. Treasury. The idea was to create a label that looked like an engraving for a bottle that by itself was to be a piece of art.
Harlan's produces a second wine called "The Maiden".
Surprisingly Harlan has distribution in about 35 states and 30 countries – yet with a production of only 1800 cases and their price point, distribution is very selective. Locally you can find the wine at times, at several wine shops including 750 Wines and St. Helena Wine Merchants and St. Helena Wine Center (all in the town of St. Helena). Harlan sells direct, but you must be on their mailing list. To join the waiting list, visit: www.harlanestate.com
Bill Harlan interview, Karen MacNeil:

Bill Harlan interview, Wine Spectator:

James Suckling TV