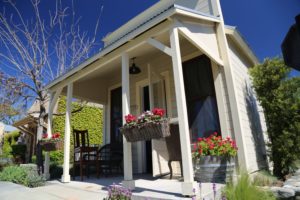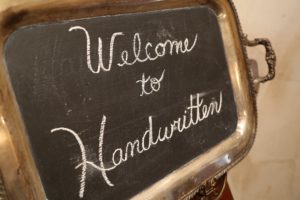 Handwritten Wines was founded by three couples (all with medical backgrounds) two of which live in South Dakata and one locally in Napa. These couples also own Jessup Cellars in Yountville. Handwritten Wines are small production wines sourced from quality vineyards around the valley. All their wines are from the Napa Valley with the exception of their Pinot Noir from the Santa Rita Hills in Santa Barbara County on California's "central coast".
The 2011 Carneros Chardonnay was an extremely limited production year due to the early onset of bad weather during harvest. As a result, only 80 cases of this wine was made (although with good Botrytis that year – they produced a rich dessert wine from these grapes). This wine is very aromatic on the nose – floral, stone fruit blossoms, white pineapple as the wine breathes and over time the bouquet becomes more tropical in nature. This is a style of Chardonnay enjoyed by itself – it is soft and very rounded on the palate
Their winemaker does not filter or fine the red wines. Some of the wines are made with the "cap" (the seeds and skins) submerged during the fermentation, with the idea to produce a more intensely focused wine.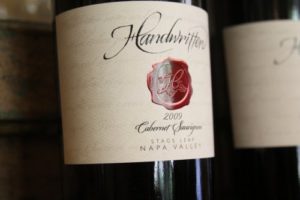 The 2010 Santa Rita Hills Pinot Noir is a leaner to medium bodied wine. The nose is a little earthy, almost mushroomy in aroma – which as it opens more red fruit shows – cranberry, raspberry – red currant. There is good depth of flavor and reasonable tannins (for a pinot) on the finish.
The 2009 Three Words is 2/3 Cabernet Sauvignon with the remainder split between Malbec and Cabernet Franc. Three words: "best selling wine" and "oh my god" both phrases are associated with this wine! The bouquet is sweet with deeper hints of spice and vanilla as it opens. Blackberry, black cherry show on the palate – with good acidity and higher toned red fruits (red cherry) showing towards the finish.
The 2009 Stags Leap Cabernet Sauvignon is dark in the glass – this is a wine that is all about the dark fruit from the deep bouquet – somewhat brambly, meaty, dark berry – to the palate with its show of big fruit and muscle from mid palate through to the long finish. It has plenty of layers on the palate now despite being a very young wine. It should age wonderfully and continue to develop complexity as it integrates over time.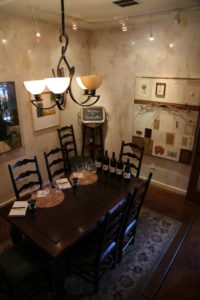 Napa Valley is certainly known for its big bold Cabernet Sauivignons – the 2009 Stags Leap Cabernet Sauvignon is the perfect example of the type of wine – however sometimes we come across other area wines that really stand out. Take the 2011 late harvest Botrisized Chardonnay – harvested from Carneros. There is no middle ground on this wine – you either love it or hate it. It was harvested at nearly 42 brix and there is still a residual sugar of nearly 25 – the alcohol is moderate at 11%. This wine is super aromatic on the nose with intense fruit.
We've been trying to find an appropriate analogy for the mouth feel – it is like trying to move through water quickly – it just does not happen easily. The mouth feel is oily with a generous degree of viscosity. The palate delivers a rich concentrated (very satisfying) meld of both flavor and sugar. If you enjoy rich dessert wines where the focus is on intense flavor, sugar, and viscosity, take note – this is one of the more intense wines of this kind that we have come across in the Napa Valley.
Tastings were held for several years in a completely renovated 1947 bungalow located in the south part of St. Helena but this tasting room has since closed due to a change in use request by their former landlord and are now next to their sister winery, Jessup Cellars in Yountville (appointment needed for tasting Handwritten wines, but not the Jessup Cellars wine).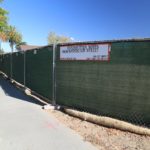 Note: a tiny stand alone house next door to the Jessup Cellars tasting room now serves as the current location for tasting the Handwritten Wines. This is temporary and merely a part of the evolution over the years towards having their own dedicated space.
Good news! The winery owns a small piece of property in the southern part of Yountville and is currently building out a tasting room there – just for the Handwritten wines. We will update this review once this new tasting room space has opened (perhaps in 2019 or 2020) and when we have more information.
For more information and to make a tasting appointment, visit: www.handwrittenwines.com