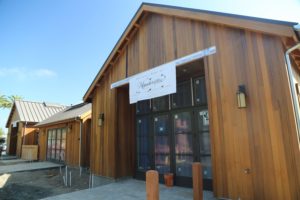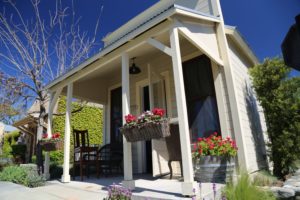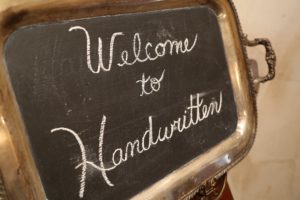 Handwritten Wines was founded by three couples (all with medical backgrounds) two of whom live in South Dakata and one locally in Napa. These couples also own Jessup Cellars in Yountville. Handwritten Wines are small production wines sourced from premium vineyards; all their wines are from the Napa Valley with the exception of their Pinot Noir from the Santa Rita Hills in Santa Barbara County on California's "central coast".
The overall focus of their wines are on hillside grown and produced Napa Valley Cabernet Sauvignon. Total production is around 2000 cases with the majority of the wine sold direct to consumer. Each of their wines is produced in very limited quantities, sourced from small vineyard sites.
The 2011 Carneros Chardonnay was an extremely limited production year due to the early onset of bad weather during harvest. As a result, only 80 cases of this wine was made (although with good Botrytis that year – they produced a rich dessert wine from these grapes). This wine is very aromatic on the nose – floral, stone fruit blossoms, white pineapple as the wine breathes and over time the bouquet becomes more tropical in nature. This is a style of Chardonnay enjoyed by itself – it is soft and very rounded on the palate
Winemaker Rob Lloyd does not filter or fine the red wines. Some of the wines are made with the "cap" (the seeds and skins) submerged during the fermentation, with the idea to produce a more intensely focused wine.
The 2010 Handwritten Santa Rita Hills Pinot Noir is a leaner to medium bodied wine. The nose is a little earthy, almost with an mushroom element to the aroma – which as it evolves into more red fruit including cranberry, raspberry and red currant. There is good depth of flavor and reasonable tannins (for a Pinot Noir) on the finish.
The 2009 Handwritten Three Words is 2/3 Cabernet Sauvignon with the remainder split between Malbec and Cabernet Franc (somewhat unique is all three varieties were co-fermented together). Three words: "best selling wine" and "oh my god" are both common phrases are associated with this wine! The story behind the name involves a party held by one of the owners – before this wine was named they enjoyed a few unlabeled bottles at the party (shiners).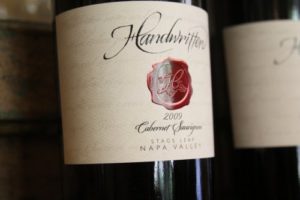 One of the bottles was passed around with the instruction to write three words on the outside. Presumably, "I Love You" was one of the phrases. In any case, the name Three Words stuck and is now produced each year. The 2009 Three Words offers sweet aromas with deeper hints of spice and vanilla as it opens. Blackberry, black cherry show on the palate – with good acidity and higher toned red fruits (red cherry) showing towards the finish.
The 2009 Handwritten Leap Cabernet Sauvignon is dark in the glass – this is a wine that is all about the dark fruit from the deep bouquet – somewhat brambly, meaty, dark berry – to the palate with its show of big fruit and muscle from mid palate through to the long finish. It has plenty of layers on the palate now despite being a very young wine. It should age wonderfully and continue to develop complexity as it integrates over time.
Napa Valley is certainly known for its big bold Cabernet Sauvignon wines – the 2009 Handwritten Stags Leap Cabernet Sauvignon is the perfect example of the type of wine – however sometimes we come across other area wines that really stand out. Take the 2011 late harvest Botrisized Chardonnay – harvested from Carneros. There is no middle ground on this wine – you either love it or hate it. It was harvested at nearly 42 brix and there is still a residual sugar of nearly 25 – the alcohol is moderate at 11%. This wine is super aromatic on the nose with intense fruit.
We've been trying to find an appropriate analogy for the mouth feel – it is like trying to move through water quickly – it just does not happen easily. The mouth feel is oily with a generous degree of viscosity. The palate delivers a rich concentrated (very satisfying) meld of both flavor and sugar. If you enjoy rich dessert wines where the focus is on intense flavor, sugar, and viscosity, take note – this is one of the more intense wines of this kind that we have come across in the Napa Valley.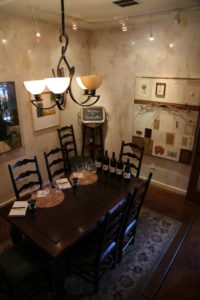 Tastings were held for several years in a completely renovated 1947 bungalow located in the south part of St. Helena but this tasting room has since closed due to a change in use request by their former landlord and tastings are currently held in a small 100 year old cottage next to their sister winery, Jessup Cellars in Yountville (appointment needed for tasting Handwritten wines, but not the Jessup Cellars wine).
New Tasting Room: a tiny stand alone cottage next door to the Jessup Cellars tasting room served as a small tasting room for the Handwritten Wines for several years. This was temporary and merely a part of the evolution over the years towards having their own dedicated space.
Handwritten owns a small piece of property in the southern part of Yountville (SoYo) and by the end of December 2019 finished building out a tasting room there – exclusively for the Handwritten wines. This space will be around 3,000 square feet. A side space part of the building houses Montecristi Panama Hats and opened prior to the Handwritten Wines tasting room. This shop moved from the second floor at the V Marketplace Shopping Center just up the street to this much more visible location.
We will update this review sometime in 2020 after this new tasting room space has opened.
Farmhouse Tour Serious culinary enthusiasts can request (by appointment) a private culinary focused farm and farmhouse tour with Chef. This experience begins in a 1909 built Craftsman Farmhouse which Chef calls "the new kid on the block" as compared to some of the neighboring homes which were built in the 1800s.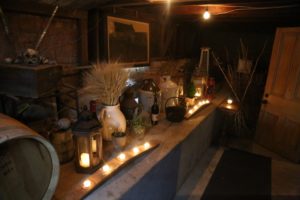 Tucked away in a side valley in the northern part of the Napa Valley, minutes from the Silverado Trail – guests are treated to a personalized farm tour with Chef which includes education about the sustainable practices implemented on the property. And there are a number of animals that live on site including chickens and several pretty goats (their milk is used for home-made goat cheese). Also on the property are bee hives and an orchard.
SOMM Series – these special events are held very selectively throughout the year, where the Handwritten Sommelier will lead tastings focusing on wines from specific parts of the world.
For more information and to make a tasting appointment, visit: www.handwrittenwines.com
Handwritten Cottage

Handwritten Tasting Room

Currently under construction, photos of the finished product coming by Spring 2020 after we return from our several month annual sabbatical from the world famous Napa Valley.