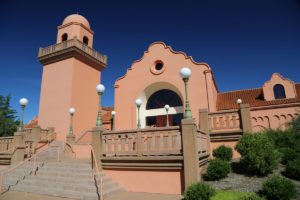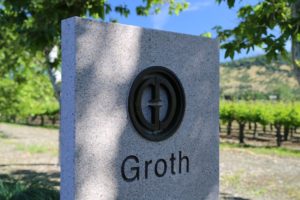 Groth Winery is medium sized winery, located in the heart of the famed Oakville district and was founded in 1982 by Dennis Groth, a former Atari executive (at one point was their Chief Financial Officer) and his wife Judy. Both are natives of the San Jose Bay Area – they moved to the Napa Valley in 1985.
Groth Winery was almost not built here as the Groth's were extremely close to purchasing a vineyard in Sonoma County, however when driving from Sonoma County to Napa County at the summit of the narrow Oakville Grade they were "sold" by the beautiful vineyards they saw in the distance on the valley floor. Dennis has been heavily involved in the wine industry since founding Groth and has served as President of the Napa Valley Vintners and Chairman of The Wine Institute.
Nearby neighbors in this premium vineyard real estate part of Napa Valley include Silver Oak, Screaming Eagle, PlumpJack and Groth's former winemaker Nils Venge's winery, Saddleback Cellars. Not bad real estate indeed.
This is very much a family operated and run winery; today two of their children are involved in the day to day activities with daughter Suzanne running their marketing and sales department. Whenever we drive by we refer to this winery as the "pink presence" as due to its unique salmon color, as it certainly does strike an imposing image rising above the green vineyards. It is one of Napa's most easily recognizable wineries.
In 2007 major work was completed on the winery; an expanded crush pad was built as was a second state of the art tank room which contains smaller tanks for more hands on management. In addition their Reserve barrel room was remodeled. Groth owns two vineyards; the estate vineyard (nearly 100 acres) which produces the fruit for their famed Reserve Cabernet Sauvignon and the Hillview Vineyard (44 acres) located further to the south in Yountville which produces the fruit for their Chardonnay and the Merlot which is used for blending.
Groth specializes in estate Cabernet Sauvignon and Reserve Cabernet Sauvignon – and based on their excellent reputation for these red wines, some people are not even aware that they do produce white wines. We have been here several times and during our latest visit we sampled the 2007 Sauvignon Blanc (by case production, their most produced wine) and the 2006 Chardonnay.
The 2007 Sauvignon Blanc is a delightful summer wine with noticeable notes of citrus and cut grass on the nose followed by a rounded mouth feel with some nice weight on the mid palate probably in part from the sur lie aging. Stone fruit and additional citrus flavors are present with a slightly tropical presence on the finish (note that 4% Sémillon is blended in the wine).
The 2006 Chardonnay sees no malolactic fermentation and carries a nice weight and creaminess on the palate. The honeysuckle nose and melon aromas lead to a palate that is dominated by an explosion of fruit flavor ranging from melon and stone fruit to additional tropical notes.
2005 was an excellent year for red wine from Napa, especially from Oakville. This was the first year since 1999 that Groth produced a Reserve Cabernet Sauvignon. Their Reserve Cabernet's incorporate only the highest quality fruit from select blocks within their estate vineyard. After 20 years of managing the same estate vineyard they have a pretty good idea of which blocks consistently produce the "best" fruit. The reserve wine always has at least a year of bottle aging before being released.
We tried the 2005 estate Cabernet Sauvignon. This is a big wine with lively acidity and shows bright fruit from entry to finish. While showcasing the fruit, this inspired wine does not showcase huge tannins. Rather, this valley floor produced fruit shows tannins that are well managed and complement food. Blackberry, black cherry and slight notes of cedar round out the mid palate. The finish is long and clean. This wine will age very well.
You can either make an appointment for just a tasting or for a tour as well. Tours are given twice daily, are separate from the tastings and require an advance reservation. Allow at least an hour for the tour which includes tastings of the white wines as well as their famed Cabernet Sauvignon. As with winemaking, the actual tour starts in their vineyards and gives you a good overview of the inner workings of a small to medium sized winery with visits to their tank facility and reserve barrel rooms.
Their claim to fame is they were the first American Winery awarded 100 points by Robert Parker for their 1985 Reserve Cabernet Sauvignon. Nils Venge was the winemaker at the time who earned this impressive and historic accolade (interestingly Nils own winery, Saddleback Cellars is located only a several minute drive from Groth). A large format bottle of the award winning bottle is on display near their Reserve tasting room. Nils has since gone on to consult for many other premium Napa wineries as well as operate his own wineries. His 100 point score certainly set a high standard for Groth as their reserve Cabernet Sauvignon is only made during certain years when it meets their very high quality standards. During some periods they will go 4 to 5 years without making this wine. Now that is commitment to quality.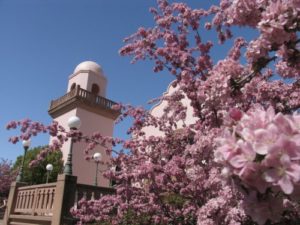 Their Winemaker Emeritus Michael Weiss and vineyard manager have both been with the winery for many years. This dedication by key employees to a single winery is invaluable as it builds consistency into the wines as well as their intimate knowledge of the actual vineyards. Michael has over 30 years experience of working with Oakville fruit including time spent at Robert Mondavi Winery.
Suzanne Groth (Dennis & Judy's daughter) is president and CEO of the winery. She is also an artist – look for her colorful artwork on display – prints of some of her works are also available. She produces a painting for every Reserve Cabernet release.
Groth maintains an "insectary" which is located to the side of the actual winery. Over 40 different species of plants were selectively chosen based on each plant's ability to attract beneficial insects which then act as natural predators to the harmful insects within the actual vineyards. This garden includes a number of small trees, shrubs, perennials and grasses. Groth has long practiced sustainable farming and this is just one more example of their commitment to this type of beneficial agriculture. Brochures listing the types of plants growing in the insectary are available from within the winery.
The special reserve tastings is often held with one of the Groths. This experience takes place in the Reserve tasting room. This is a unique opportunity to taste some of their well-known Reserve Cabernet Sauvignon (this wine when produced typically sells out extremely quickly). For more information or to signup for one of their wine clubs (members enjoy typical wine club perks including discounts on the wine), visit: www.grothwines.com