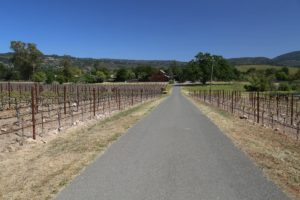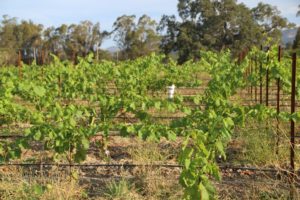 Grassi Wine Company was founded in 2005 and is owned by the Grassi Family, long time residents of the Napa Valley. Mark Grassi (from Walnut Creek in the San Francisco Bay Area) moved to the valley in 1974 and has long held a passion for wine and has been a home winemaker for a number of those years (and also took viticulture and enology courses at Napa Valley College). When he first moved to the valley, he had to decide whether to enter the wine industry or construction, and having friends in the construction industry he chose this field.
In 1989, Mark founded Grassi & Associates – for several decades his firm has built some of the finer custom homes in the valley and has more recently developed high end winery estates. They focus on green building techniques and sustainable spaces. The beautiful Ovid Estate was their first winery project; this led to additional winery projects including building Cade Winery. Grassi has more recently worked on the Francis Ford Coppola Winery in neighboring Sonoma County and Screaming Eagle in Oakville.
Looking to acquire property, in 1999 he and his wife Jami found and purchased 14 acres in the southern part of the valley (off of Soda Canyon Road – not far from the Silverado Trail). Two years later they began Grassi Wine Company.
Their 4 acre vineyard is located along the southern part of the Silverado Trail just south of the Oak Knoll District. This vineyard is not exactly valley floor as its set off the floor a bit – it is rolling bench-land on an old river bed (good mix of cobble and soil). Cabernet Sauvignon, Cabernet Franc and Merlot are planted. Later additional acreage was purchased and cleared – and more vines were planted.
Despite working in construction, with 35+ years in the valley Mark has made some excellent connections in the wine industry; well-respected individuals looks to for advice as needed. Mary Maher, renowned viticulturist at Harlan Estate and The Reserve took the original soil samples and helped decide upon their variety and clone selections. While their property was not planted to vine at that time they were however surrounded by proven vineyards; nearby neighbors sell fruit to Caymus and Silver Oak Cellars owns a 100 acre vineyard next door. Pete Richmond of Silverado Farming manages their vineyard; founding winemaker was Peter Franus.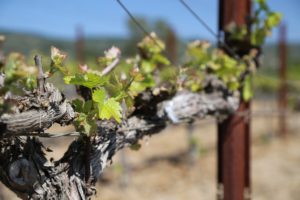 And in 2010, Mark's daughter Cassandra (who we originally met with at their vineyard) joined the team and now works full time helping oversee their overall operations. No stranger to the wine industry, she played an instrumental role in helping open the hospitality center for CADE Estate Winery on Howell Mountain.
Mark has taken a number of wine related education courses at Napa Valley college and it was in one of his classes that he met Peter. They hit it off from the start as they both had similar palates. Interestingly enough, if they both enjoyed a wine inevitably the rest of the class did not care for that particular wine.
Grassi produced their first vintage of a white wine in 2009. This is not your typical ubiquitous Napa Valley white wine made from Chardonnay or Sauvignon Blanc, rather it is made from Ribolla Gialla, a variety from the north eastern corner of Italy (Friuli) and parts of Slovenia. At the time of our initial visit there was only one known commercial planting in the USA and it was is in Napa County, although Grassi has since planted this variety in their own vineyard. For 2009 Grassi sourced the fruit from vintner George Vare's (now deceased) vineyard. George provided the fruit to a number of small Napa producers including Matthiasson. After George passed, the vineyard changed hands and is now known as the Bengier Vineyard (still in part planted to Ribolla Gialla).
The Grassi estate vineyard was planted between 2001 and 2002 and their first commercial release came in 2005. The 2006 Grassi Cabernet Sauvignon includes 9% Cabernet Franc and 9% Merlot. The wine has great color – it is dark ruby in the glass. This is a wine that has a powerful, rich always evolving bouquet; a wine that does well with decanting. The nose shows spices including clove and cinnamon, black licorice, anis, sage, vanilla and a perfume-driven note of lavender. The wine is nicely balanced and structured with a soft rounded mouth feel. It has a palate that shows additional notes of black licorice, cassis and deep dark fruits. The finish shows smooth, rounded, and slightly dusty tannins. With its nice acidity and flavor profile, this is an excellent food wine.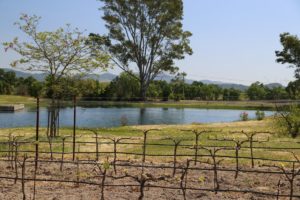 In late 2008 the Wine Spectator featured a number of "hot new" Napa based Cabernet Sauvignon producers. Grassi was included in this select list; of note is their wine was the most affordable priced of any of the producers listed in the article.
Grassi donates 1% of their total gross profits to an organization called 1% For The Planet – funds from businesses who participate in this are distributed to organizations protecting the environment worldwide. This organization was formed by Yvon Chouinard, founder of Patagonia, and his business partner Craig Mathews, owner of Blue Ribbon Flies (fishing equipment manufacturer). Grassi is one of the few Napa wineries to participate in this program.
You can find their wines locally at CalWine and Backroom Wines in Napa. They also have good distribution in New York. Their wines are priced quite reasonably. For more information and to join their mailing list visit: www.grassiwines.com