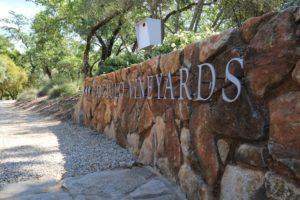 Gargiulo Vineyards is located on the Oakville Cross Road just up the hill from PlumpJack Winery. They specialize in small case productions of premium wines from their two prime vineyards in the Oakville Appellation, the Money Road Ranch and the 575 OVX (the 575 name comes from their address on Oakville Cross Road). Their total production is about 3500 cases. This winery opened for visitors by appointment in January 2007; it sits on a prime piece of real estate on the top of a small knoll overlooking the cult Screaming Eagle's vineyards to the south and to the north towards Mt. St. Helena.
Other nearby neighbors include Rudd Winery and Groth…not a bad piece of vineyard real estate! Gargiulo is a small family owned winery. The owner Jeff Gargiulo has done a classy job on the property – totally remodeling and upgrading the facilities. The winery facility is gravity flow, small yet functional and during the wine making everything is done by hand to ensure the highest quality. Jeff and his wife Valerie moved here in 1992, acquired their first vineyard and then promptly spent the next 3 years picking appropriate rootstock, doing soil tests, replanting and installing new trellising. For a number of years they sold all their fruit to other area wineries; their first commercial release was in 2000.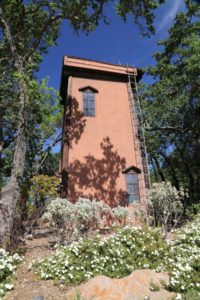 Much of the tasting room is made from recycled materials or with materials from other buildings that were being torn down including reclaimed wood flooring from a 1950's Napa gymnasium and chandeliers made from wine barrel staves. Rocks were taken from the vineyards and form the walls of the building. The tasting room is downstairs in the main stone building; it is an intimate location for small groups. Weather permitting we recommend tasting out on the deck or stone patio from which you will have gorgeous views to the south of the sprawling vineyards and hills.
A visit here is meant to be relaxed – tours and tastings are for serious wine enthusiasts. A circular rod iron staircase winds up to a small second story room; this is a private lounge and serves double duty for quick "jam" sessions. One of Jeff's passions is music and besides this room, he has also built a small outdoor amphitheatre for concerts. Be sure to check out his vintage and handmade guitar collection. Jeff has been involved with farming his entire life having run a small local tomato farming business in Florida which over time he built into one of the world's largest tomato producers. He also served as CEO of Sunkist Corporation.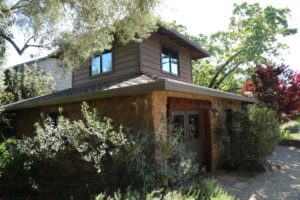 This is one of the only south facing vineyards in Oakville and almost all you see when you look south are rolling hills covered in vineyards. It is an absolutely idyllic location. Local culinary celebrity, Michal Chiarello has filmed several episodes of the TV Show, Easy Entertaining on site in Jeff's kitchen. We've been told by the way, that Jeff is also an awesome chef in his own right! Gargiulo produces a number of wines including several that we tried; the Cabernet Sauvignon from the Money Road Ranch property, a Merlot and their wonderful Aprile which is a blend of primarily Sangiovese with a touch of Cabernet Sauvignon.
The 2004 Money Ranch Cabernet Sauvignon has nice notes of vanilla and cassis on the bouquet followed by a palate that is smooth, supple and full of dark cherry and plum flavors. Structured tannins support a long finish. The 2004 Money Ranch Merlot is a fairly big wine that may appeal to Cabernet Sauvignon drinkers. It has great fruit both on the bouquet and on the palate; think blackberry dessert and cherry pie!
Gargiulo strives to create Bordeaux style wines that are elegant but not overly fruit driven. They also typically use a shorter oak aging program than many wineries, preferring instead to let the varietal characteristics show. They often donate wine to high profile auctions and their lots have raised thousands of dollars towards various charities. Visit: www.gargiulovineyards.com