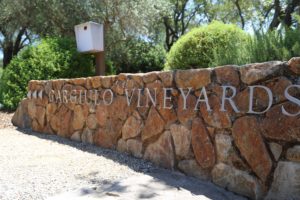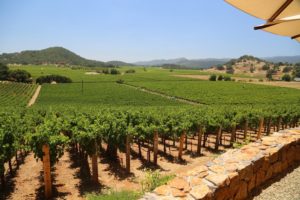 Gargiulo Vineyards is located on the Oakville Cross Road just east of PlumpJack Winery. They specialize in small case productions of premium wines from their two vineyards in the Oakville Appellation, the Money Road Ranch (about a mile north of the actual winery) and the 575 OVX (the 575 name comes from their address on Oakville Cross Road). Their total production is currently around 5000 cases. The winery opened for visitors by appointment in January 2007; it sits on a prime piece of real estate on the top of a small knoll overlooking the one of Napa's most exclusive wineries including Screaming Eagle and their accompanying vineyards to the south. Other nearby neighbors include Rudd Winery and Groth.
Founders Jeff and Valerie Gargiulo moved to the Napa Valley in 1992, the same year they acquired the Money Road Ranch vineyard. Incidentally Valerie is cousins with Barney and Belle Rhodes (both deceased) but a prominent wine and food focused couple in the Napa Valley who also owned vineyards in Oakville. Jeff and Valerie began coming to the Napa Valley in the early 1980s to visit the Rhodes. And later, Barney and Belle helped the Gargiulos look for vineyard land.
The Gargiulos purchased the 575 OVX property in 2000 after Screaming Eagle founder Jean Philips (and also a real estate agent) called to tell them this rare piece of property was for sale. They spent the next 3 years identifying appropriate rootstock, conducting soil tests, replanting and installing new trellising. They also oversaw a significant remodel and upgrade of the property including the winery. Their 575 OVX Vineyard is one of the few south facing vineyards in Oakville. It is planted to Cabernet Sauvignon, Cabernet Franc and Petite Verdot. The Money Road Ranch is planted to Cabernet Sauvignon, Merlot, Sangiovese and a tiny block of Pinot Grigio.
Despite the proximity of each vineyard to each other the soil types are dramatically different from one another. The soils of the 575 OVX are dramatic red in color (iron rich and very rocky) in contrast to the dark grey clay loam soils of their Money Ranch Road property.
Prior to making their own wines, they sold all their fruit to other area wineries. Their first commercial release was in 2000.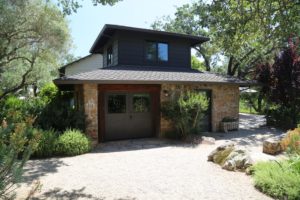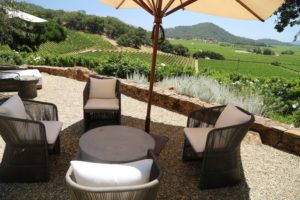 The winery is gravity flow, small yet functional and during the wine making most everything is done by hand. They ferment in a variety of vessels including concrete 'eggs', stainless steel tanks and in French oak barrels. And they often ferment more than 40 small lots and then later determining which lots make it into their final blends. Longtime winemaker Kristof Anderson has been making wine in the Napa Valley since 1992 (previously at Lewis Cellars, among others) and has been the winemaker at Gargiulo since 2004.
One of Jeff's passions is music (visitor's will note his vintage and handmade collection of guitars as well as other music memorabilia in the tasting room). He built a small outdoor amphitheater on the property for concerts; this is always used for Oakville Sessions, their annual wine club gathering. Jeff is a man of many talents; he plays lead guitar in a local band called The Silverado Pickups – along with a number of other mostly Napa vintner members including David Duncan, the proprietor of Silver Oak Cellars. This band has performed at numerous concerts from New Orleans to the annual music festival, Bottle Rock in the city of Napa. They have also opened for a number of big name acts.
Jeff met country singer Billy Dean while Billy was performing at the iconic Bluebird Café in Nashville. They became friends have have performed together at times over the years.
And Jeff's interest in music carries over into the winery. Every year they name barrels of wine – often after the names of songs or musicians.
One of Jeff's other passions is cooking. Local culinary celebrity, Michael Chiarello has filmed several episodes of the TV Show, Easy Entertaining on site in Jeff's kitchen.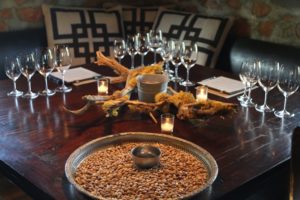 Jeff has been involved with farming his entire life having worked in the family business (originally tomatoes), Gargiulo Inc that his father Dewey started in the Naples Florida area). Eventually this business became the country's largest tomato producing and packing business. Jeff has also served as CEO of Sunkist Corporation and today is involved with Greenleaf Produce (a specialty produce supplier based in the San Francisco Bay Area).
Tours and tastings are for serious wine enthusiasts; a visit here is meant to be relaxing. And the gorgeous surrounding settings are certainly helpful in this regard.
Much of the tasting room is made from recycled materials or with materials from other buildings that were being torn down including reclaimed wood flooring from a 1950's local high school gymnasium, beams from a bridge in the city of Napa that was being dismantled and chandeliers made from wine barrel staves. Rocks taken from the vineyards were used in the walls of the building. A circular rod iron staircase winds up to a small second story room; this is a private lounge and serves double duty for quick "jam" sessions.
Weather permitting we recommend tasting out on the deck or stone patio from which you will have gorgeous views to the south of the sprawling vineyards and hills. The inside tasting room is intimate, meant for small groups.
Gargiulo strives to create Bordeaux style wines that are elegant but not overly fruit or oak driven. These are wines that generally have good acidity. They also typically use a shorter oak aging program than many wineries, preferring instead to let the varietal characteristics show. They produce several fairly limited production wines (some of which sell out extremely quickly).
Select Wines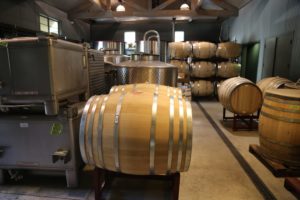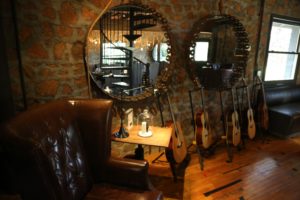 The 2015 Gargiulo Vineyards April Super Oakville Blend (is a wine named after Jeff and Valerie's daughter – a Napa version and play on words to a Super Tuscan). There is not much Sangiovese planted in the Napa Valley and we rarely come across a producer making wine from this variety. Coincidentaly, one of their 'neighbors' in Oakville, Rodeno Wines also produces a Sangiovese. This vintage was 96% Sangiovese and 4% Cabernet Sauvignon; it is 13.6 % alcohol. Initially shows a little earthy on the bouquet with aromas of dried rose petals. Offers higher toned fruits on the palate including red cherry and red currant. This is a leaner style of wine that is very food friendly. Great acidity.
The 2014 Gargiulo Vineyards Money Ranch Road Cabernet Sauvignon is 100% varietal. Initially shows a very pretty bouquet that is about the fruit rather then the oak. As the wine continues to breath some influence from the oak shows but is more subtle then pronounced. Aromas of blackberry, violets and a hint of white pepper. Very balanced for being a young wine (at the time of our tasting) the tannins are noticeable but already well integrated. Slight notes of toasted cedar on the finish. Again very good acidity.
And for the crowd favorite, the 2014 Gargiulo Vineyards OVX G Major 7 Cabernet Sauvignon (primarily Cabernet Sauvignon but also includes small percentages of Cabernet Franc, Petite Verdot and Merlot). Aromas of black cherry, hints of caramel and black licorice show on the bouquet which opens to a sweeter aromatic note of dessert spices. Flavors of blackberry, and boysenberry. What is striking about this wine is the mouth feel – soft but powerful at the same time with long lasting tannins.
And in what is a unique offering for a Napa winery, in 2014 Jeff and Valerie's daughter April created Vintner's Daughter – an active Botanical Serum (chemical free). This product includes 22 active natural ingredients and is for sale at the winery or by visiting: www.vintnersdaughter.com. And 2% of all sales are donated to a variety of 2% of charities focused on women and children around the world.
Gargiulo often donates wine to high profile auctions and their lots have raised thousands of dollars towards various charities. For more information, to join their mailing list or to request an appointment, visit: www.gargiulovineyards.com