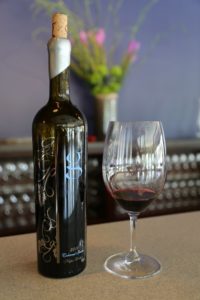 G Wine Cellars is run by Garrett Ahnfeldt a Napa native who has long nurtured a passion for wine. He is not the only one in his family to own a Napa wine label; father Bruce runs the Ahnfeldt label. Garrett grew up among grape vines – he remembers getting an early start on his vineyard education – driving tractors at a young age and learning about farming.
Today Garrett is a vineyard manager for a company managing approximately 1000 acres in the Napa area including the acreage that supplies the grapes for g Wine Cellars. The focus of G Wine Cellars is on red varietals – predominantly Cabernet Sauvignon, a red blend, and a small production Cabernet Franc. In addition, due to their contacts with vineyard owners, they always have additional grapes which they use to make one barrel of wine at a time. These "one barrel" lots are available in extremely limited quantities – often for club members.
During our original visit we tasted the 2006 "g" Licious, a fun and catchy name for a unique white wine blend of Sauvignon Blanc, Viognier, Symphony (UC Davis clone created from a cross between Muscat de Alexandria and Grenache gris) & Semillon. The nose is very tropical floral & fruity and almost leads one to believe this wine might be sweet. Ever eaten a ripe Muscat grape? Hints of this on the nose with great carry through of various fruit flavors to the palate.
We also tried the 2005 N.V. Cabernet Sauvignon from barrel as this had not yet been bottled. This is a medium to full bodied wine with a very earthy nose with hints of oak. The oak on the nose will dissipate after bottling. Very long finish.
Their flagship wine is a Mayacamas Mountain Reserve Cabernet Sauvignon. These are the mountains that form the north south spine rising above the western part of Napa Valley. The fruit for this wine comes from three well-known hillside districts, Spring Mountain, Diamond Peak & Mt. Veeder. In general each vintage produces robust wines, chewy if you will with rich ripe black fruit flavors and featuring long finishes.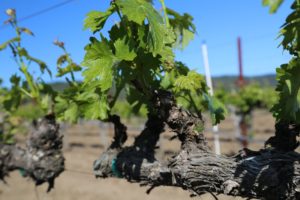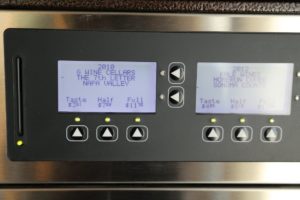 During a revisit we tried the 2011 Cabernet Franc – there was a reason we asked to try this wine. 2011 in general was a challenging year in the Napa Valley depending on where the fruit source was (select hillsides were often better off than the cooler damp valley floor later in the growing season) and Cabernet Franc is a varietal that tends to show greenness aromatically and on the palate unless it really ripens.
The 2011 Cabernet Franc shows a bouquet that reveals some pretty perfume notes – there is no greenness on the bouquet. This does not taste like a Cabernet Franc from the 2011 vintage in the Napa Valley. Notes of white pepper, red cherry show with the palate with a red currant tartness that lingers on the very smooth finish. The tannins are well balanced with the fruit. Of note are the bottles – each one is numbered by hand and wax added to cover the cork – each wine under their single barrel production is never more than 576 bottles.
They produce about 1500 cases each year and continue to grow production slowly to meet demand. The wines are generally not distributed to wine shops or restaurants. The focus has always been to meet their customers in person.
As of July 2015 they have the venue to do this. Garrett is one of three partners in a tasting room called The Wine Thief that features small production Napa based vintners. This tasting room is located on the corner of First and McKinstry Streets directly across from Gott's Roadside Hamburgers and the Oxbow Public Market.
Wines are available for tasting by walk-in at the tasting counter, or from one of two automatic dispenser wine stations (by the taste, by the half glass or by the glass). Appointments can also be made to try the current release of G Wine Cellars in one of the two private rooms on site. Incidentally Garrett's father's tasting room is located just a block and a half down the street – also on 1st Street.
Garrett is also a partner in Hailstone Vineyards – a label that as of the time of this review focuses on two wines – a Russian River Chardonnay from neighboring Sonoma County and a Napa Cabernet Sauvignon.
For more information visit: www.gwinecellars.com