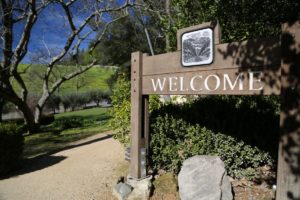 Failla Vineyards opened their tasting room along the Silverado Trail in October of 2006. Failla is owned by winemaker Ehren Jordan and his wife Anne-Marie and the winery name is Ann-Marie's maiden name. Until they purchased this facility in 2004, they were a "virtual" winery without a tasting room or winery of their own – the first vintage was 1998. They are located almost directly across from the popular Rombauer Winery (look for the large US flag); some people even stop into Failla thinking its Rombauer! As of press time the only signage for this winery is their painted mailbox. Enter at the main driveway on the east side of Silverado Trail and follow the signs to the small gravel parking lot. Note the abundance of apple trees planted on one of the slopes; these were from previous owners who planned on producing apple cider. Failla has completed 12,000 square feet of wine caves; used for the first time during the 2008 harvest.
The tasting room is located inside the main house; note the very mountain/cabin like feel with the knotty pine and a stone fireplace. With a tasting room like this, its almost like you are in the mountains somewhere …Lake Tahoe perhaps! They are set back from the main Silverado Trail against the hillside which makes for a very quiet peaceful location. This is also a historic property. The Silverado Trail was originally built in 1852 and was the first permanent north south Napa Valley road. You can even see parts of the old Silverado Trail which used to run through the property.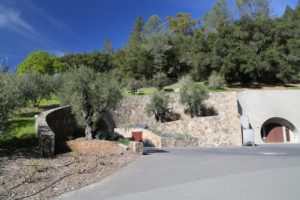 The famous stage coach robber, "Black Bart" was actually apprehended on site in 1883. A side room with a thick piece of wood sitting on top of two wine barrels serves as the tasting counter or for a more personal tasting (small groups only) you can sit down with your tasting host. Allow at least 45 minutes. They have plans to develop outdoor tasting areas. How many up valley wineries do *not* make a Cabernet Sauvignon or for that matter, any Napa based wineries. Not many! Failla specializes in three wines, Chardonnay, Pinot Noir, and Syrah all sourced from very cool weather vineyards. If you are looking for a "Pinot house" this is an excellent choice.
Their winemaker holds several philosophies; one is to make wines that make you salivate upon the first taste and another is to source from cold climate vineyards which tend to have strong marine influences. These types of wines have lively acidity and are not solely huge fruit driven wines. As a result they tend to pair very well with meals and are quite popular at restaurants. Typically their wines are unfined and unfiltered for maximum color and flavor. Failla owns 85 acres in the Fort Ross area of the Sonoma Coast which can be extremely cold and foggy. They also source grapes from other high end vineyards in Sonoma and Napa. For a relatively small winery they produce a large number of wines. As a result we will focus on a select few that we enjoyed during a recent tasting.
The 2006 Estate Chardonnay from the Sonoma Coast has a wonderful fruit driven nose, slightly flinty with hints of melon, pineapple and honeysuckle. The fruit follows onto the palate with lively acidity and a nice clean finish. The 2006 Viogner is sourced from Edna Valley in San Luis Obispo County. This wine has big aromatics, herbs and jasmine with a palate hinting of stone fruit (white peach, nectarine) and even a little citrusy marmalade flavor.
The heart of Failla's wines are definitely their Pinot noirs. Two of our favorites are the 2006 Pearlessence Vineyard and the 2006 Sonoma Coast. The Pearlessence has some very nice earthy and baking spice aromas which when left to open up reveal more of the fruit including currants and cherries. The Sonoma Coast is very well balanced with rich aromas of cherry intermixed with exotic spices and that wonderful terroir driven earthiness you find in some of Failla's Pinots. Syrah lovers take note – this varietal rounds out Failla's repertoire and is their "biggest" wine. The owner winemaker is young but already has a plethora of experience working at other high end wineries within the Napa area.
There is plantable hillside acreage on site and Failla has future plans to put in a small vineyard. Visit: www.faillawines.com