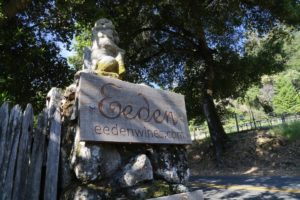 Eeden Vineyards is perched on the slopes of Spring Mountain bordering Spring Mountain Road. The current property is the site of the old Beringer owned vineyards and at that time was called the "Los Hermanos Vineyards" or, "the brothers vineyards" in honor of Frederick and Jacob (the original brothers who started Beringer winery). Jacob's son Charles and his wife lived on the property for a number of years. Charles sister Bertha was actually quite creative during prohibition so as to help keep Beringer "afloat" during these trying times in the wine industry. She came up with the idea to turn grapes into raisin cakes which could then be used to create cider and grape juice for home consumption. Beringer was one of the few Napa wineries to stay open the entire length of prohibition. Later more Beringer family members lived here including Karl and Olga Beringer.
The vineyards and winery are owned by Petrus Bekker who currently works in the Silicon Valley in the Biopharmaceutical industry. Petrus was looking for a nice vacation property in the Napa Valley and at the time of his search there were not many properties available for sale. This site was one of them. He was supposed to see this property with his real estate agent but she was sick and he ended up driving up Spring Mountain in search of the property.
It is somewhat fortuitous in regards to how Petrus met his vineyard manager and winemaker Emil Tedeschi. While driving along the narrow windy Spring Mountain Road he stopped by the side of the road to look out at the views and the property. Emil, a veteran winemaker in the valley stopped because he thought Petrus had broken down on the side of the road and needed help. And for those who have known Emil, know that his never ending curiosity is contagious. Little did he know that this random meeting on the side of the road between two strangers would form the start of a relationship where Emil would become Petrus's winemaker.
Long story short, Petrus ended up purchasing the property and planting vineyards in 2002. The site had been previously planted by the Beringers in the 1940's but at the time of the replant there were just a few old scraggly vines still growing. The estate is 15 acres, 7 of which of are planted to vine including several clones of Cabernet Sauvignon, Petite Sirah and Cabernet Franc.
We have walked through most of these vineyards on several occasions. They are planted on very steep somewhat rocky soils. Productions as expected are low – typically 2 tons or less per acre are harvested annually. The site used to be planted to Golden Chasselas grapes which back in the day (1940s/1950s) used to go into Beringer's sherry.
Their first release was from 2005 and is predominately Cabernet Sauvignon with a touch of the other two estate grown varieties blended in. Their focus is on this one wine although they may release a second wine in the future. If you are looking for a true Bordeaux style hillside grown wine, this is the wine for you. Its made in an elegant softer style with alcohol levels much lower than the valley standards; these wines are usually in the mid 13's.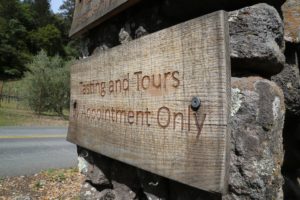 The label certainly stands out; it is an image of an almost nude Adam and Eve – with Eve handing Adam a bunch of grapes rather than the normal apple. Eeden is also the maiden name of Petrus's wife and is a name that can be used to easily describe the property with its stellar views and secluded feel that is so common to Spring Mountain properties.
No fruit from the vineyard has ever been sold – however only the best lots are selected for the final blending. The 2005 Eeden Cabernet Sauvignon has an appealing bouquet of red cherry, plum and berry fruits. It is nicely balanced between both red and dark fruit. As the wine opens additional aromas are revealed including subtle notes of baking spices. This is an elegant wine both because of its balance, softness and its clean finish. The oak is well integrated with the fruit and pleasant flavors show including raspberry and red cherry. For a hillside grown fruit, the wine is surprisingly soft and smooth.
Their wine is available in both the 750 ml and the half sized bottles.
As of the time of this review a small winery is on site and may be used for future harvests. Tastings by appointment (for serious wine enthusiasts) will also be held sometime in the future and will always be private for your party. Currently the production is extremely small and they are not yet distributed. The best way to acquire their wines is direct through their website. For more information visit: www.eedenwines.com
NOTE: production has decreased significantly in the past few years, with our most recent information showing last vintage produced commercially (2012). We will keep an eye on this producer and archive this review if they end up discontinuing production.