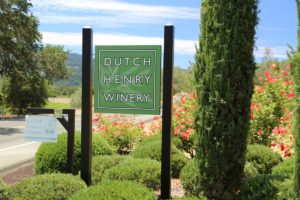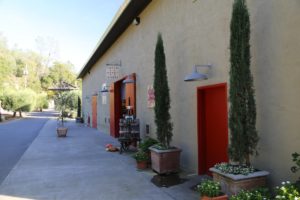 Dutch Henry is small family owned winery in the northern part of the valley just off of the Silverado Trail. Peaceful and relaxing are two words that can easily describe this location. This is a mostly men-owned & operated winery (course you hardly ever see that term used in marketing circles!) and they refer to themselves as the "Dutch Henry Gang" – they love hunting and shooting guns and often you will seem themselves pictured in Black & White photos, wearing western attire with various weapons in hand. Pick up one of their business cards on site – their titles say things like "man of many hats, shipping dude, or ace photographer". They have no distributors and you have to visit the winery to actually purchase their wines.
The winery was named after "Dutch Henry", a mercury prospector who lived in the hills behind the winery due to the fact there were rich pockets of mercury ore located there. One of the uses for Mercury is to extract gold from quartz – visit our Gold Mining Page for more information on our travel site. The original Silverado Trail used to run through the property and the famous stagecoach robber Black Bart used this road for his hold ups. Dutch Henry may have been working with Black Bart in these nefarious affairs. Their first vintage was from 1992 and as they say, the name Robert Mondavi was already taken, so because of the history associated with the property, the name Dutch Henry was an obvious choice!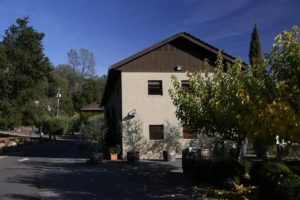 Their wines are individually hand crafted and complement various meat dishes nicely. Sometimes they have older vintages available for sale. The wines range from Chardonnay & Pinot Noir, to Argos a proprietary blend to their estate grown Cabernet Sauvignon & Syrah. Their vineyards are all organically hillside grown and hand harvested. The small tasting room is surrounded by many stacked wine barrels and there is always at least one of the "gang" there to entertain you while you are drinking…and yes they do love to entertain! Our favorite wine during a recent taste was their Estate Cabernet Sauvignon. This wine is built to age but can also be consumed now.
A number of picnic tables are located in the shade of the oaks next to the hills near the tasting room and several small winery dogs are usually lying nearby. Looking for a romantic place to stay situated right among the vineyards that most people will never find during a visit to Napa? Dutch Henry has a 3-bedroom private cottage on site and there are no minimum stays. Also of note is the new cave located just behind the winery facility. The tasting fee is waived with a purchase of a bottle or more.
Visit: www.dutchhenry.com
View video by Cellar Angels