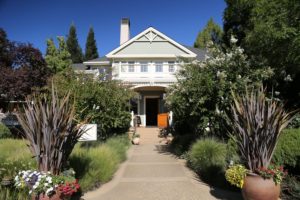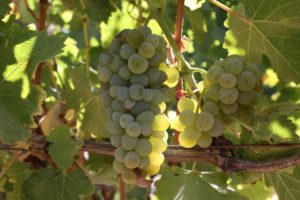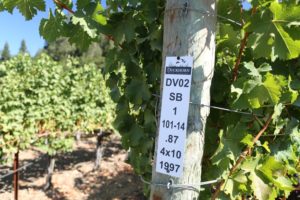 Duckhorn Vineyards was founded in 1976 by Dan and Margaret Duckhorn (along with 5 initial silent shareholders); their inaugural vintage was from 1978. Dan and Margaret also founded Paraduxx Winery – located further south on the Silverado Trail (about 20 minutes from Duckhorn). Duckhorn Wine Company was purchased in 2016 by TSG Consumer Partners, a San Francisco based private equity firm. In addition to Duckhorn Vineyards, TSG Consumer Partners owns Calera Wine Company in the Mount Harlan appellation east of Salinas in San Benito County on California's Central Coast (a long time producer known for Pinot Noir) Canvasback (originally a label part of Paraduxx – now a Walla Walla, Washington based vineyard and brand), Decoy (can taste at Duckhorn), Greenwing (eastern Washington), Goldeneye (based to the north of the Napa Valley in Anderson Valley, Mendocino County), Kosta Browne Winery in Sonoma County, Migration (winery + tasting room in Napa's Carneros District at the former Starmont Winery location), Paraduxx and Postmark (both Napa Valley). In addition to these wineries or brands, the company owns approximately 900 vineyard acres (15+ unique sites ranging in size from 5 acre parcels up to 75 acres) with a total production of over 900,000 cases.
Dan was born in San Francisco and grew up in various parts of northern California ultimately earning his undergraduate and graduate degrees in Corporate Finance from UC Berkeley. Margaret was born in New York – came west for Nursing School, met Dan at UC Berkeley and ultimately graduated from UCSF. Both had family involved in wine – Dan's father made cherry wine in his cellar in Sebastopol and Margaret's great grandfather on her mother's side owned a winery in Stockton California.
Interestingly Dan's family name was originally Duc Horn (Hungarian & German roots) but when his family immigrated through Ellis Island the name was changed to the more easily pronounced Duckhorn (and combined rather then two words).
Dan's introduction to the Napa Valley came through his work at the time; while living in the San Francisco Bay Area, Dan was working for Crocker Associates – Dan's boss Charlie Crocker mentioned he had purchased a summer home on Dowdell Lane in St. Helena (presently, still owned by Charlie). The property had come with a number of greenhouses which were not being used and there was demand from several vintners to use the greenhouses to grow bench-grafts (to supply local vineyards). With Charlie's funding a new company was started called Vineyard Technical Services. Incidentally Charlie Crocker later founded his own winery Crocker & Starr with vintner Pam Starr – also on Dowdell Lane.
Charlie Crocker also helped fund the purchase of Duckhorn's original (and still existing) 10-acre property off of Lodi Lane.
In order to help oversee the new vineyard company, Dan found himself driving up to the Napa Valley fairly often. He and Margaret eventually fell in love with the region and moved their family to the valley in 1973. Both also became fascinated with Merlot. Looking to the old world for inspiration and ideas, Dan and Ric Forman (then the winemaker at Sterling Vineyards – who was making small amounts of Merlot at the time) visited the Merlot dominated regions of Pomerol and Saint-Émilion in France in 1978 including a stop to Chateau Pétrus. Dan became intrigued with making a premium wine from Merlot. While in France they studied a number of techniques used in the cellar including the types of barrels used.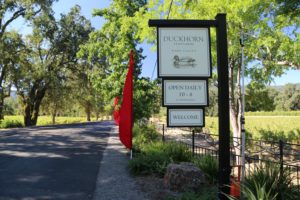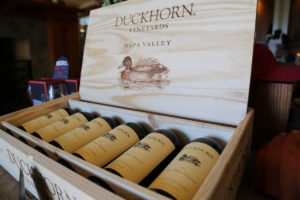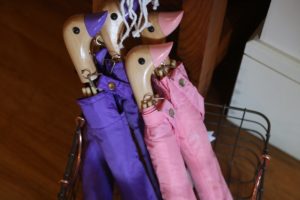 The first vintage of Duckhorn included 800 cases each of Merlot and Cabernet Sauvignon. The winery/barrel room at that time was simply a small shed with a few stainless steel tanks out on the crushpad. As production increased in the early years they decided they needed a larger facility. Noted local architect John Lail created the initial design concept.
Their first Merlot was from the now iconic Three Palms Vineyard (located off of the Silverado Trail between Calistoga and St. Helena – in actuality 2.5 palms since one of the original palms died and had to be replanted). The introduction to the owners of this vineyard, brothers John and Sloan Upton came from Ric Forman because he was already using some of their Merlot in a reserve wine for Sterling Vineyards. The Uptons sold their vineyard to Duckhorn in 2015. Incidentally Lillie Hitchcock Coit (namesake for San Francisco's famous Coit Tower) used to live in what is now the Three Palms Vineyard – she called her home Larkmead (see Larkmead Winery and Frank Family winery for more information about their fascinating tie-ins with Ms. Coit). These palm trees roughly mark the spot where her elaborate house was once located.
The first Duckhorn Vineyards Cabernet Sauvignon was a combination of fruit from Howell Mountain and Steltzner Vineyards (in the Stags Leap Appellation). The Duckhorn's made the gutsy decision to price their Merlot far higher then the majority of the Napa Cabernet Sauvignon's at the time. This certainly got the initial attention of the wine world but the quality of the wine stood up to the higher price.
A number of prominent Napa winemakers have worked at Duckhorn including founding winemaker Tom Rinaldi (who later went on to oversee the wine making at Provenance Winery and is often associated with Merlot) and Mark Beringer (Jacob Beringer's great, great grandson who most recently is the winemaker at Beringer Winery).
Their original 10 acre property is located near the town of St. Helena and is home to Marlee's Vineyard originally planted by the Duckhorns in 1981. The vines surrounding their driveway and parking lot are currently planted to a very tasty Sauvignon Blanc and Sémillon. This is also the site of the gorgeous country style Duckhorn Vineyards Estate House. The winery is not open to the public by walk-in but we have found if its not crowded and you show up they are welcoming and will let you make an appointment to taste. However be aware that during many weekends due to crowds this is just not possible as well as weekdays in the summer and fall months. As a result appointments ahead of time (before you physically are on the property) are highly suggested for weekdays and required for weekends. Several private rooms are available for private tastings – for general tastings guests sit at marble covered tables – waited on by a host.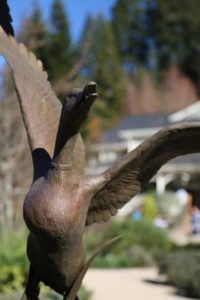 The semi-private estate tastings are offered daily and appointments are required. Tastings are educational featuring limited production Napa Valley wines. Tastings can be paired with an addition charcuterie plate. Along with Paraduxx their "sister" Napa winery (located 15 minutes awa), this tasting salon is first class and one of the nicest in the valley. Think restaurant dining but for wine instead. The building's primary room is surrounded with windows and one has good views overlooking the gardens. A small circular wine bar is located in the center of the tasting room and is surrounded by tables.
Visitors can choose from one of two "classic" tastings or their "reserve" tasting, which includes a tour and pairs food with the wine. The majority of the wines served are Merlot and Cabernet Sauvignon – Duckhorn specializes in Bordeaux varietals. While their production is significant (for a Napa based winery) the wines are artisan in style as they are hand crafted – during fermentation and aging the wines are kept in small lots corresponding to specific blocks within their vineyards.
As of our latest update, they own and manage 8 different vineyards in the Napa Valley area including several on Howell Mountain. They also source fruit from premium growers. Wine making starts in the vineyards and teroir is extremely important – their website provides detailed information about each of their vineyards.
The surrounding gardens are nicely laid out and it is worth a few minutes of your time to stroll around the estate or admire the grounds from their porch. Also take a look at their "duck" collection – which of course is a tribute to Dan and Margaret's last name & the name of the winery (Dan is also a duck hunter).
Duckhorn wines have been well represented in various White House functions and dinners spanning the terms of multiple presidents. Menus from these White House dinners are displayed inside the Estate House.
Select Wines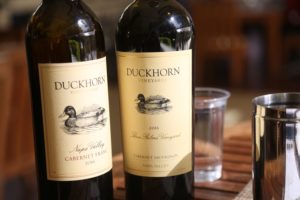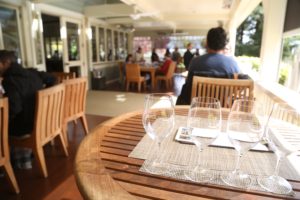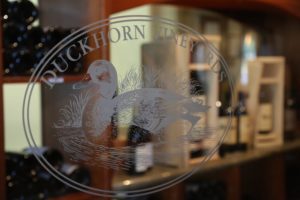 The 2018 Duckhorn Vineyards Sauvignon Blanc is 85% Sauvignon Blanc and 15% Sémillon – with the grapes coming from both their estate properties and other vineyards properties in the Napa Valley. Was aged sur lie for 5 months in 92% stainless steel and 8% new French oak. Fairly clear in the glass with a pale yellow tinge. Shows green apple and lime on the bouquet. Zesty, with also hints of fresh cut grass and gooseberry. From the bouquet, one might think it would be 'greener' and 'leaner' on the palate but this is not the case. Rather, shows an intriguing softness across the palate – with lively and tangy fruit. A refreshing showing – very balanced.
The 2016 Duckhorn Vineyards Stout Vineyard Merlot is from a vineyard site at about 1,700 feet on Howell Mountain. This wine is 95% Merlot and 5% Cabernet Sauvignon aged 100% in French oak of which 75% was new and 25% neutral. Features pretty aromatics including blackberry, black licorice and hints of white pepper. Juicy across the palate with a mouth watering savory finish showing fruit and hints of cigar leaf. The tannins were still a bit tightly woven at the time of our tasting. Great acidity – this is a fairly robust Merlot. Should have lots of life ahead of it.
The 2016 Duckhorn Three Palms Cabernet Sauvignon. Perhaps this iconic vineyard is most known for its exceptional Merlot – a wine that always seems to be sold out during our visits over the years. But this vineyard also produces excellent Cabernet Sauvignon. This wine is a blend of 92% Cabernet Sauvignon, 5% Merlot and 3% Malbec. It was aged in 100% French oak of which 80% was new and 20% neutral. Shows aromas of cherry cola, blackberry, tobacco smoke and old cedar box. Reminds me of my grandmother's cedar jewelry box that was lined with velvet. I used to open that up as a child just to enjoy the smell – not to admire the pretty jewelry! The lingering tannins show some grip – dry, dusty and noticeably dense in their texture.
The 2016 Duckhorn Vineyards Discussion Red Wine is a blend of 55% Cabernet Sauvignon, 43% Merlot, 1% Cabernet Franc and 1% Petit Verdot. Aged for 24 months, 18 of which were in new French oak and 6 months in neutral oak. All from estate owned vineyards. Offers bright fruit aromatics including ripe plum, cherry, cassis and hints of cocoa powder. Offers mouth watering acidity but without being tart. One of the highlights of this wine is its textural softness – lingers with fine-grained slightly dusty tannins along with hints of cedar and a dark spice component. Lovely balance throughout.
OTHER NON NAPA WINERIES UNDER DUCKHORN OWNERSHIP
Goldeneye Winery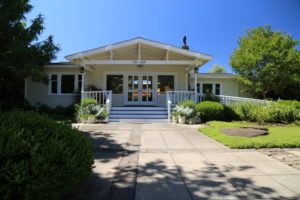 Goldeneye Winery, vineyards and tasting room are located to the north in beautiful Mendocino County's Anderson Valley (about a 2 hour drive from the Duckhorn tasting room in Napa Valley). Similar to the experience at Duckhorn, the property features a 'home' which serves as the tasting room – but arguably the expansive views of their rolling vineyards and hillsides are superior here as compared to their Napa property. All tastings are seated – either indoors or outdoors if the weather permits. The focus of their production is on Pinot Noir from the Anderson Valley although they do make wines from other varieties including Pinot Gris and Gewürztraminer.
Goldeneye was founded in 1996 when the Duckhorn's purchased an 80 acre ranch in Anderson Valley they named Confluence Vineyard – they planted additional vines here a year later and produced their first vintage from the property that year (1997) which was released in 2000 (also the same year they acquired a second vineyard, Gowan Creek Vineyard (which is now home to the winery and tasting room). And later they purchased a third vineyard site in the northern part of Anderson Valley called The Narrows Vineyard.
Calera Winery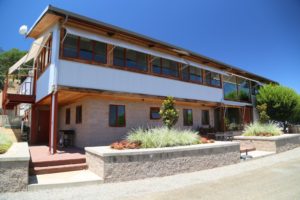 A more recent acquisition in the Duckhorn Wine Co. Portfolio was in 2017 when the company acquired Calera, a predominantly Pinot Noir and Chardonnay producer in San Benito County. Calera (with little traffic about a 3 hour drive from Duckhorn Vineyards) was founded by winemaker Josh Jensen in 1975 with his first vintage from purchased grapes and also the same year their first Pinot Noir was planted. The vineyards are all at elevation above 2,000 with the highest vines topping out at over 2,500 feet. The name Calera is Spanish for limekiln, honoring the vineyard site where limestone had previously been quarried. A stone lime kiln for processing the rock into quicklime (used for construction) dates from the 1860s is still standing and serves as the icon for the winery, appearing on all their wine labels.
The winery location feels remote (although it is only about a 20 minute drive from Hollister) – accessible via a windy road through the Hollister Hills. No vineyards are planted on site – rather they are all located on Mt. Harlan a several mile drive from the winery and tasting room. Visitors can either tasting inside the winery or outside on the terrace overlooking the rugged and undeveloped hills. Several distinctive Pinot Noir wines are produced from each of their vineyard blocks. A highly unusual wine for California is Aligoté – only four rows of this white Burgundian varietal are planted – usually producing around 100 cases a year. Calera was one of the first California producers to bottle this wine. Chardonnay and Viognier are also grown.
Canvasback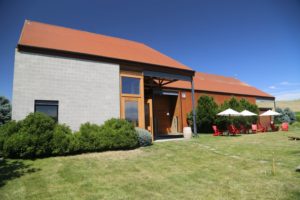 The winery was founded in 2012 (the first brand/winery outside of California under the Duckhorn ownership) and opened a tasting room for the first time in June 2019 on site of the former home of Solemn Cellars and Doubleback Winery (Former NFL quarterback Drew Bledsoe's wines were made here for a time). The winery is located a very short drive from the Oregon border (from the property one can see about where the border is located).
The first vintage of Canvasback was in 2012 using grapes sourced from premium vineyards in the Red Mountain AVA. Canvasback's own estate 20-acre Longwinds Vineyard is also in the Red Mountain AVA and was planted in 2014. Red Mountain is both the warmest AVA in Washington and the smallest with only 4,040 acres total of which slightly over half is planted to vineyards.
After visiting, tasting and writing about well over 1,000 Napa Valley based wineries, producers or tasting rooms – we have become strongly biased and partial towards Napa Valley produced Cabernet Sauvignon as perhaps might be expected. During a Napa Valley in Washington trip we were highly impressed by the Cabernet Sauvignon wines from this state – arguably the two greatest Cabernet Sauvignon producing parts of the country are in the Napa Valley and parts of eastern Washington.

The wines we tried from various Washington producers with connections to the Napa Valley including at Canvasback are wines with a strong sense of place, balance and perhaps a bit more restraint at times compared to some of the more opulent Cabernet Sauvignon wines coming from the Napa Valley.
Canvasback produced a Riesling for the first time in 2018 from the Columbia Valley. However, the focus of their production is on Cabernet Sauvignon – including one from the Walla Walla Valley and two from the Red Mountain appellation including the standout, the Grand Passage Red Mountain Cabernet Sauvignon. And Canvasback also produces a Walla Walla Valley Syrah (the 2016) is aromatically diverse and a wine that shows a lot of character.
—
Total production of all the Duckhorn wines is over 100,000 cases. For more information and or to join their wine club, visit: www.duckhorn.com or www.duckhornportfolio.com
Hospitality House

Three Palms Vineyard

Duckhorn Portfolio, St. Helena (offices, formerly home of Wilson-Daniels)

Kosta Browne Winery, Sonoma County