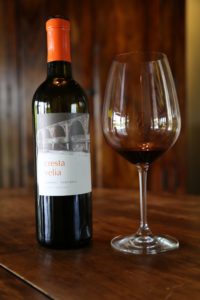 Cresta Velia is a tiny producer founded by Napa vintner John Giannini. John grew up in an extended Italian family – wine was always served with food. He considers both to be inseparable from one another. He comes to Napa from a restaurant background – first working at Scallas Bistro in San Francisco. He was introduced to Napa wines by a server at Scalla's who would often visit the valley. John would accompany him on these day trips; his appreciation for wine grew. Eventually he moved to Napa and worked at Terra Restaurant.
Without a formal education in oenology John has learned the art of wine making from books and from hands on work. With his culinary background he found recipe books extremely practical, highlighting which ingredients to use and how to make certain dishes. With wine making he has found there is no recipe, no formula and what has been most helpful has been the hands on work in the cellar and vineyard – with perspective gained from more then a decade of making wine.
He has had a great mentor; through a mutual friend he was introduced to acclaimed winemaker Thomas Brown. Thomas hired him to help with cellar work in 2003 – by 2007 he was promoted to full time Assistant Winemaker at Outpost Winery including helping making wine for Thomas's other premium clients.
The vineyard source for his Cabernet Sauvignon is the Eagle Summit Vineyard – conveniently located a short drive from Outpost. We have visited this vineyard several times – the soils like the surrounding vineyards are iron rich, reddish and very rocky. The vineyard is not steep but rather grows on gentle rolling hillsides. It is a vineyard that John says manages itself rather well. It doesn't generally see frost and there are no wind machines.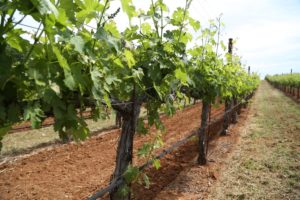 John shares the three same rows each year with the vineyard manager (who incidentally makes his own wine from this vineyard). It is interesting to note that there are ripening and flavor differences simply moving a few feet up the rows. A lower tiny bowl shaped section of the landscape traps the cooler air and these vines do not ripen as quickly as the vines growing a few feet up the row. John has worked with this vineyard since his first vintage and was familiar with the fruit here several years prior to that.
Despite only sourcing from three rows – there are two clones he gets to work with, clone 4 and clone 7. He is able to blend based on differences between each clone – for instance the clone 4 may not get as ripe as the clone 7 and often shows a blue fruit component. The clone 7 generally produces more fruit then the clone 4. These are the fun details of being a winemaker and getting to work with the same rows every vintage. One can really drill down into the nuances of a vineyard.
Incidentally the site of the Eagle Summit Vineyard is not far from where famed Napa Vintner Warren Winiarski purchased his first piece of land (prior to moving to the site of what is now Stag's Leap Vineyard.
The roots of Cresta Velia took shape when a vintner client who was making their wine at Outpost closed their wine operations and left the fermenting grapes in barrel. John took advantage of this opportunity and purchased this single barrel. This was his first vintage (2009).
Select Wines/Winemaking
The 2012 was "the perfect growing season", according to John – no major heat spikes and even ripening throughout the summer into the Autumn months. This Cabernet Sauvignon is intensely dark in color with an elegant nose. Ripe plum, blackberry, brown sugar and a neat herbal spice note shows. This characteristic is certainly not green but adds to the complexity of the bouquet and tends to show after the wine has been in bottle a few years. John calls the palate of this wine "sweet and savory". Notice the textural feel of the tannins – they are well integrated but are chalky – with a fine dusty nuance. They spread from the front of the palate through the back and anchor a very long finish.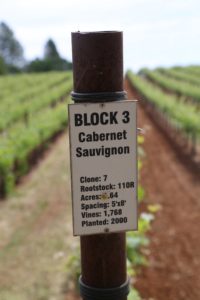 The 2013 Cabernet Sauvignon is equally as dark in the glass as the prior vintage. John calls this vintage "an amplification" of the 2012 growing season and was double decanted before we tried it. It is a substantial wine with prominent rich fruit aromatics along with mocha, brown chocolate and various spices including hints of white pepper. At this age, it does not have the herbal notes the prior vintage has. The density of fruit lingers across the palate (plum, blackberry flavors) and on the finish along with course chewy tannins.
Depending on the vintage John may ferment the grapes using only yeast that comes into the winery already on the skins. Some years he will inoculate with a commercial strain of yeast. He has never had to accidulate – the acidity in the wine is entirely from the vineyard. All his wines are unfined and unfiltered.
His wines are ready to drink upon purchase but can also age well. John never puts a "drink window" of time on his labels or website – rather prefers to leave it up to the consumer as everyone's palate is different.
John's tiny production of Pinot noir (usually just a barrel) came about totally by chance. John's father was having lunch with a family friend from San Francisco and he mentioned his son is a winemaker in the Napa Valley. His friend then said he owned a vineyard in the cool hills near the Pacific Ocean above the town of Occidental in neighboring Sonoma County. This was just a few weeks before harvest and he needed to find a home for his Pinot Noir. That home turned out to be Cresta Velia and now John continues to work with this vineyard and produce this wine each year.
—
The name Cresta Velia is a nod to his family – combining his mother's maiden name (Cresta) with his grandmother's first name (Velia).
For more information on this tiny producer and to join their mailing list, visit: www.crestavelia.com