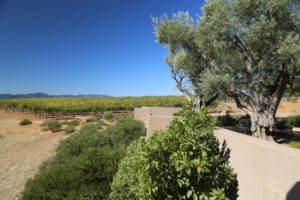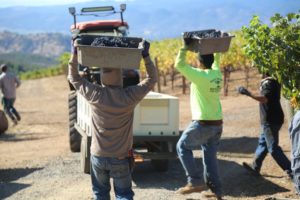 Continuum Estate was founded in 2005 and is located on Pritchard Hill in the Vaca Mountains, the range that forms the Eastern boundary above Napa Valley. This location was purchased in mid summer 2008 and two existing winery properties were combined into one large property. The winery was designed by Backen, Gillam, & Kroeger Architects and opened in time for the 2013 harvest. What might be the smallest "cave" in all of the Napa Valley is drilled a few feet in next to their tank room.
The winery is about 3 miles in from Sage Canyon Road, on a windy narrow steep road about 25-30 minutes from the town of St. Helena. If you stand behind Robert Mondavi Winery and look in a straight line through the Mondavi winery tower through the crown of Opus One you can see their hillside property far in the distance.
While not an officially recognized sub appellation of Napa this area has long produced excellent wine. In fact, vines have been planted in the vicinity of Pritchard Hill since the late 1880's by Italian American Vintners. Two of Napa's typically 7 recognized cult wineries are here: Bryant Family and Colgin. Other nearby premium wineries include Chappellet, Gandona, Ovid and David Arthur. This terroir is obviously in high demand. As one local vintner told us, "these vineyards are Oakville with altitude"!
There are a few select locations above Napa Valley that provide some of the best overlooks and views and this is one of them. Long Road and some of the private ridge top roads on and around Pritchard Hill certainly qualify in this regard. This is all hillside land – Continuum owns 172 total acres of which approximately 62 acres are currently planted to several red varietals including Cabernet Franc, Cabernet Sauvignon, Merlot and Petit Verdot. All their vineyards are planted between an elevation of between about 1300 and 1600 feet.
Robert's Grove is a collection of 100 year old olive trees planted directly outside of the winery (standing as a tribute to Robert Mondavi). These trees were 100 years old when they were planted on site in 1913 – exactly 100 years after Robert Mondavi was born (and the same year the finishing touches were put on the winery). A bust in Robert's likeness stands at one end of this grove (originally this was on display at Robert Mondavi Winery).
And the property is planted to over 550 olive trees – each year they hand harvest these and press them locally. Guests can sample this olive oil during tasting – they don't make a lot of olive oil, so it is sold via their mailing list to current customers.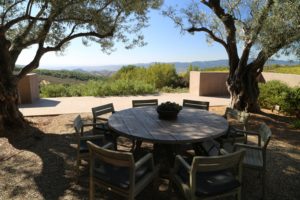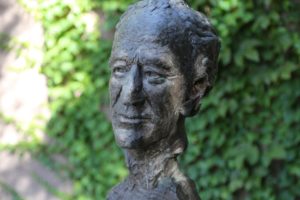 Continuum focuses on a single proprietary premium red wine each vintage with the intent to have this wine recognized as one of the world's great wines. Continuum is a partnership between Tim Mondavi, his sister Marcia, and originally with Margrit Mondavi (died in 2016). The late Robert Mondavi was also a founding partner. The Mondavi family first immigrated to the United States in 1906, coming west to California in the early 1920's. They are part of the rich viticulture history in the Napa Valley and today are one of Napa's most well-respected winemaking families.
Continuum is a tribute to their family heritage and builds upon the decades of experience they have accumulated in the California and International wine industry. They have no plans to become a large winery rather concentrating their efforts on a single vintage of small production hand crafted premium wine. Tim Mondavi who for 30 years ran Robert Mondavi's premium wine program and was involved in the wine making for Opus One, is the winemaker for Continuum.
During our first visit to the estate, we sat down with Carissa Mondavi, Robert's grand-daughter (Tim's daughter). She is actively involved in the day to day operations with Continuum, often traveling to sell the wine as well as working on some of the marketing efforts.
Their first release was in 2005 – a typical production is around 4,000 cases per year. 2008 was the first year that fruit was included from their new estate property. Prior vintages were sourced from Marjorie's Vineyard in the famed Mondavi To Kalon Vineyard in the heart of Oakville as well as from the Stag's Leap District. The first vintage that included all fruit from their estate was in 2012.
The Marjorie Vineyard is named in tribute to Tim and Marcia's mother. The wine was aged in 100% New French Oak with barrels from several high end coopers. All the grapes are hand harvested, hand sorted and fed by gravity into small oak tanks for fermentation. The wine is bottled unfined and unfiltered for maximum flavor and color. The 2005 contains 58% Cabernet Sauvignon, 23% Cabernet Franc and 19% Petit Verdot.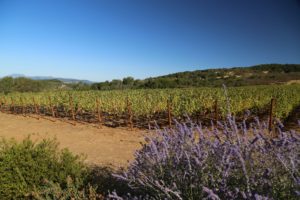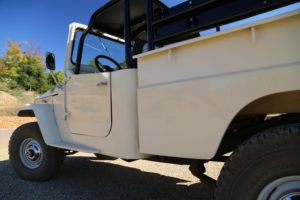 Years of history and experience with producing high end wines as well as using premium vineyard sources ensure that this is not your typical first release! This wine already sets the standard quite high for their future vintages. As Tim says, "winemaking is the art of bringing the vine to the land, the fruit to the vine, the winemaking to the fruit and ultimately the wine to the table". The Mondavi's recognize that great wine stays great throughout its life and balance and longevity are the early hallmarks of the Continuum wines.
The 2005 Continuum is dark crimson in color with elegant aromas of fine chocolate, sweet blackberry, graphite and floral nuances including notes of rose petal. The palate is rich in flavor, layered and full bodied. There is a core of red and black fruit that coats the palate including black cherry, currant and hints of black licorice. The mouth feel is supple, velvety soft and is anchored by well-balanced delicate tannins. This wine has the balance, structure and acidity to continue to age and evolve well over time. There have been a number of "it" wines we've tasted on this project and this is definitely one of those. You know an "it" wine when you taste it; it has that special terroir driven richness combined with elegance.
The 2014 Continuum shows notes of tobacco smoke, blackberry and a perceptible dust component from Pritchard Hill. The bouquet is elegant. On the palate the wine is supple on entry showing both red and black fruit with flavors of red cherry, plum, cigar spices. Very balanced throughout, the wine finishes with dusty/earthy tannins that are fairly polished for a young mountain grown wine. This wine is about the richness of fruit that their site produces – rather then about the influence of oak (both on the bouquet and the palate).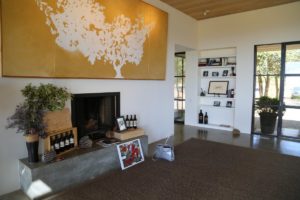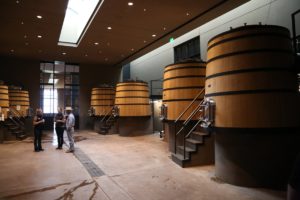 A second label called Novicium typically sees a large percentage of Cabernet Franc in it's blend. It features an image of bud break on the label. This wine is generally not promoted, however a current release is always available for tasting at the winery.
Note the beautiful label; it was designed by Chiara Mondavi as a shadow drawing. At the time, she modeled this artwork after a 25 year old Cabernet Franc vine from Oakville (that her father had planted). This painting is called "light of the vine" with the light representing the vine's energy. If one looks carefully on the original print (hanging in their hospitality center) one sees a portion of the vine on the left side which is far less defined then the rest of the vine. It was a windy day while Chiara was creating the artwork and this less defined area represents leaves on the vine blowing in the breeze.
Currently, Continuum currently has distribution in select markets in various states as well as parts of Asia including Japan. The best way to acquire their wine is via the mailing list. Tastings are for mailing list members or serious wine enthusiasts.
For more information or to join their mailing list, visit: www.continuumestate.com
Winery

Winemaking

Vineyards

Hospitality