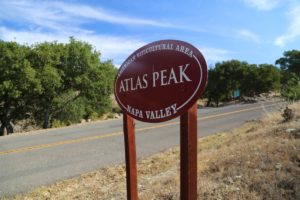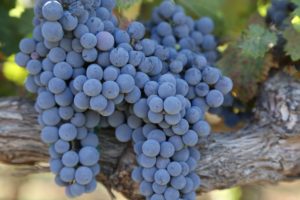 Cobblestone Wines was founded by Saul Levine and his wife Anita in 1971 with the purchase of a 75-acre property in the Salinas Valley of Monterey County. This vineyard is on the flatlands west of the 101 freeway; it is planted to Chardonnay – after they initially planting several other varieties which ultimately were not suited to this generally cooler climate. Since their first harvest they have sold grapes to various wineries and still do so today. Their philosophy is to always plant the best suited varieties to particular terroir. Case in point – in the mid 1990's they wanted to introduce a California grown Cabernet Sauvignon. Which region produces high end Cabernet Sauvignon – the Napa Valley of course.
In 1997 they purchased 25 acres high on the slopes of Atlas Peak (approximately 1500 feet) north east of the town of Napa. This is prime hillside Cabernet Sauvignon country but was covered with chapparel and the soils were essentially rock. After removing some 50 tons of rock they planted the property to Cabernet Sauvignon that same year. This vineyard led to their first commercial release of Cabernet Sauvignon in 2001. Recognizing the importance of terroir in winemaking, the winery was named after the rounded ancient river rocks (the cobblestones) found in abundance in the soils of their original Monterey County vineyard.
Saul is long time pioneering radio mogul who has lived in Los Angeles for many years. He started his original FM radio station (KCBA, now KKGO – with formats of classical, jazz and currently contemporary country) in 1959 by placing broadcast equipment on top of a flag pole high on the slopes of Mt. Wilson overlooking the entire Los Angeles Basin. Saul rented land from the US Forest Service and cleared brush with a tractor to make way for this first antenna.
Today he is a breath of fresh air in the Los Angeles corporate dominated radio market. He is the only independent operator of an FM station in Los Angeles, and is the owner of Mount Wilson FM Broadcasters, Inc. He is passionate about his radio stations as well as his wine and the early success of his radio stations allowed him to return to his agricultural roots and become involved in the wine industry. At the time of this review Saul is in his 90s, very much involved in both his businesses and still coming into the office every day.
Their focus is on limited production estate wines from their own vineyards – the total production includes about 1000 cases of Chardonnay from their Monterey vineyard and two Cabernet Sauvignons from their Napa Atlas Peak Vineyard. Cobblestone continues to seek out unique vineyard terroir regardless of its location. They looked for several years for a high end Pinot Noir vineyard and most recently purchased a small vineyard planted entirely to Pinot Noir, located on the southern part of New Zealand's north Island. They produce a Burgundian style Pinot containing the best of "new world" fruit. Cobblestone firmly believes in releasing their wines only when they are "ready". As a result you will find their current vintages are typically a year or two older than most current vintages on the market. Not all wineries have the luxury of this extra aging – but to the consumer this is a great thing as their Cabernet Sauvignon wines are well integrated both in flavor and structure by the time they are released.
The 2003 Cobblestone Cellars Napa Valley Cabernet Sauvignon is slightly blended with Cabernet Franc; it is very dark red in the glass almost garnet in color. The bouquet is extremely aromatic and reveals mocha, candied cherry, pepper and a touch of Asian spices. The palate is rich and complex with delicious fruit forward flavors. Balance is the key to this wine; the flavors are well integrated ending smoothly with structured by not overpowering tannins and just a nuance of mocha. For the quality to price ratio, this wine is an excellent buy.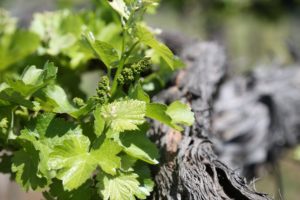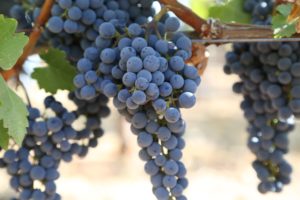 The 2003 Cobblestone Cellars Reserve Cabernet Sauvignon is a big rich Napa Cabernet with good weight and complex flavors, a hearty wine that has just the right amount of structure and acidity to allow it to really shine when paired with food. This same structure, acidity and abundance of fruit will also ensure this wine will age well for a number of years. This wine was made by blending wine from only the finest barrels of Cabernet Sauvignon (these blends were determined towards the end of the aging). As with their 2003 Cabernet Sauvignon, the bouquet on this wine is also impressive. Notes of pencil lead, mocha and earthiness are initially found on the elegant nose and as the wine breathes the aromas open up to a rich core of fruit most noticeably ripe blackberry – think blackberry pie. Crushed black pepper integrated with dark ripe fruit carries all through the palate. The lengthy finish lingers deliciously with firm tannins and final touches of sweet vanilla.
Cobblestone Cellars went international in 2008 when they purchased 10 acres in Martinborough, not far from Wellington on the southern part of the North Island in New Zealand. Their Te Muna Vineyard (meaning 'secret place') is planted to Pinot Noir. Prior to securing this vineyard, they were sourcing grapes from the Julicher Estate (in the same area). Their 2008 Cobblestone Cellars Pinot Noir from Julicher Estate earned the Champion Wine of the Show Trophy at the 2009 Air New Zealand Wine Awards. The prestigious annual competition saw 1,655 entries this year, and this is the first time a Martinborough Pinot has taken the top prize in the event's nearly 30-year history. And wine from their Te Muna Vineyard has also placed extremely well over the years. In 2015 the Cobblestone Cellars Pinot Noir was a double trophy winner in at the Cathay Pacific Hong Kong International Wine & Spirit Competition.
With their connection to Los Angeles they maintain very strong distribution in Southern California and are the official wine of the Beverly Hills Chamber of Commerce. Locally you can sometimes find their wine at a number of Napa area fine restaurants including Auberge du Soleil, Cole's Chop House and Press. Total annual production is around 3,000 cases. They also maintain a mailing list. For more information visit: www.cobblestonewine.com
Cobblestone Arroyo Seco Vineyard

Cobblestone Vineyards, Atlas Peak
Photos coming soon!
Cobblestone Vineyards, New Zealand
Photos, maybe coming at some point.