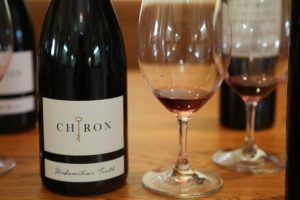 Chiron Cellars. Extremely focused on both site locations and style of winemaking, Chiron Cellars is one of numerous small producers in the Napa Valley that deserve special attention. Founded with their first vintage in 2015 by father and son, Mark McCoy and Bobby Moy (the winemaker), their partnership is a strong one. Bobby locates all vineyard sources for their wines and makes the wine, while Mark (who is retired from a career in health care and pharmaceuticals) oversees the marketing, sales and distribution.
Bobby grew up in wine country and has worked in a diversity of wine related jobs including as the wine buyer for the SidewaysWineClub (owned by a company who purchased the rights to the name from Fox Searchlight Pictures following the popularity and increased interest in the Santa Barbara wine country after the release of the Sideways film). While living on California's Central Coast he began pursuing sommelier training, consulting for local restaurants and also working several harvests.
Moving back to the Napa Valley he found it was difficult to find sommelier related work and pursued his passion for Pinot Noir and moved to Corvallis Oregon and enrolled at Oregon State University in their food science program. After graduating he worked for winemaker Thomas Rivers Brown in Calistoga. He continued make wine; through a professor he met while at Oregon State he took a job at BlueBird Hill Cellars in the Willamette Valley – and then later moved back to California and worked a short time at Virginia Dare Winery in Sonoma County.
Inherent to their wines are several important details. Bobby's source vineyards focus on hillside sites and not just any hillside location. Rather he prefers sites with morning exposure and his vineyard sources tend to be from north and north eastern facing sites. He is attracted to not only the views from elevated sites but also the diversity in topography and lack of soils in many cases – the vine development is slowed by the shallow soils and rocky sites producing an intensity of fruit that he favors but not an over ripeness.
Additionally, the vineyards he works with are often small and under the radar – and the resulting Chiron wines are vineyard designates. Chiron Cellars primarily creates wines that are 100% varietal. Through Bobby's wine making network he has access to select sites in Napa and Sonoma but also in San Luis Obispo and Santa Barbara. And whenever Bobby works with a new vineyard site he seeks out the advice of winemakers who have worked with the site previously- and also makes a point to try finished wines from the site.
While Chiron Cellars produces a number of wines, each is usually only 1-2 tons, very small lots resulting in typically 50 cases per wine. Every wine features a proprietary name which relates to personal stories.
And Bobby takes a gentle approach in the winery – choosing barrels that are seasoned up to 48 months and generally selecting light to medium toast levels. He wants to the oak to give the wines lift rather then make a significant imprint.
With a love for Grenache including the challenges of growing this variety, it is no surprise that Chiron Cellars produces several Grenache wines. Bobby chooses cooler weather sites that feature longer hang times and are typically harvested later in the season. Sugars in Grenache can easily spike especially as one waits for phenolic ripeness to occur including the tannin development. Harvest decisions are critical. This variety also inherently produces higher yields so he works with sites where the crop loads are thinned to about 2 to 2.5 tons/ acre.
Select Wines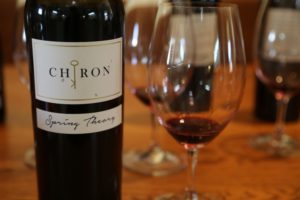 The 2016 Chiron Cellars Russian River "Aid and Succor" Grenache (Sonoma County) is stylistically meant to be approachable in its youth. No stems are included during fermentation – this wine is blended with 8% Petite Sirah. Noticeably savory (but pretty) aromatics with meaty nuances including darker spices on the bouquet. A diversity of fruit shows on the palate including plum, black cherry, strawberry and raspberry. Broadly distributed firm tannins, earthy and long lasting. Mouth watering acidity.
The 2015 Chiron Cellars "Unfamiliar Truth" Napa Valley Grenache was sourced from the Paras Vineyard on Mt. Veeder at an elevation of about 900 feet. The wine was fermented 30% whole cluster and spent 28 days on the skins. And 6 months in a new French oak puncheon, then racked into a once used puncheon. Offers a ripeness of fruit on the bouquet with a sweet aromatic thread that lingers throughout – along with a diversity of baking spices including vanilla and hints of old cedar and cardamom. On the palate shows some weight or tension as Bobby describes it. Finishes with a grip of firm yet finely woven tannins. These persist for some time on the long finish. Need a break from Napa Cabernet Sauvignon? This wine has character; it is well worth seeking out.
The 2016 Chiron Cellars "Virtue & Vice" Red Blend is meant to be enjoyed in its youth and is created each year from barrel selection – this wine is 57% Spring Mountain Cabernet Sauvignon, 38% Howell Mountain Merlot and 5% Petite Sirah. The wine spent 30 months aging, 20% in new French oak. Along with plum, shows hints of tobacco leaf and black currant. Very approachable, the wine shows darker spices on the finish and espresso along with light-weighted gravelly tannins – the finishing texture is fairly supple in feel. Also mouth watering acidity.
The 2016 Chiron Cellars "Paint of Moonlight" Cabernet Sauvignon was aged in 100% new French Oak. Sourced from a site above Knights Valley in neighboring Sonoma County on the western slopes between an elevation of 1100 and 1400 feet. Noticeably dark in color, features highly appealing aromatics including black fruits with hints of tobacco smoke, cedar box, earth notes and vanilla. Also somewhat floral. Deftly balanced shows both red and darker fruit flavors on the palate including blackberry. The texture is highly appealing with dry slightly dusty tannins – not heavy but with a noticeable weight on the finish.
The 2016 Chiron Spring Mountain District, "Spring Theory" Napa Valley Cabernet Sauvignon is a deep garnet color; offers a bouquet with mountain character and diversity of aroma – initially noticeable are its spicy nuances including pepper and a floral nuance – but the fruit is the core of the wine's bouquet featuring blackberry and plum. As the wine breathes, additional notes of chocolate, mocha and old cedar box show. An abundance of fruit drives the palate including currant and plum along with perhaps a kiss of sage. This wine features a firm grip of tannins – not coarse in feel but certainly noticeable. Plenty of life ahead of this beautiful Spring Mountain showing.
—
Finding success in attending small niche consumer tastings has been one of their primary outlets – including San Francisco Vintners Market and CABFEST San Francisco.
As of 2020, Chiron Wines is one of up to sixteen vintners featured in the The Studio by Feast it Forward (opened in June 2018). This showroom is located directly across from the Oxbow Public Market and packs in numerous experiences in a small space. This two story building houses an "experiential showroom" as founder Katie Hamilton Shaffer calls it with a focus on wine, food and music.
Each vintner represented offers several wines – several of the showroom's sponsors have prominent placement including the Gibson Guitar Lounge. A Chocolate tasting is also offered and there is a vinyl station for playing a variety of old records. Upstairs features a demo kitchen – when shows are being filmed here, televisions downstairs will broadcast the live feed. This kitchen can also be used for guest chefs to offer culinary classes.
And visitor's will want to stop by their bathroom – a television embedded in a mirror plays Feast it Forward culinary shows. The site can be used for a number of events – they have plenty of space in the back of the building. The Ultimate Airstream Film Lounge trailer is often be parked in the back – they use this trailer when they are on the road hosting unique lifestyle events. One such event at the showroom might be the "Terrible Tuesdays" in which bad films with cult like followings will be shown.
The second floor has a sizable surround building deck – and features swinging 'beds'. This is an ideal perch to watch passerbys going to Oxbow Public Market or those enjoying the park next to the Napa River. These are also some of the best seats in the area to watch live performances at the nearby green.
—
For more information, to schedule a tasting including an in-depth look at one of their source vineyards in western hills above Knights Valley in Sonoma County (north of Napa Valley), or to join the mailing list or one of the wine clubs, visit: www.chironwines.com