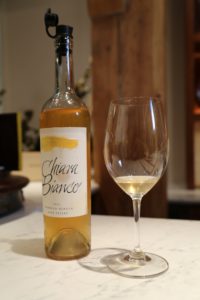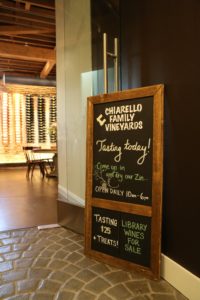 Chiarello Family Vineyards is owned by Michael Chiarello a culinary celebrity who lives in the Napa Valley. He is the Emmy Award-winning host of the Food Network's Easy Entertaining with Michael Chiarello and the author of a number of cookbooks. Their total production is about 2000 cases all divided into fairly small productions of the individual wines. All the Chiarello wines are from his organically farmed 22-acre valley floor estate in the town of St. Helena. Being a chef, Michael understands the importance of a healthy growing environment and balance. All their grape skins and stems are composted and reintroduced to the soils in the Spring providing additional nutrients when the vines need it the most. A variety of cover crops are planted which are also tilled back into the soil. "Pottery from the Vines" is an excellent idea in which the ash from the burned vineyard pruning is used for Michael's "ash-glazed pottery". Talk about recycling!
The first commercial vintage was 1997…sort of. It was a small production year, and as Michael told us "but I drank it all" so in reality the 1998 vintage would be the first commercial release. At the time Chiarello purchased the estate in the 1980's the vines had been neglected for a number of years. Michael spent significant time fixing up the vineyard with the help of noted farmer "Amigo Bob" and fortunately did not pull out some of the real old vines. Today these 100+ year old head pruned (no trellising) vines provide the grapes for several of his commercial releases. As of the time of this review, they produce 6 different wines. Keep in mind Michael's strong culinary background; his wines are made with lively acidity, personality and and good structure to hold up to foods; they are meant to be consumed with food.
In late May 2016, Chiarello Vineyards moved the small tasting corner of the former Napa Style store to a cozy stand alone tasting salon tucked away near the main and East entrance of V Marketplace, an upscale shopping center in the heart of Yountville formerly known as Groezinger Winery. The winery complex was founded in 1870 (among the older wineries in the Napa Valley) and ran until 1955. The location was converted into shops and reopened in 1968 taking the name, Vintage 1870.
A tasting here is highly personalized with a friendly staff who enjoy learning about wines as much as their guests. A small charcuterie plate is provided to accompany the wines – during a recent visit, this included a number of Italian tasty items such as Sicilian Almonds and a delicious spicy Calabrese salami. Nearby neighbor, Kollar Chocolates provided an aromatically pleasing display of chocolates – entirely made out of chocolate. Library wines are available for sale and sometimes older releases are offered for tasting.
Select Wines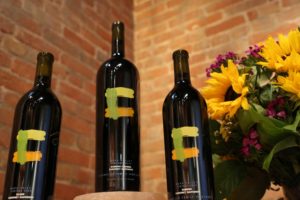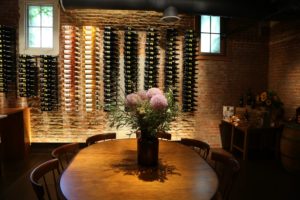 The lighting is very good inside the tasting salon which complements your tasting. Plans call for offering private tastings and more food options from Michael's nearby Bottega Restaurant.
During our original visit, we tried their lowest production wine (only 42 cases), the 2006 Rosé of Zinfandel. Rosé wines never used to be that common in Napa – but starting around 2011 we have noticed a significant uptick in the number of premium rosé's produced in the valley. This is a style of wine that has a diverse varietal profile; we have tasted Rosé's of Syrah, Merlot, Grenache, Sangiovese and even a finished Cabernet Sauvignon / Chardonnay "rosé". However this is the first 100% varietal Zinfandel rosé that we've tried out of over 800 commercial wine producers visited with in Napa to date.
The clone for the grapes that produce this wine was given to Michael by the famed winemaker and soils expert, Andre Tchelistcheff. This wine is created by the French Saignee method in which the juice is bled off during the wine making process. For a rosé it has surprising body and structure, again that is what Michael is looking for when pairing wine with food. Nice wild strawberry and various tropical aromas lead to red fruit flavors on the palate with just a hint of the spice that you often find in a normal Zinfandel.
The 2005 Giana Zinfandel is named after his youngest daughter and is made from the same grapes as the rosé . It is not a huge jammy Zinfandel, rather is a leaner style with lively acidity and bright fruit. Also of note, if you can find it, Giana Chiarello produces Hard Meyer Lemonade.
The 2015 Chiara Bianco has an interesting name – 'Chiara' is what Michael would have been called if he had been born a girl. This is a very unique wine for the Napa Valley as it is made from Ribolla Gialla, an Italian variety sourced by several vintners from the Vare Vineyard in southern Napa. During this vintage, the wine was left on skins for 14 days. The resulting effects are a unique auburn color and some tannin influence on the finish. The two most common white wines in the Napa Valley are Chardonnay and Sauvignon blanc. This wine in no way resembles either of those. Aromas of toast, kiwi and green apple show with flavors of orange marmalade and a nice tartness framed by slightly astringent tannins. Excellent food wine.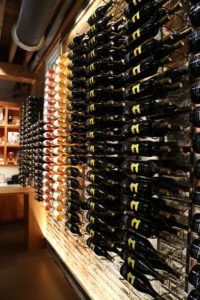 The 2005 Eileen Cabernet Sauvignon is named after Michael's wife – merely 100 cases were produced, with the original clone source from the highly regarded Grace Family Vineyards in St. Helena. This is a good food wine that is well balanced with nice structure and notes of tangy cherry. The 2005 Roux Petite Sirah is from 95 year old head pruned dry farmed vines. This is a very dark inky wine. The fairly restrained bouquet does not reveal just how big this wine actually is both in fruit and structure. There are notes of vanilla on the nose with a nice earthy almost forest floor like nuances on the palate along with concentrated blackberry flavors.
The wine from the old Petite Sirah vines on Michael's St. Helena property produce excellent wines – we have tried several vintages including the impressive 2007. This wine is inky dark in the glass with an elegant nose showing notes of leather and cherry. AS the wine breathes a slight smokiness develops. The wine is very approachable and shows a lot of life on the palate. Good acidity, good flavor with hints of bittersweet chocolate on the finish that is framed by both moderate fruit and oak tannin.
—
Bottega Restaurant
Located within a few minutes walk of the Chiarello Family Vineyards is Michael Chiarello's Bottega. We have eaten here several times – both for lunch and dinner. When the weather is favorable, our favorite part of the restaurant to eat is on the north side underneath the canvas partially enclosed covering. Very Italian focused cuisine.
Napa casual, often Napa vintners will dine here – especially those that live in or near Yountville. But also very popular with tourists to the valley. Plenty of parking both in the north and south parking lots surrounding V Marketplace. Unlike numerous restaurants that come and go in the valley, Bottega has been around for quite some time.
Coqueta Yountville
Visit, notes & photos coming soon!
Coqueta San Francisco
Visit, notes & photos coming soon!
Ottimo
Meaning optimal or primo in Italian, Ottimo is also owned by chef Chiarello. Previously this space was Chiarello's former Napa Style – however it has been completely remodeled and re-branded – with a focus entirely on food. Located across from the entrance to Bottega in the rear of V Marketplace, Ottimo serves pizza, mozzarella, panino and salads – all complemented with plenty of drinks including beer and wine.
And the store sells plenty of culinary hand-crafted products. Open for breakfast and lunch – several tables are located outside on the south facing side of the store.
—
NOTE: website has been offline for most of 2020. Phone number still works but no one ever answers or calls back. Talking to the manager at Coqueta, the tasting room is still open and has no plans to shut down – despite V Marketplace currently closed to the public.
For more information and to join their A Tavola wine club, visit: www.chiarellovineyards.com
Tasting Room