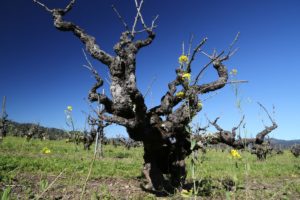 Chase Family Cellars is a boutique winery located almost at the base of the western hills of Napa Valley (the Mayacamas mountains) on Sulphur Springs Road just south west of the town of St. Helena. Most visitors to the valley won't discover Chase Cellars on their first few trips – the winery is not located along the busy "wine strip" along Highway 29 and their production is usually only several thousand cases per year. For many years, the winery sign was simply a magnet attached to their mailbox – they are not setup for large numbers of visitors and that is part of the appeal of a visit here.
Owner Katie Hayne Simpson is the great-great granddaughter of a well-known local personality who lived in the area in the late 1880's – Sarah Esther Chase Bourn. Sarah and her husband William purchased this property in 1872 – grew grapes here until phylloxera wiped out their vineyard – which was then replanted in 1903. Sarah's son built the famous Greystone Cellars building (formerly Christian Brothers) located just north of the town of St. Helena which has housed the Culinary Institute of America for years. Due to its history, and prominent size, it is one of the more memorable stone winery buildings in all of the Napa Valley.
Katie's brother Andy created the Chase Cellars brand in 1998 and she took over the operations in 2012.
Chase Cellars focuses on Zinfandel which comes from the surrounding historic Hayne Vineyard. The majority of the vines on the property are over 110 years old. It is always neat to walk out among old head pruned vines in vineyards of this age – mostly because the Napa Valley does not have many of these old vineyards left. Over the years many have succumbed to various diseases and or have been pulled out in favor of more economically viable varietals, namely Cabernet Sauvignon which typically retails for much higher prices then old 'mix blacks' vineyards. These vines are all dry farmed and managed by hand (now going on 5 generations). And the vineyard is listed in the Vineyard Historical Society, a group that promotes and helps bring awareness to select historical vineyards planted prior to 1960.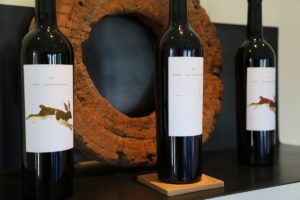 The vineyard is in a very good neighborhood, one of Napa's most historically rich vineyard sites. Beckstoffer's well regarded Dr. Crane Vineyard is nearby as is his Bourn Vineyard. And also nearby is the Old Crane vineyard used by the Crane Assembly, one of Napa's two oldest verified still producing vineyards.
The tasting room is located right next to their tanks and other winery equipment, all of which is located under their 140+ year old Olive trees. Tastings are held outside overlooking the vineyards in the shadows of their olive grove or in their cozy modern tasting room (which was elegantly remodeled several years ago).
Typically visitors will begin their tasting with with a very light wine, during our latest visit it was their 2007 Rosé, a Zinfandel Syrah blend. This is a summertime wine that despite being light in body well represents the fruit flavors of both of these varietals. You will also sample several other varietals including a Cabernet Sauvignon and their Petite Sirah which is a very dark rich big wine and is even bolder than their Cabernet Sauvignon. For a big Zinfandel be sure to try the wine produced from the Hayne Vineyard.
You can end your tasting with dessert – in this case a delicious non vintage Zinfandel Port-styled wine. It was made to the exact specifications of the owners tastes and is not syrupy at all as the grapes were picked as normal and not left hanging on the vine for weeks after the regular harvest. The sugar does not overwhelm and it is a very smooth easy to drink wine of this style. Start with a few sips of this and soon the bottle will be empty. This is produced in extremely small quantities as 375 ml bottles. They even make a Zinfandel chocolate sauce.
For more information and or to join their wine club, visit: www.chasecellars.com
NOTE: this review has been identified as needing a *major* update.