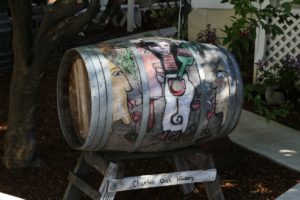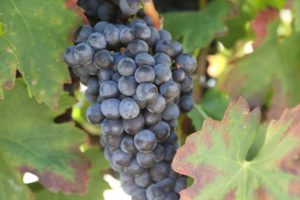 Charter Oak Winery is a partnership between Rob Fanucci (lawyer by day and vintner for 10+ years), his son David and wife Layla. Their winery is one of the more unique ones in the Napa Valley and is a complete throwback to the "old" days of winemaking. It is rare and actually quite refreshing to find a commercial winery in the Napa Valley that does mostly everything by hand including pressing all their fruit in an old basket press.
Rob still has all his grandfather's old winemaking tools, the 100 year old basket press, home made punch down tools including a well stained purple wooden piece that resembles an over sized baseball bat as well as an assortment of various other wine making implements.
Rob grew up in St. Helena and his winery cellar is under the same house where his grandfather Guido Ragghianti made home wine. Rob recalls Guido working in the vineyards next to their home on Charter Oak Avenue in St. Helena and being mesmerized at a young age by Guido's winemaking. Rob's grandparents moved to St. Helena in 1920 and Rob grew up around the vineyards but actually learned winemaking during his 98 year old grandfathers last harvest in 1986. Guido spoke no English to Rob so their primary language was Italian. Rob remembers the cost of making wine at that time (aside from their labor) coming out to about 25cents per bottle as they were given the grapes for free, they used recycled bottles and had no new oak costs.
Charter Oak is the definition of hand-crafted artisan wines. The wines are made in an elegant softer style, are well layered, balanced and generally do not display any harsh tannins, grippy structure or a finish that is drying. As a result these are wines that are certainly approachable upon release. Part of the reason these wines do not have the harsh tannins lies with the basket press. Less juice can be gained from the grapes using this method of pressing. It is not physically possible to squeeze out extra juice like the automatic bladder presses can do and as a result there is no re-introduction of the final pressed juice which contains additional tannins. It should also be noted that using the basket press gives their wines excellent extraction.
The winemaking here, in today's jargon, is purist in style but is really no different then wines that were made 90-100 years ago and earlier. Everything is done by hand; there are no forklifts or pallet jacks at this winery. The wines are made unfined and unfiltered and indigenous yeasts are used for all fermentation. Even the maloloactic fermentation is allowed to occur naturally. Once the wine has been pressed out from the seeds and skins it is then transferred by hand in buckets to the new and used French oak barrels for its aging. After Guido's death, Rob inherited all of his winemaking implements including home made punch down tools.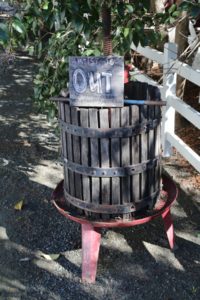 The three partners all have a role in this winery. Rob is the winemaker, his son David is the assistant winemaker and at the time of our initial update to this review was probably one of the youngest assistant winemakers in the valley at age 21. Former partner for 12 years, Jim White used to help oversee the marketing and sales side of the operations. Jim still runs www.napaman.com, an excellent blog and resource about the Napa Valley which spotlights events, specific wines and other local happenings.
Note the labels that appear on some of their wines – Rob's wife Layla is an Internationally recognized artist specializing in urban cityscape scenes (often of New York City) and some of her art appears on the wine labels. Conveniently her studio is located at the winery. Her website is: www.laylafanucci.com.
Everything about this winery is a throwback to how winemaking used to be conducted and even the vineyards they source fruit from have historic relevance. The estate 1/2 acre of Zinfandel is planted right next to the winery and this vineyard dates back over 100 years. The historic Louis Martini Monte Rosso vineyard (now owned by Gallo family) in Sonoma County used to supply the fruit for their Zinfandel. This vineyard is on the Sonoma County side of the Mayacamas mountains (the range that forms the western divide of the Napa Valley) and was first planted in the 1880's. All the vineyards they use are extremely low in production ranging anywhere from merely a ton per acre up to 2 tons.
Select Wines
The 2006 Charter Oak Monte Rosso Zinfandel has a nose that envelops the glass and beyond – it is extremely aromatic with notes of cranberry, raspberry and white pepper as well as loads of floral overtones. While this wine is concentrated, the mouth feel is rather soft and plush especially upon the entry and on the finish. The palate shows red plum, raspberry and blackberry. It is a big Zinfandel with a finish of considerable length with tannins that are fairly smooth and delicate. This is a wine that continues to evolve and show well once it has had some time to breathe. Unfortunately the 2014 vintage of Monte Rosso was the last made by Charter Oak from this vineyard.
Another historic Napa vineyard gem is the David Fulton vineyard in St. Helena. This vineyard dates back to the 1860's on site of what is the second oldest active bonded winery in the Napa Valley. In our opinion, David Fulton makes one of nicer Petite Sirah's in the valley and Charter Oak is the only other producer representing this vineyard with a varietal designate of Petite Sirah. The 2007 Charter Oak Petite Sirah is 100% varietal showing notes of white pepper, raspberry, baking spices and subtle undertones of mocha. It is smooth upon the entry, hangs in the mouth and then delivers sweet layered fruit; big flavors of blueberry, raspberry and cherry are the core of this wine. This is a varietal that often has big structure especially on the finish; this wine's structure is decidedly bigger than the Zinfandel but is not overwhelming and is certainly in balance with the fruit. This wine over delivers for the price.
Their source for their Cabernet Sauvignon is a vineyard at about 1400 feet on the slopes of Mt. Veeder. The 2007 Charter Oak Cabernet Sauvignon is 100% varietal. This is a very dark wine; the nose is full of black fruit including blackberry, cherry and black licorice with just a hint of sage. Again for mountain grown wine the tannins are reasonably structured and in balance.
—
Charter Oak's total production averages about 1,000 cases annually and is primarily sold direct to consumer – over the years Rob has cut back on distribution and today is only distributed in select major markets including Florida, New York and Texas. Their wines have been well accepted at a number of premium restaurants including Per Se in New York and several national steak houses. For a truly artisan producer, their top vineyard sources and the quality of wines, their prices are quite reasonable. Locally they have good distribution; one can find their wine at 750 Wines and ACME Wine shop, both in St. Helena. Visits are typically reserved for mailing list customers however often people can taste their wines at the Family Winemaker tastings and the ZAP tasting (Zinfandel Advocates and Producers). To join the mailing list or wine club and for more information visit: www.charteroakwine.com
In late summer 2014, Charter Oak opened Charter houses, an 800 square foot house, newly remodeled kitchen, living room, bathroom with shower, laundry room, and bedroom. The bedroom has a king size bed, perfect accommodations for 2 guests only. Any guests who stay at Charter House are given a complimentary bottle of Charter Oak Wine. Inquire for details and pricing.