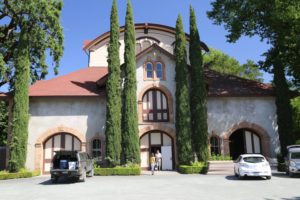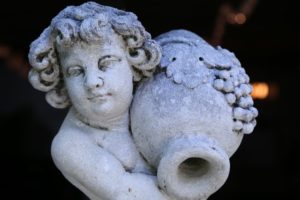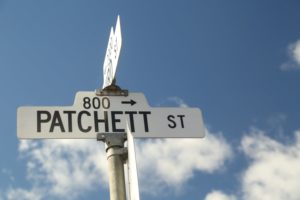 Charles Krug Winery. Our first ever visit to Charles Krug in 2009 was very special because we had been looking forward to a tasting here for quite some time ever since starting The Napa Wine Project in 2006. They are Napa Valley's oldest winery still in existence and that deserves special recognition (although the original winery building is long gone). As a result this was the 300th Napa Valley based winery and last open to the public by walk in winery that we visited. At the time this meant we were not even 30% of the way through this massive endeavor!
During its long and storied history the winery has only had three owners, founder and namesake, Charles Krug, James Moffitt and the Mondavi family. While Charles Krug is the oldest winery in the Napa Valley – this must be clarified. Patchett's Grove Winery was the first ever commercial winery in the Napa Valley (1857), although the founder John Patchett stopped producing by 1870 after selling his property.
It is interesting to note that Patchett had been making non commercial wine in the 1850s for several years prior to his first commercial release. Patchett built a small adobe winery, Napa's first commercial winery which he replaced a year later by Napa's first stone winery.
As an important piece of viticulture history – Charles Krug was Napa Valley's first hired winemaker and made Napa Valley's first commercial wine. He was hired by Patchett in 1858 and produced a vintage later that year. According to the Napa County Historical Society, Patchett made the first commercial wine in Napa Valley in 1857, 6 barrels.
St. Helena located David Fulton Winery was built in 1861 following Charles Krug. The original Schramsberg winery dates from 1862. Suffice to say, there are very few wineries in the Napa Valley that were founded in the 1860s. Others with physical wineries built in the 1860s included Crane, Pellet, Migliavacca, Brannan, Woodward and Sigrist.
Charles Krug, St. Helena Cemetery

John Patchett, Tulocay Cemetery Napa

George Yount, Yountville Cemetery

While Charles Krug was the second commercial wine making venture in all of the Napa Valley – the first winemaking happened sometime in the 1840s. Records show that George Yount (Yountville's namesake who first visited the Napa Valley in 1831) moved onto his nearly 12,000 acres of land (ranging from just south of St. Helena to south of present day Yountville – the Caymus Rancho land grant) in 1838 and planted the first ever grapevines in Napa Valley in 1838/1839 not far from the tiny village called Sebastopol at the time (later changed to Yountville). This site is currently the vineyard location of Ghost Block owned by the Hoxey family.
While no records remain that show the date of his first non commercial winemaking – perhaps it was in the early 1840s after his vineyard matured. Records do show that he made some non commercial wine by the late 1840s. This would have been the first ever wine produced in the Napa Valley. And it is noteworthy to mention that Charles Krug made some wine in 1860 for George Yount.
Charles Krug (born in 1825 in what was Prussia), taught school in 1847 in Philadelphia and later was editor of the first German newspaper on the West Coast of the USA in Oakland. He first purchased land in neighboring Sonoma County in 1853 from Agoston Haraszthy (founder of Buena Vista Winery, one of California's oldest wineries). Krug planted several varieties on his 25 acres of land that he called Monte Bello. Records show that he sold this property in 1860 to move to Napa Valley and start Charles Krug Winery. We have not yet been able to determine the exact location of his Monte Bello Vineyard (we asked Peter Mondavi Sr years ago, and he also wasn't sure of the location) although most likely it was on the outskirts of the town of Sonoma near Buena Vista Winery.
From historical records, Charles Krug's first winery building was completed in 1861 and was a fairly crude small cellar with a thatched roof. A fire destroyed this first structure in 1874 and by 1875 Krug had built a larger and more sturdy 320,000-gallon winery. And by the early 1880s Charles Krug was also growing grapes near Angwin below what is now the Howell Mountain sub appellation.
Also of historical significance, after Charles Krug married Carolina Bale (daughter of Edward Bale who owned a large land grant at the time), the Krug's inherited a large piece of property which included the Bale Grist Mill (built in 1846). This mill is still standing and is now part of the Bale Grist Mill State Historic Park. Open on the weekends for milling demonstrations, it is only a 5 minute drive from Charles Krug Winery.
The Mondavi Family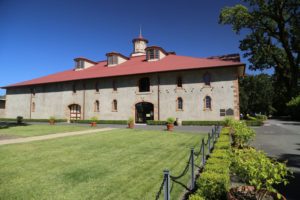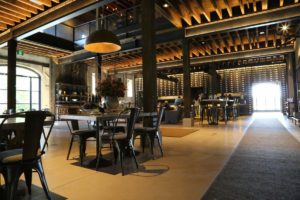 Three years after Krug passed away in 1892 the winery was purchased by a family business acquaintance James Moffit. Moffit held it for some 49 years until Cesare (pronounced chez a ray) and Rosa Mondavi purchased the winery for a cool $75,000 in 1943. At the time of their purchase the winery building was really rundown – the floor was dirt and the upper floors were only partially still standing (over the years wood had been removed from the walls).
Their sons Robert and Peter were also involved in the winery operations. Peter Mondavi Sr., (brother of Robert Mondavi) lived and worked on site after returning from his service in World War II until his death in 2016 (our interview with him here) and his two sons Peter Jr. and Marc run the day to day operations. Peter Mondavi was truly the last of the "living legends" in the Napa Valley.
Peter, one of four siblings was born in Minnesota (the family was originally from the Province of Ancona in Italy); they initially settled in a mining town of Virginia, Minnesota in 1908. Peter grew up in Lodi California where his father Cesare moved the family in 1922 to work in grape shipping and distribution. At one point prior to owning Charles Krug, Cesare was the president of the large Acampo Winery in Lodi. The family business continued to grow – even more so during Prohibition when demand increased for fresh grapes (heads of households could legally make 200 gallons of home wine during Prohibition).
The family lived in at least two homes in the Lodi area, the most prominent family home is still standing – located only a few blocks from downtown Lodi. The home was built in 1917 – the family moved in sometime in the mid 1920s. Dated today, the interior feels like walking back in time – original wallpaper that Rosa chose still lines the walls, the original radiator still works and the front room is still in its same location (albeit with different decor) where Cesare conducted his wine business (see our photos of the home at the bottom of this review). And it was within these walls that in 1943 Robert first broached the idea of purchasing Charles Krug Winery to his father.
The Mondavi family purchased Charles Krug Winery in 1943 and produced their first vintage in 1944. From a master list we have spent significant time curating of wineries producing continuously since at least 1979 or before, only the following 5 Napa Valley based wineries have produced a vintage continuously prior to Charles Krug: Louis Martini (1933), Inglenook (1933, founded 1879 – we are counting Rubicon Estate here, as in the 1980s, as a stand alone brand Inglenook did not produce wine for at least one vintage), Nichelini (1890), Beaulieu Vineyard (1904, founded 1900) and Beringer (1876).
Expanding as they grew production and sales the Mondavi's recognized the need to own their own vineyards – in 1962 they purchased 550 acres in Oakville from a vineyard that they were already familiar with since they had been purchasing fruit from it for a number of years. This vineyard formed the majority of the historical footprint of To Kalon Vineyard. Eventually Robert Mondavi took ownership of the Charles Krug portion of this vineyard.
The Winery
More recently the winery invested millions of dollars into their vineyards including replanting – from a winery perspective that is the first and smartest investment a winery can make – as producing high quality wine begins and ends with terroir, or location. Many of their vineyards are now organically farmed. With 850 acres under family ownership in the Napa Valley, they are one of the largest family owned vineyard landholders in the region.
The winery is located about 1.5 miles north of the town of St. Helena on the east side of the highway. This is an impressive and very historical winery neighborhood. For reference, their driveway is just north Beringer Vineyard and the impressive Culinary Institute of America old winery building. Drive down a long olive tree line driveway and park in one of several small open-air parking lots within a short walk of the tasting room.
As you arrive on the property, note the rose bushes planted in front of the vineyard rows. Historically these were planted here because they are an indicator species often showing signs of powdery mildew (a fungal disease) before the vines do – letting vineyard workers know it was time to spray the vines with sulfur. Today vineyard managers have other ways of knowing when to spray sulfur. And of course the roses add a nice visual element to a vineyard.
The wineries' massive historical stone building and carriage house underwent a major structural & visible renovation (finished in 2013). The company in charge of this project also restored and retrofitted the nearby historical Greystone building, now serving as home to the Culinary Institute of America. Along with this renovation they brought the winery up to modern standards and in effect built "two wineries" for their production of both the Charles Krug wines / Peter Mondavi Family wines as well as their much larger production, CK Mondavi.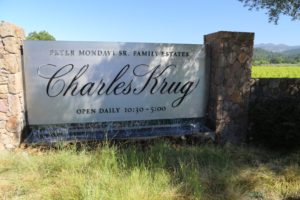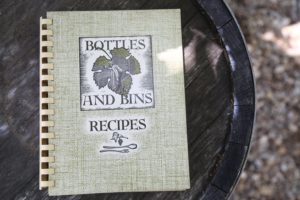 Their original tasting room dated from 1882 and was the first tasting room open in the Napa Valley. Tastings were conducted since the 1950's in a building we commonly referred to as "the trailer" until the "Redwood Cellar", the old stone winery opened to the public on November 18, 2013. This tasting room was designed by Howard Backen – one of the wine country's premier architects (the Hamden McIntyre of his generation). His firm has designed a number of premium wineries in the valley including Harlan Estate and another Mondavi family owned winery, Continuum on Pritchard Hill. Redwood from their old tanks (dating to the 1940's) was in part used during the renovation). Their tasting bar and hospitality center overlooks the Family Reserve Barrel Room – which ages their premium wines. An old redwood tank long since past its use – still stands in this cellar room – a tribute to how wines were made here years ago.
With a kitchen on the first floor, both food and wine pairings are offered. In a nod to family history, it is called the Cucina di Rosa trattoria (Rosa was the original matriarch of the Mondavi Family). The Trattoria is open daily – guests can purchase food items here and take them outside and enjoy on picnic tables on the lawn behind the tasting room. A pizza oven operates seasonally next to the picnic tables – recommended: buy a bottle of wine and enjoy it with a fresh baked delicious thin-crust pizza. All those bottles behind the tasting bar show labels displaying one date on each bottle – 1861 a nice tribute to the year Charles Krug opened.
Krug offers an excellent variety of wines at their tasting counter. Guests who enter the tasting room are greeted with by a concierge and a welcome wine. The staff is friendly and helpful. Choose from two tasting flights – the Classic (some whites and reds) and their Family Reserve (all reds). We highly recommend choosing the reserve option as these wines are produced in small quantities and are individually hand crafted by the winemaker.
Select Wines
History is obviously a key component at Charles Krug; they hold back older vintages, up to 20 years old and have them for sale at the tasting room. During one of our earliest visits, we began our tasting with a premium Charles Krug Pinot Noir sourced from fruit from the Russian River in neighboring Sonoma County. The grapes for their Pinot Noir were the only grapes they use that came from outside of Napa Valley. The winery owns about 850 acres in Napa Valley from Calistoga down to Carneros – much of which is certified organic making them one of the larger property holders in the valley. There are only a handful of locations in California that produce a high quality Pinot and the Russian River coast is one of those areas. If you love Pinot, this wine does not disappoint.
We also enjoyed their 2003 IX Cabernet Sauvignon; typically this label is 100% varietal fruit but for the 2003 vintage they blended several Bordeaux varietals which produced a very complex delicious Cabernet. One of their most popular wines is their Zinfandel Port. The one we tried was their Lot XII which contains 12 vintages.
There are number of Napa Valley wineries producing a port-styled wine – by far the most common is the Zinfandel Port. Krug's Zinfandel styled port really displays the Zinfandel flavors, is smooth and strikes a good balance between sweetness, acidity and flavor. The finish lingers for a long time.
Tasting notes coming soon for more recent vintages! This part of the review has been identified as needing a major update.
—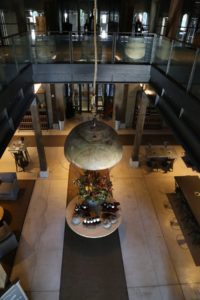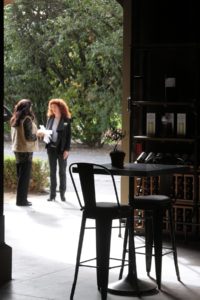 Bottles & Bins was Napa Valley's first winery publication eventually being published 3x/year. The first issue was published and edited in 1949 by Frank Gould (a Charles Krug tour guide). This publication reached thousands of customers becoming a rather sizable publication (our personal copy from 1965 is more then 100 pages). It contained recipes, wine education and news and events of the Napa Valley. It was published for about 30 years. Gould was also instrumental in providing early public relations support for the Napa Valley Wine Library Association – an organization that preserves information relating to viticulture and wineries as it relates to the Napa Valley – and incidentally they host one of the best tastings (open to members) in all of the Napa Valley each year in August at the Silverado Country Club.
Krug's August and September 'Tastings on the Lawn' are two very popular social gatherings of wine lovers held annually since 1951. These two events are considered their "open house" and it is a great time to meet other wine-lovers, those in the industry, key Krug employees and try current release wines paired with food and cheese.
Weddings
Charles Krug is one of the few wineries in the valley that can legally host weddings. Their wedding package includes the use of the historic Carriage House (built in 1881 by Charles Krug for his wife Carolina to house her horses), the Guest House and Great Lawn. The Carriage House has been beautifully restored with plenty of space on the lower floor and a grand ballroom on the upper floor.
Culinary Garden
Wondering about the impressive 3-acre garden on the left as you drive in the driveway? The Culinary Institute of America (CIA) farms this vegetable and herb garden – conveniently located almost across from their St. Helena campus. Produce from the garden is sold to select local restaurants and the garden is also used for the CIA's Farm to Table classes.
Train Tracks/Wine Train
Train tracks used to run all the way to Calistoga ending in approximately the location of what is now the the Cal Mart parking lot. A train station called Larkmead was located near the current location of Larkmead Winery. The Napa Wine Train uses the tracks today – with their northernmost stop on the Charles Krug property directly on the east side of the tasting room. The tracks were unfortunately removed in the 1970s from Deer Park Road north – although apparently a right a way still exists and the tracks could potentially be reinstalled.
The tracks still run behind (east) of the winery and fall into complete disarray just north of the winery – the final piece of northernmost rail from this historic track still exists on the Charles Krug property a few feet before Deer Park Road – well hidden by trees.
CK Mondavi
This is another brand of wines owned by Peter Jr. and Marc and their families. The genesis of this brand dates all the way back to 1946; the Mondavis were suffering financial hardships at that time and decided to create a separate lower end, lower priced jug wine to help sustain their operations. The focus is still on larger production wines at a lower price point.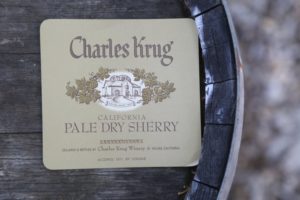 CK Mondavi owns nearly 2,000 acres in neighboring Solano County (the Dunnigan Hills appellation). Both Marc and Peter's children are involved in overseeing this company. And other brands under their ownership include Flatop Hills and Purple Heart (wines created with proceeds donated to the Purple Heart Foundation – supporting military personnel and their families). For more information, visit: www.ckmondavi.com
Krug also maintains excellent national distribution with their wine shipped to all 50 states. For more information, or to join one of their wine clubs, visit: www.charleskrug.com
Redwood Cellar

Carriage House

Cucina di Rosa

Seasonal Pizza Oven

Select Vineyards

Peter Mondavi Childhood House, Lodi, CA

Bale Grist Mill