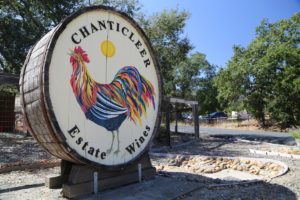 Chanticleer Wine is a winery with vineyards located just above the town of Yountville close to the Veterans home on the west side of the valley. Astute readers will note that the name Chanticleer is the name of a heroic rooster in one of the Canterbury Tales. The actual vineyards called Morningside are planted to Cabernet Sauvignon and Sangiovese and are 8 acres in size. These are entirely hillside vineyards. We had the opportunity to see the vineyards first hand – at first glance you would hardly think vines can grow here! The soil is extremely rocky and parts of the vineyard are completely covered in rocks, but this is the type of growing conditions that Cabernet Sauvignon thrives in and as a result of their terroir, the yields are fairly low. The vineyards were planted in 1994 and today the trunks of the vines are already gnarled and old looking.
Chanticleer specializes in a Super Tuscan style of wine with two releases each year, the Cabernet Sauvignon and a Sangiovese (all estate grown). This winery is a partnership between the vineyard owner George Grodahl and winemaker Chris Dearden who is also General Manager and winemaker at Benessere Vineyards. George sold the grapes for a number of years to local wineries while holding back small quantities for his own home made wine. A familiar story ensued similar to select other small boutique wineries. The home made wine continued to improve in quality each year and soon friends and family were asking to purchase their wine! Their first commercial vintage was in 2000.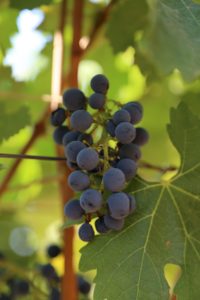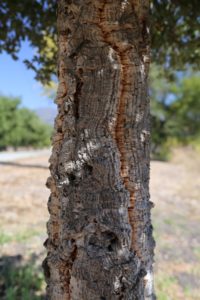 We tried the 2005 Cabernet Sauvignon after letting it bottle age for some additional time. This is a good wine and it only gets better in the bottle. True to the winemakers roots at Benessere Vineyards where they work with a number of Italian varietals and based on the fact that Sangiovese is planted in Chanticleer's vineyard a small percentage of this varietal is also blended into the wine. It brings some aromatics to the bouquet which is somewhat floral in nature, with notes of violets and just a touch of cedar from the oak aging. The palate is broad, rounded and smooth. Excellent layers of fruit flavors are represented including blackberry and black currant.
Chanticleer recommends decanting this wine before serving. As of the time of this review they still have some Magnums and other large format bottles, all hand painted and etched. Their label is a colorful rooster which has actually become quite popular with collectors! Total production is about 1000 cases of both wines and as a result, is extremely hard to find and often much of it is sold out before it has even been released. Your best bet to acquire the wine is through their website's mailing list or locally in the Napa area at V Wine Cellar in Yountville. Also check out some of the mouth watering recipes their customers have submitted.
NOTE: This review has been identified as needing a major update.
For more information and to join their mailing list, visit: www.chanticleerwine.com