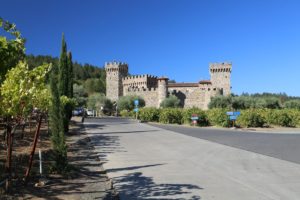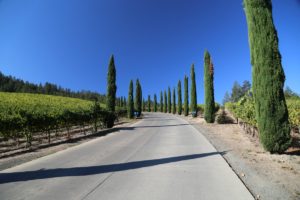 Castello di Amorosa opened its doors to the public for the first time on Monday April 9, 2007 – this work of medieval architecture in the new world was conveived by long time Napa Vintner Dario Sattui owner of V. Sattui winery. This is an immense structure and down to the smallest detail, resembles a real medieval castle. The construction took about 15 years with much of this time spent on the underground vaults and caves. We had the privilege of touring (translation: sneaking in) the castle several times before it was even open.
As you enter off of Highway 128/29 just south of the town of Calistoga you will drive up a long steep cypress lined driveway and as you crest the hill you feast your eyes on truly a spectacular site as this Tuscan style stone medieval looking castle comes into view.
Huge old gnarled olive trees which date from the 1800's were cut back, transplanted and grow in front of the castle. As expected with such a unique structure, "the castle" as it is colloquially called by locals in the Napa Valley attracts sizable crowds. If you would like to visit with the least amount of people, consider arriving on a weekday at 930am when they open.
Parking is in a lot that is located near the main entrance. The first few parking spots have been converted over to use by wine club members only. During busy weekends, cars are wrapped around the road leading in front of the winery and down the main road. Simply put, this is one of Napa's most popular wineries and it can get extremely crowded. Of all the wineries we have visited in the Napa Valley – you have the best chance of hearing languages from around the world as here as the diversity of visitors from around the world is great.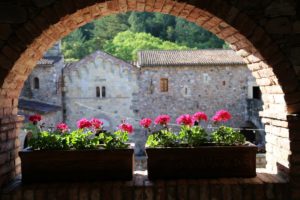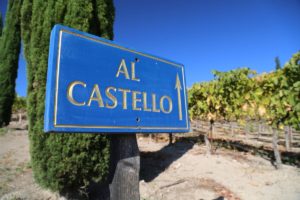 The castle contains four levels of underground cellars, by numbers – 100+ rooms spread over 8 levels, 121,000 square feet or looking at this another way – 3 acres of rooms! Dario brought over more than 200 containers of shipping materials from Europe and used over 8,000 tons of locally quarried stone – all chiseled by hand. Nearly 1 million handmade bricks were shipped over from Italy.
The castle also features escape tunnels, a central courtyard, turrets (great view by the way of the northern Napa Valley from the top of one of these), a small chapel, a great hall and some very interesting wine making historical artifacts, some of which date back several hundred years to when they were used in Europe.
Of these artifact perhaps the most interesting is a wooden basket style press that dates from 1780 (located near the main courtyard on the ground floor). It is massive and we can only speculate on the shipping costs from Italy where it originated.
It is hard to imagine when you first pull into the parking lot, but this is a working winery. The production facility is located towards the back of the castle. The property is 171 acres of which 30 are planted to vine.
Upon entering the castle you cross a wooden drawbridge which really does lift up. Daryl shipped some of the pieces of the castle from Italy as well as brought over Italian craftsmen to actually hand paint exquisite colorful frescos and other murals.
One of the main highlights of a visit here is seeing The Great Hall. It is a massive rectangular room beautifully decorated with hand painted Italian style frescoes; individual stories accompany each mural. These frescoes were hand painted over 18 months by the Italian artist – Fabio Sanzogni. The floor is stone and was imported from Luxembourg – the massive wooden oak doors were imported from Italy.
If you know where to look among all these frescoes that line up and down the walls you will spot the Sattui Family coat of arms on a shield. Above this is written "I am the lord of the vines and when you find me good I make everybody happy and give peace of mind"!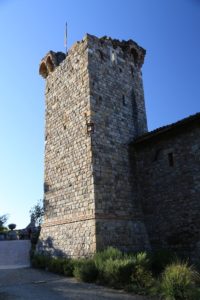 A very long wooden dining table is in the middle; if you have a table of this size and you own a castle there must be some memorable events to accompany the structure. Members of their wine club enjoy some amazing parties! Jesters, jugglers, royal musicians, sword play and jousting events accompany some of these parties.
One of the biggest ones is their annual mid summers festival. A number of celebrities and politicians have stopped by including Arnold Schwarzenegger. Disney has already filmed a movie here called Bedtime Stories, with Adam Sandler. Look for more Hollywood interest in the future. It is the perfect set!
When enter through the giant wooden doors you will be directed to the Castaldo room where you will pay for a self guided tour and tasting (limited areas of the castle are accessible), or pay for a guided tour and tasting. This guided tour lasts almost 2 hours including the tasting and there is no other tour in Napa Valley quite like this one.
During your tour notice the details that went into building this. Attention to detail went into every facet of the construction; many of the stones were chiseled by hand as well as was all the iron work. Case in point is the one turret which appears to be damaged, probably from cannon ball fire. This was left this way to appear like the castle suffered an attack! If you see something built into the castle that you have a question about, the most common answer you will receive from your guide is "well that's how it would have been 800 years ago!"
During the tour you totally forget you are in a winery until you exit the back of the castle and enter the tank room. Triple jacketed steel tanks are used so detailed control of temperatures can be regulated during fermentation. This is extremely rare, these were the first 3 jacketed tanks we saw on our Napa winery odyssey (have since seen others although they are rare).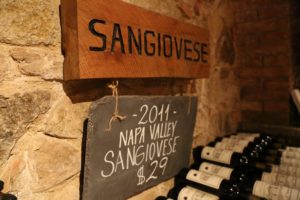 There is a small "dungeon" room also called "The Pit of Despair, which contains some of man's most medieval devices for torture including a rack which was originally used to stretch limbs – a beyond painful method of torture. Look for several other nasty looking pieces of equipment including the rather confining "iron maiden". Right, you will *not* see this type of stuff on any other Napa winery tours! Many narrow brick walkways are built near the torture room and it can be easy to get lost down here.
During the tour you will try wine directly from a barrel. This will occur in the largest room in the castle which is full of brick arches and oak barrels. Apparently someone got a little crazy on one of the tours, testament to the broken glass scattered around the tasting area when we were there.
Your tour ends with a tasting (either a general or reserve depending on which one you paid for). The tasting counter is in a small dimly lit brick room below the main courtyard – only those from your tour are lined up along the counter and it is a good chance to meet others from your group. Keep in mind you are in the Castle of Love and romantic inclinations combined with glasses of wine are a true possibility here. Mark the wines you want to taste on the tasting card. Several small bread items and other pairings are available.
If you sign up for the Reserve wine tasting it is always nice to taste two wines of the same varietal side by side as you have the luxury of additional tastes over the normal tasting. 2006 Chardonnay has a rounded mouth feel, more toasted almonds and crème Brule on the nose with a note of toasted oak on the finish. The 2005 Chardonnay reserve on the other hand is more citrus like on the nose with hints of pineapple. There is a real nice finish to this wine.
The "Gioia", a Rose of Sangiovese is quite popular. Literally translated to "Joy" in English, there is no Joy in the Castle when they are sold out of this wine. The only non blended wine we tried is the 100% Diamond Mountain grown "II Barone" Cabernet Sauvignon. This is a big wine with rather strong tannins on the finish.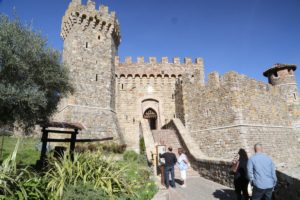 We also sampled their entire flight of dessert wines. Their "ray of sunshine" Muscat is a light crisp fruity wine with some nice mineral characteristics. Think their Muscat is fruity, try the Fantasia. This is wine made from Gamay grapes lighter in color and is slightly sparkling. Our guide described it as "adult soda". We can taste for years in Napa before we ever hear that description again. Ha.
The late harvest Gewürztraminer is made from botrytisized grapes (depending on your perspective, some of the ugliest grapes you can find as when they are harvested they are covered in grey and black mold). This wine is full of honey and honeysuckle aromas with nice tropical fruit characteristics on the palate.
Note that like their sister winery, V. Sattui, the "castle" wines are only available for sale here – i.e. they have no distributors whatsoever – are not found in any restaurants, wine shops or other wine retailers.
As you exit the castle you will do so next to farm animals that roam freely within a fairly large lawn area in the shadow of the castle walls. Some interesting looking chickens, emus and other birds live here. More farm animals are contained in a small pen near the main parking lot.
Due to the unique nature of this winery, it is often home to a number of concerts and events especially in the courtyard in the spring and summer months as well as in the Great Hall. Check their website for more details. Visit: www.castellodiamorosa.com
NOTE: Often on busy weekends the 'castle' becomes a victim of their own success (especially in the afternoons). Parking on site will be completely at capacity and attendants stationed at the base of their driveway will provide instructions and information to those in entering vehicles about wait times. If you have a reservation already, this parking limitation does not apply to you. If wait times to drive into the property are extended they will indicate you can return in an hour or two, to possibly gain entrance – sometimes if wait times are not to long, they will have you pull off the driveway and park at the flat area next to the driveway.
View videos: