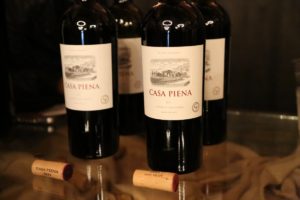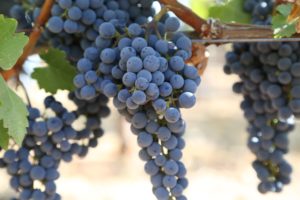 Casa Piena, or in Italian, "Full House" is a new Napa producer run by Carmen Policy and his wife Gail. If you follow American football to some extent you will know about his long term involvement with the San Francisco 49ers during the 1980's and 1990's. During his time in their front office they were extremely successful, winning 5 Super Bowls. Today the Policy's own 14 acres of which 10 are planted to vine – almost entirely to four Cabernet Sauvignon clones but also with a very tiny block of Cabernet Franc. Their first vintage is from 2006 and was released in April 2009. This first vintage is hard to find because of the limited production, however their next few vintages will successively increase in production as additional blocks are added to the wine.
There are many Napa wine producers with last names on the label, however not wanting to use their last name, the Policy's came up with a creative name that ties together family and lifestyle. With three boys and 2 girls, they have a "full house" (not to mention the grandchildren) and this was the ideal easy to say name in Italian (reflecting their heritage).
Carmen and Gail looked at a number of properties before deciding on their specific Yountville location. Before even finding a vineyard site they hired well regarded vineyard manager Jim Barbour to help with the search. Carmen was also looking for a specific style of wine – one that was more elegant in nature, a wine that would pair well with a variety of foods. Their vineyard is located in the heart of Yountville and used to be owned by Peter Mondavi (Charles Krug). At the time of purchase the land was empty allowing them to establish a new vineyard under their direction, in other words plant specific Cabernet clones of their choice. The vineyard was planted from scratch in 2003. A nearby knoll helps create a small microclimate unique to their particular vineyard.
Thomas Brown is their winemaker and as with his other clients the wines are made at the state of the art Outpost winery high on Howell Mountain. Besides making the wine, Thomas also works very closely in the vineyards with Jim Barbour (the vineyard manager).
Being of Italian descent and growing up in Youngstown Ohio with its fairly large Italian American population, Carmen has been around wine for many years. He remembers family and neighbors driving their trucks down to the railroad yards to pick crates of grapes that had made the long trek across the USA surviving many temperature ranges before finally being delivered in Youngstown, Ohio. Incidentally these grapes came from California's Central Valley. The trucks would then deliver small quantities of grapes to each of the families.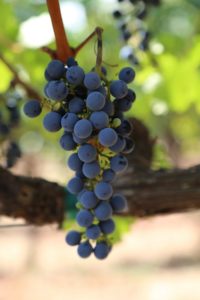 The same barrel and press were often used by each family year after year. After pressing the somewhat "aged" grapes (by the time they reached Youngstown), the families would let the fruit ferment and then bottle soon thereafter in jugs – and typically by Easter have the wine on the table in time for the holiday. Carmen remembers how competitive this family winemaking became with families bragging that their individual wines could beat anything made by Mr. Mondavi or Mr. Gallo. These home winemakers all thought they had the "best" wine; however regardless of the disagreements about quality – wine was always an integral part of their family life to be enjoyed socially with food.
Once you have that in your "blood" so to say, it never leaves. While living in the Bay Area Carmen and Gail felt the influence of the wine country both with the wine of course as well as the region's culinary treasures. Tuscany is one of their favorite wine country destinations and parts of Napa are certainly similar in appearance.
The 2006 inaugural vintage (3rd leaf) Cabernet Sauvignon is drinking well at the time of this review despite its still young age. The bouquet is elegant and initially shows aromas of black cherry, baking spices and as it opens a hint of crushed rock or minerality. This is a nose that keeps evolving nicely as it breathes. The palate is well integrated between fruit and structure and shows blackberry and hints of toasted cedar and vanilla. It has a great depth of flavor from start to finish. This wine's structure is in balance with smoky, broad and somewhat dusty tannins that anchor the long finish.
If you were going to describe this wine in three words – a good choice would be, elegant, structured and balanced. This is an elegant wine, that has nice structure yet the "backbone" of the wine does not take detract from its other characteristics. Only 250 cases of this wine were produced.
Due to their current small production they are distributed in select locations including locally at what was their initial retail outlet, V Wine Cellar in Yountville and at Dean and Deluca in St. Helena. You can also join their mailing list for purchasing direct. Visit: www.casapiena.com