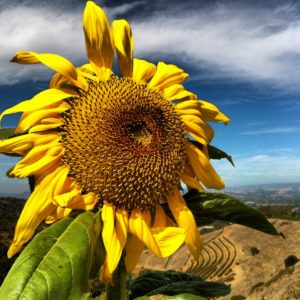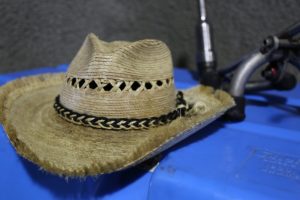 Caldwell Vineyard is located in the hills a short drive east of the city of Napa; the winery is almost entirely contained within a 22,000 square foot cave. Visitors to the property are treated to excellent views driving up the hill past their vineyards before descending into the winery parking lot. Besides serving as a production winery for making their own wines, it is also home to a select amount of smaller premium brands who produce their wines here. John purchased his this property in 1974 and sold grapes to other vintners for a number of years before the 1997 inaugural vintage of Caldwell Vineyard was released (the Caldwell "Silver", a red proprietary blend).
Owner John Caldwell's original intent for this property in the late 1970s was to build a subdivision and become a commercial real estate developer; perhaps an unlikely path considering he was in the shoe retail businesses (he operated a retail shoe store for a period of time in what was the Vintage 1870 Shopping Center in Yountville). He even built a road to his property and installed an imposing gate; construction was ready to begin. However, city codes changed during this time – it was a no growth period and his construction plans had to be shelved. However one door closing opened up other possibilities.
John's family has a long history of growing grapes in California dating back to the 1880's. Perhaps drawing from his heritage, despite few vineyards being planted in this part of Coombsville in those years, John began to develop vineyards on his property with the help of his father Jack in 1980. Today the site is planted to 10 different varieties including two unusual varieties for the Napa Valley, Carménère (planted in parts of Bordeaux with its largest plantings in Chile – interestingly, the leaves on this variety naturally turn red at the end of the growing season – not from any disease) and Tannat – a grape primarily associated with Uruguay (and a prominent variety at another Napa Valley 'vintner's winery in Uruguay, Alejandro Bulgheroni's Bodega Garzon).
Prior to John's ownership the property was owned by the Kreuzer family – they purchased the site in 1876. Kreuzer Lane (the road used to access the entrance to Caldwell Vineyard is named after them). Initially they raised beef cattle and later transitioned to a dairy operation. Today the Caldwell Ranch encompasses 123 acres of which 65 are planted to vine.
Caldwell is a name in the Napa Valley that has become synonymous with the word clone. John has both provided his expertise and cuttings from his own vineyard to sites around the Napa Valley. He even helped us identify a nursery source when we were looking to buy some Marselan. And when shopping for wine grapes to plant a vineyard, one soon comes across ENTAV-INRA clones (Etablissement National Technique pour l'Amelioration de la Viticulture). His work with the French government in licensing these clones allowed them to be distributed across the country at very select number of nurseries.
Based on years of growing grapes, John has compiled several criteria which are of the utmost importance when choosing a vineyard site: 1. Soil, 2. Weather, 3. Exposure, 4. Rootstock & clones and 5. Trellis design & row direction. In the mid 1990s he wrote a book (with some translation help from winemaker Philippe Melka) called A Concise Guide to Grapevine Clones for Professionals and still sells this through the Caldwell Vineyard website.
Over the years, premium Napa Valley based wineries such as Viader, Pahlmeyer and Joseph Phelps have sourced fruit from the Caldwell Vineyard for some of their wines. And some of these wines have earned very high scores and critical acclaim from influential wine writers and other members of the wine media.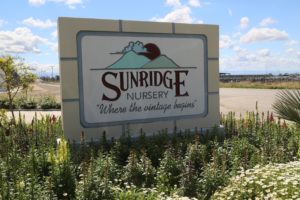 Furthering his interest in growing grapes, John started his own local nursery on the property (the Quonset hut which was used in his early operations is still located on the property, now surrounded by vineyards). John sold his nursery in 2004 to Sunridge Nurseries Inc (who maintain a massive operation in Bakersfield).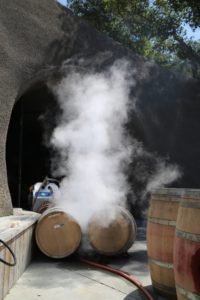 Caldwell specializes in a number of low production wines – their Signature Collection (proprietary red wines and a Cabernet Sauvignon), the Varietal Collection (focuses on specific 100% varietal wines including several not often seen varieties in Napa – Carmenere and Tannat) and the "Rocket Science" label which is a blend of several Bordeaux red varieties.
John came up with the name, Rocket Science name one evening to spoof those who said winemaking is not rocket science. Coincidentally his wife's father was also a rocket scientist. This wine is a proprietary red blend, predominately Syrah, Cabernet Sauvignon & Merlot. Several vintages we have tried over the years have been rich with a broad range of flavors and aromatics. This is a wine well worth pursuing and perhaps the wine that is most associated with Caldwell Vineyard.
Their first wine produced was in 1998, a Caldwell "Silver" Proprietary Red blend. Well-regarded Philippe Melka was their winemaker for many years followed by Marbue Marke although Marbue is no longer Caldwell's winemaker.
The Smuggling Story
John is one of the most engaging and talked about winery owners in all of the Napa Valley. A small man who carries his childhood polio affliction with a pronounced limp from a bent leg – his engaging personality quickly warms visitors to his charm. Often liberally using the f-word his conversations are spicy and memorable. He has lived through a number of interesting stories but none more intriguing then the time he was caught smuggling French clone grape cuttings between the border of Canada and the USA and the aftermath that he had to deal with from this decision. He told us this riveting story during one of our visits to the winery.
A friend had successfully smuggled more than 4000 cuttings through the Canada/USA border for John previously – but when it came time to make her final trips through the border – she wasn't feeling well John offered to make the trip. Luck was not with him. He was in a lane that was backed up for some ways – seeing an open lane he quickly drove over. Perhaps a mistake. He was immediately stopped by one of the young border guards and told to open his trunk. Big problem. 1500 grape vine cuttings were clearly visible.
He was taken inside for further questioning – the temperatures in February in this part of the country were unforgiving – despite the frigid temperatures the room where he was taken was hot and John began sweating in advance of a potential shakedown. The guards found receipts indicating shipments just days earlier were of shoes and were to be sent to Yountville. More questions came. "Where is Yountville"?, John was asked. "In the heart of the Napa Valley," he replied. "That is grape country, right," they surmised.
They left the room to talk among themselves – John decided to make a command decision on the spot to eat the receipts. He frantically tore them apart and stuffed them down his throat gagging on their dryness and trying to produce enough saliva to swallow (we recall a few f bombs being dropped here as John related the story). He wasn't able to completely swallow them all and just before they came back in the room he spat out a messy wad of wet paper and stuffed it in his pocket.
Seeing the receipts had gone "missing" the guards understandably became angry and decided to strip search him on the spot. Not a fun thing to have to go through anytime, but especially so in the brutally cold temperatures in an unheated bathroom. Ultimately he was let go after requesting to make a phone call to his lawyer who in turn knew the guard's boss. But they kept the 1,500 vines.
The story doesn't end here. Some days after John returned from his smuggling trip – a line of cars including police and a representative from the California Department of Food and Agriculture showed up at his house and demanded to take the rest of the vines that they rightly suspected he had in his possession (successfully delivered to his property from the previous smuggling efforts of his friend). John did of course have these vines – boxed up in a barn mere feet from where he was standing talking to the police and agents. On the spot, he came up with a clever story to buy himself 24 more hours before they returned – telling them his vines were in a cold storage warehouse in Sonoma, other growers were involved and he needed 24 hours to retrieve the vines. Come back tomorrow he told them. They bought the story and indicated they would return first thing in the morning.
Creatively he then buried the vines in question beneath an oak tree on the property – purchased a similar quantity of cuttings from an area nursery – amazingly he still had the original boxes and put these "new" cuttings into the original boxes even measuring the exact weights to match the weights listed on each box. Voila – the agents returned the next day – took the boxes of the new cuttings none the wiser!
John was almost in the clear rescued entirely by his unbridled on-the-spot creativity. The story is almost over – but not quite. As spring came, the buried cuttings needed to be unearthed and planted. So John did so – filling up his father's old van and driving back to his home and parking the van in front of a low roof parking bay which was part of an old barn. He met his father there. Imagine both father and son's surprise when a police car pulled in at that exact time.
Trying to hide the evidence, John backed the van into this low bay – hitting the roof of the van with the roof of the parking bay, crumpling up the top of the van in the process. The policeman parked right in front of the stuck van – observed John's predicament and handed him a ticket to pay a fine. He said good day and left. We never asked John how much the fine was – we will ask next time we see him at the winery.
Run through the stress ringer for his actions, John eventfully planted the smuggled cuttings. And despite the legality of the situation, the Napa Valley is richer for his efforts. We have come across a number of vines in the Napa Valley taken from these original cuttings – they are simply referred to as the Caldwell Clones.
Master Cooper
And what is extremely unique for a Napa based winery, Caldwell controls most aspects of the barrels they use for aging their wine (only Silver Oak Cellars has similar control of their barrels – owning a cooperage and white oak forests in central Missouri). Rather then selectively purchasing oak from cooperages, Caldwell Vineyard purchases oak wood from suppliers in France (which are then seasoned up to 36 months) and Caldwell's own Master Cooper Ramiro Herrera spends two months in France every year and assembles approximately 300 barrels specifically to match Caldwell's needs – including choosing the wood (selecting for grain and tannin levels in the oak) and selecting the toast levels inside the barrel. The barrels are then shipped to Caldwell Vineyard.
The rigors of becoming a Master Cooper in an already very specialized craft are significant, there are less then 40 master coopers on the planet. Ramiro is the only one in the United States. He creates his own tools for working with the barrels; his office is in a unique location, inside a Quonset hut surrounded by vineyards in the hills above Caldwell's cave. His workshop is within a short walk of another Quonset hut of significance – where John began his nursery operations.
Visits are by appointment only. A tasting and tour includes a walk through the winery including seeing a unique system Caldwell has in place for "racking" (cleaning) their barrels. Instead of having to take each barrel down from the racks they are setup so they can be manually turned and racked right in their place. The tour ends with tastes of their current releases in their elegant "cavern tasting room" – sometimes John pops in to say hi. The tasting is paired with locally sourced artisan cheeses, charcuterie and delicious olives – and with several wines only available direct from the winery.
For more information, to request an appointment and or to join the appropriately named Society of Smugglers wine club, visit: www.caldwellvineyard.com
Grounds/Vineyards

Cave