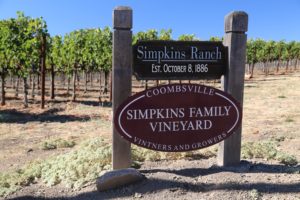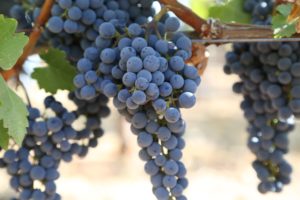 Burly Wine is the result of a "Napa Dream" of Hank McCrorie and his Sonoma County born and raised wife Bernice. Hank had a long career at Pzifer – starting relatively low in the company and retiring as the Executive Vice President of sales. Hank who along with his wife have always enjoyed California's Cabernet Sauvignons and the Northern California wine country retired to the hillsides of the Napa Valley. Many winemakers new to the business these days name their wine after themselves – not so with Burly. There is actually quite a unique story behind the name.
Hank grew up North Carolina where he was the captain of his college football team which he helped take to the championships, ranking number one among small colleges. His nickname at the time was "Burly Bear" – little did his college teammates know that more than 40 years later, Hank would still carry the name with him and use it as the name for his winery! During his college days he won an award which honors athletes who place the team over themselves in competition and in this regard much later, Hank and his wife financially donated a significant portion of the cost to build a new athletic center, named in their honor.
We met with winemaker Massimo Monticello for our tasting (he has been Burly's winemaker since their inaugural vintage). Massimo is spirited, enthusiastic and extremely passionate about the hands on part of wine making. Once on the fast track to be a doctor, his family roots called out and he changed career paths eventually earning his masters in winemaking from UC Davis. Along with making his own wine, he also consults for a number of select fairly small producers. He often works with great Napa vineyard sources and he uses a soccer analogy in regards to his winemaking, "the goalie is out of the cage and its his job to tap it in."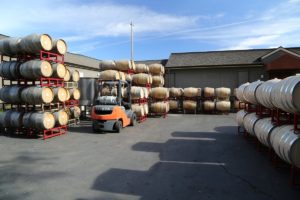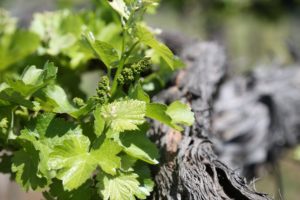 Burly focuses on producing a 100% varietal Estate grown Cabernet Sauvignon each year which is always sourced from the same vineyard. This 9.5 acre vineyard called the Simpkins Ranch is in the Coombsville district just east of the town of Napa surrounded by some good vintner neighbors including Maritas Vineyard and Covert Estate and some tiny 'backyard' vineyards, one of which we helped pick one year.
Coombsville is characterized as a moderate to cooler growing climate compared to up valley due to its proximity to the flat region and entry to the nearby San Pablo Bay with its cooling morning and afternoon breezes and often fog influence. The region is generally composed of short rolling hills with a diversity of micro climates even within this small region. It tends to be slightly warmer in vineyards that are located towards the edge of the southern part of the Vaca Mountain Range. Coombsville tends to be cooler than many of the up valley vineyards and as a result the Cabernet Sauvignon fruit often hangs a bit longer before it is harvested. This isn't a bad thing as it only adds to the complexity of the wine. The first commercial release of Burly Wines was in 2004.
Simpkins Ranch Vineyard is managed by long time vineyard manager Mike Wolf. Mike was born in New York City and grew up just outside of the city. Viticulture was not a part of his formative years – he graduated with a history degree at Alfred University. He first moved to California in 1972 – to Mendocino County as a farm worker helping manage pears, prunes and grapes. Eventually he oversaw vineyard operations at Juliana Ranch in Pope Valley (one of Napa's larger vineyard sites) and in 1994 took a job managing 500 acres for Beckstoffer Vineyards. He branched out on his own in 1997 and formed Michael Wolf Vineyard Services. One of his early clients was Vine Hill Ranch.
Today Mike oversees approximately 500 acres in the Napa Valley and has managed or is managing vineyards for BOND, Harlan Estate, Lewis Cellars, Meteor Vineyards, Scarecrow, and Vineyard 29. And he has also worked with some of the top winemakers in the valley including Celia Welch, Philippe Melka, Bob Levy and Andy Erickson.
In 2015, Mike was awarded Grower of the Year by the Napa Grape Growers Association.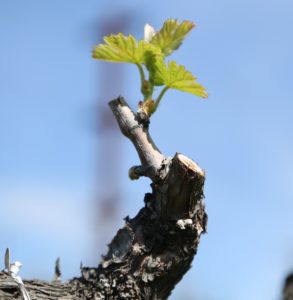 We tried the 2005 vintage. It received 20 months in French Oak and then another year in bottle before released. The nose is well layered with notes of vanilla, toffee along with raspberry. The palate is juicy rich and concentrated. This is not a huge tannic wine, although with good structure and acidity it will age well. The mouth feel is soft and smooth with just a hint of vanilla, a forest floor earthiness and lots of black fruit. Delicate but structured tannins anchor the extended finish. All in all, it is a very nice wine that shows extremely well.
We also had the chance to sample the 2006 vintage from tank. While still very young, this wine already has a well developed bouquet with lots of nice fruit on the palate. Look for their easy to identify image of the "burly" massive tree on the label. For high end wine, the 2005 is available at a rather reasonable price point. The best way to secure this is via their mailing list. Total production is usually around 2,000 cases. For more information, visit: www.burlywine.com
NOTE: this review has been identified as needing a **major** update.